Mind Control: This Potential Google Glass App Does What?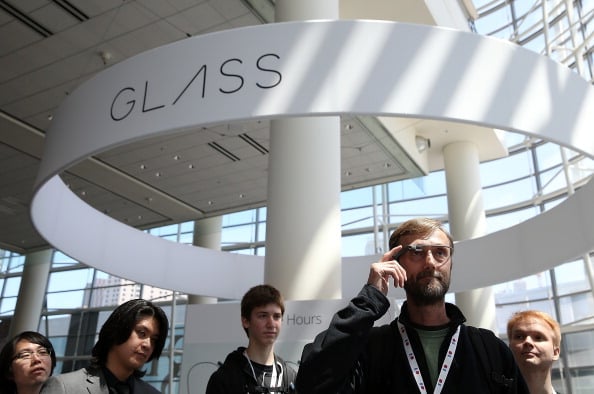 A Google (NASDAQ:GOOG) (NASDAQ:GOOGL) Glass app that users can control with their brain activity may sound like something out of science fiction, but it does exist. It's called MindRDR.
MindRDR is a piece of software, developed by London-based firm This Place, that works in conjunction with the Neurosky EEG biosensor, a device that measures a user's focus via brain waves and Google Glass to allow the app to be controlled by thought. The EEG biosensor measures brain activity — specifically focus. That focus is used to take a photo. Focus harder and MindRDR posts that photo to Twitter. MindRDR has a Twitter account that shows what photos taken through this technology looks like. It also seems to add the hashtags #MindRDR, #throughmind, and #throughglass to every single of these tweets. On the Google Glass screen, users can track their focus in the form of white line ascending as focus increases.
So it's not a true mind reader. Instead, it's measuring the amount someone is focusing to determine action via the EEG biosensor, which measures brain activity. While certainly impressive in its own right, the technology will not grant the user any telepathic powers. The EEG it uses to measure focus is a simplified version of the devices used in medical tests. It's also a step forward for app technology.
While it is a potential first for Google Glass, mind-controlled apps are not new. The technology that MindRDR is based on has been applied to other apps and other technology for years. Applications have ranged from games to serious uses, such as helping the mobility impaired.
A 2011 Los Angeles Times story talks about two games created by game developer MindGames that use simplified EEG sensors to measure brain activity to control gameplay. W.I.L.D. used concentration and calm to traverse galaxies. Tug of Mind allowed players to try to calm an angry avatar using relaxation. Both utilized the similar technology to what This Place just applied to MindRDR. National Geographic reported last year that this technology is being used to help steer wheelchairs. The only first here is that it's a potential Google Glass app, a prototype for a prototype wearable device.
Google Glass users in the Explorer program who are interested in the app won't find it in the Google Glass store just yet. Google still has to approve the new app before it can be available for download a Google representative told Time. The app will reportedly be a free download, but users would also have to purchase the Google Glass and the Neurosky EEG biosensor will be required to actually use it. Anyone curious about the app's coding can take a look at the files This Place put up on GitHub.
[mediagraph-partner content_url="c3d1f79f983757e8820f3221″]
More From Wall St. Cheat Sheet:
Want more great content like this? Sign up here to receive the best of Cheat Sheet delivered daily. No spam; just tailored content straight to your inbox.