Last Week's 4 Hottest Gaming Rumors: GTA V DLC, Half-Life 3, and More
It's that time again when we take a look at what exciting video game rumors are buzzing around the Internet. Last week we got a few rumors that seem fairly likely, and a few that shoot for the moon. Read on to hear about the rumors and our take on whether or not they're true.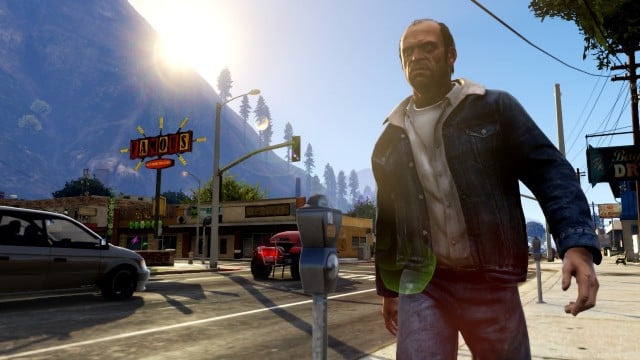 Are These Leaks the Next Grand Theft Auto V DLC?
Grand Theft Auto V has been a big hit since it came out, selling over 30 million copies. But once you've played through the game and spent some time in Grand Theft Auto Online, you might start to wonder what's next for the game. We know for sure that Rockstar is planning to release a heist DLC, which will let players work together online to perform massive bank robberies. However, rumors have been circulating that at least three other DLC packages may be released in the future.
One possible DLC for the Story Mode is a Flight School that will open up new flight-based missions and let players fly around in aircraft that have previously been unavailable. Another is a Zombie DLC that brings the undead into the game, and last is a Strip Club DLC that opens a number of new strip clubs around the city.
How credible are these rumors? Let's take them one-by-one. The Flight School DLC comes from a slip-up from Rockstar itself, so it's pretty likely. The Zombie and Strip Club ones, however, are based on very sketchy information found in the game's code and files. They're probably not happening.
Verdict: Likely and Not Likely

Will New Watch Dogs DLC Be Set in Camden, New Jersey?
The official Watch Dogs Twitter feed tweeted out a not-so-subtle hint that upcoming content for the game will take place in a rather unlikely setting: Camden, New Jersey. The full text of the tweet is as follows: "The city of Camden, New Jersey had the highest crime rate in the US in 2012. A 24/7 surveillance program is now in effect." Why would the makers of Watch Dogs mention such a thing unless they're planning to use the city in the game?
According to Polygon, "In 2012, the FBI named Camden as the most violent city in the United States with a population of more than 50,000. It ranked first in homicides in 2011, based on its population of 77,000." A few tweets in response to people asking also indicate that Camden content is heading our way. All of which adds up to a high likelihood that upcoming Watch Dogs DLC will take the game to Camden.
Verdict: Very likely
Will Sony Release a 1TB PlayStation 4?
Both the Xbox One and PlayStation 4 come with 500 gigabytes of storage, which might sound like a lot until you see that the bigger games require upwards of 50 GB of space to install. Let's face it: lots of gamers will have more than 10 games by the time this console generation is over, not to mention movies and TV shows that eat up hard drive space.
Citing a "retailer source," this rumor suggests that Sony will release a PlayStation 4 that sports a terabyte of storage. So how likely is it? Our take is that it's very likely in the long run that Sony will release a PS4 that packs more storage space for games and media, but this particular leak seems fishy — especially since Sony made no mention of it at the company's conference at Gamescom 2014.
Verdict: Likely, but not soon

Does a Modified Source Engine mean Half-Life 3 is Coming?
When it debuted with Half-Life 2, Valve's Source engine was a thing of beauty. Its physics were more realistic than just about any other game engine, making the gravity gun in that game unlike any weapon gamers had used before.
Reportedly, some modders have been tinkering with the code behind Valve's game Dota 2, and have discovered that it varies quite significantly from the code in other games that use the source engine. The speculation is that Valve is testing out the next version of its engine before going public with it — possibly in a new installment of the Half-Life franchise.
Does Dota 2 run on an unannounced upgrade to the Source engine? If you ask us, it doesn't make much difference unless it's used to power a game that will wow players with incredible graphics or fancy physics. Since people have been waiting seven years for a new episode of Half-Life, it makes sense that they'd take any small hint that a new installment is incoming. Unfortunately, it doesn't seem likely.
Verdict: Unlikely
More From Tech Cheat Sheet: