Tracking Santa: Microsoft Uses Its Connections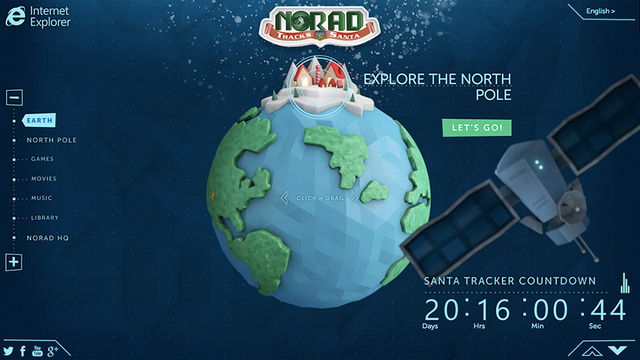 Last year, many consumers were impressed by the famous NORAD Santa Claus web tracker, the site that monitors Santa and the reindeers' whereabouts on Christmas day. This time around, however, the Northern American Aerospace Defense Command has expanded its relationship with Microsoft (NASDAQ:MSFT), and not only has the tech giant agreed to provide Bing Maps for tracking Santa again, it has offered the help of its Internet Explorer, Bing, and Azure teams to assist NORAD with building a completely new site.
According to ABC News, the site is now written in HTML 5 and designed for touchscreens. NORAD will have apps for iOS, Windows Phone, and Android, and the new redesigned site works in any browser, though its performance is best in Internet Explorer, especially on a Windows 8.1 tablet. Engadget reports that the new site lets users follow St. Nick by spinning a WebGL-powered globe with their fingers, even allowing them to call NORAD via Skype to get the sleigh's latest position. The brand new site now not only counts down the days until Santa begins delivering presents, it also lets users visit the North Pole and play games, watch movies, and listen to music. Every day, NORAD releases a new game on the site.
But it's still not all fun and games for Microsoft. Last year, ABC News reported that Google (NASDAQ:GOOG) also rolled out its own Santa Tracking site, and the Mountain View, California-based company managed to successfully steal some of NORAD's once loyal users. Microsoft now hopes that NORAD's new and improved site will help it compete with whatever Google has up its sleeve this holiday season, but only time will tell.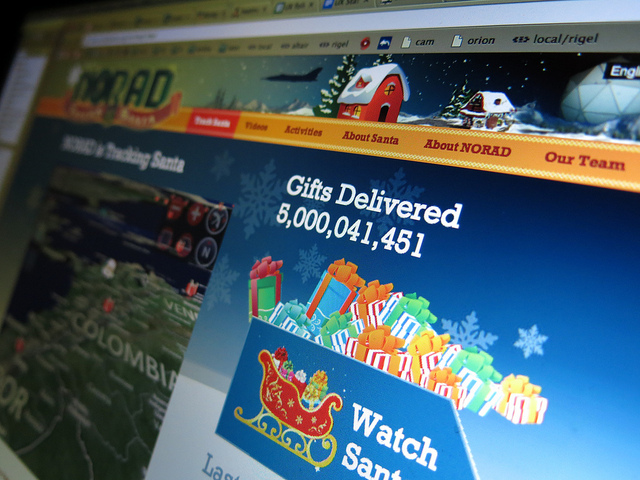 NORAD's history in the Santa business is surprisingly a long one, and dates back to 1955 when the legend goes that a Sears ad mistakenly listed its number as Santa's. According to Engadget, the ad encouraged children to call Santa's "private number", but the calls ended up going to the phone in the war room of NORAD's predecessor, the Continental Air Defense Command, where a colonel immediately instructed his troops to play along. Now, 57 years later, the tradition is alive and well, and volunteers in military garb and Santa hats can still be found answering calls from children across the globe.
The organization has been careful to stay mysterious about how the actual Santa tracking occurs on Christmas Eve, but NORAD was more than happy to team up with Microsoft to keep its program running and up to date with the latest technology. It's still unclear how the two parties first decided to become partners in the Christmas business, but it is proving to be a fruitful connection for both of them — and now Santa could even be on the docket to become Microsoft's new CEO.
Don't Miss: Attack of the Drones: Amazon and UPS Want to Get Rid of the Delivery Man.