Tuesday Afternoon Cheat Sheet: 3 Stories that Moved Markets
The markets were mixed today on Wall Street, as investors weighed debt-ceiling concerns against strong December retail sales numbers.
At the close: DJIA: +0.20%, S&P 500: +0.10%, NASDAQ: -0.22%.
Here are three stories that helped move markets today:
1) What's Worse Than Tax Hikes and an Austerity Crisis? The short answer is: the debt ceiling. Politicians have indicated that they are willing to use the full faith and credit of the United States as a bargaining chip as spending cuts are negotiated on Capitol Hill. Some have even gone as far as publicly stating that a temporary shut down of the government may be in America's future… (Read more.)
Start 2013 better than ever by saving time and making money with your Limited Time Offer for our highly-acclaimed Stock Picker Newsletter. Click here for our fresh Feature Stock Pick now!
2) No surprise here: Fitch, an international credit-ratings agency, issued a press release titled: "Debt Ceiling Delay Would Prompt Formal US Rating Review." The agency says that while the risk of default "remains extremely low," "failure to raise the debt ceiling in a timely manner will prompt a formal review of the U.S. sovereign ratings."
The U.S. is just one of a number of major economies facing credit pressure… (Read more.)
3) The core Producer Price Index dropped 0.2 percent in December, following a decline that began in October. Although the PPI for finished food goods dropped 0.9 percent and finished energy goods dropped 0.3 percent, core goods — those excluding food and energy — actually rose 0.1 percent, reducing the total decrease to 0.2 percent.
The PPI is used to determine trends within wholesale markets and can be used as an indicator to predict changes in the Consumer Price Index, as most cost increases are passed on to consumers. (Read more.)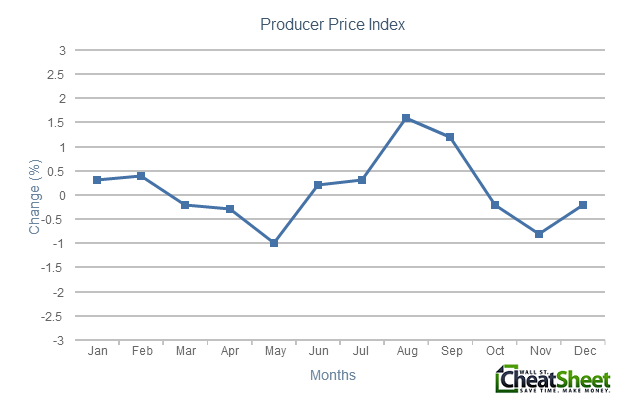 Don't Miss: Another Company Commits to Veterans and the U.S. Economy.