U2's Bono Leaks More Details About Secret Apple Music Project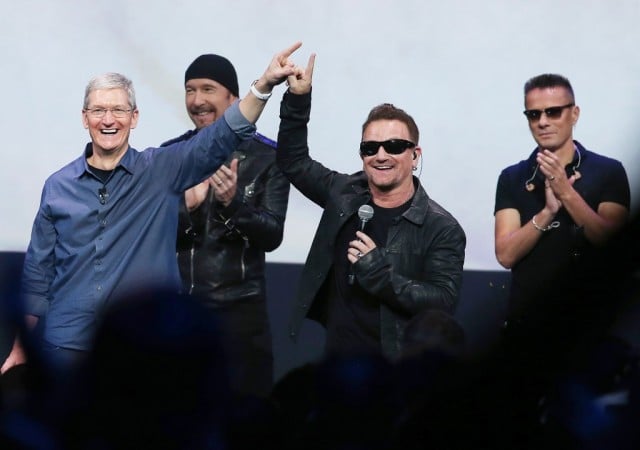 Apple may want to reconsider who it shares its secret plans with. Outspoken U2 front man Bono provided a few more details about the band's collaboration with Apple on a secret music project during a conversation at the Web Summit in Dublin, Ireland, this week. "They let us into the labs," said Bono, according to VentureBeat. While Bono didn't reveal any details about what he saw in Apple's labs, it should be noted that the company is notoriously strict about who can enter its fabled development labs.
As explained by Bono at the Web Summit, after U2 made its deal with Apple to distribute its new album Songs of Innocence for free to Apple users' iTunes accounts, CEO Tim Cook asked, "Is there more?" According to VentureBeat, Bono replied, "Oh, yes," and proceeded to lay out his vision to create "new music formats and new experiences that would create more engagement with fans and customers, while also inspiring them to pay for music and support artists."
"We wanted to work with the creative people at Apple," Bono told the Web Summit audience, according to VentureBeat. "Jony Ive is a guy I'd like to be in a band with. He'd be like a bigger Edge." It's possible that Bono's long-running friendship with renowned Apple product designer Jony Ive may have helped win him access to the labs. Last year, Ive and industrial designer Marc Newson collaborated on an auction that benefitted (RED), a non-profit founded by Bono and Bobby Shriver that funds the global fight against AIDS.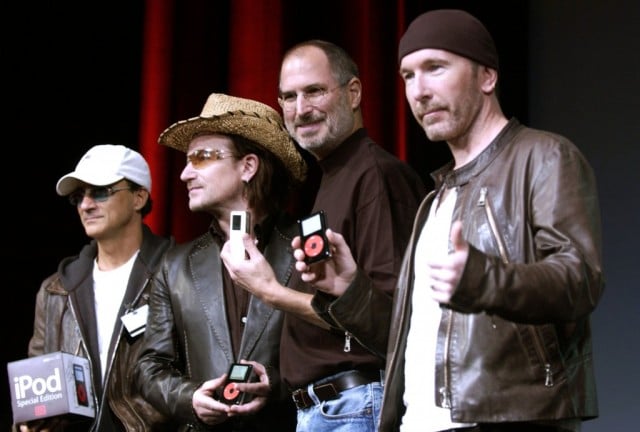 To give an idea about what this new music format could include, Bono recounted a story about hanging out with legendary Apple Co-founder Steve Jobs 10 years ago. After noting that iTunes looked "like a spreadsheet," Bono asked Jobs why iTunes didn't incorporate interactive elements or other supplemental materials to further engage music fans, reported VentureBeat. After recalling that Jobs told him that the "technology didn't quite exist yet," Bono noted that "it does now."
Bono had previously revealed that the band was working with Apple to create a new music format in an interview with TIME in September. "[It will be] an audiovisual interactive format for music that can't be pirated and will bring back album artwork in the most powerful way, where you can play with the lyrics and get behind the songs when you're sitting on the subway with your iPad or on these big flat screens," said Bono according to TIME via Billboard. "You can see photography like you've never seen it before."
Bono's scheme for a new music format that will reengage fans comes amid a backdrop of falling digital download sales as more consumers shift to online streaming music services. According to unnamed sources cited by the Wall Street Journal, worldwide music sales through the iTunes Store have slipped 13-14% since the beginning of 2014. Meanwhile, according to the Nielsen Entertainment & Billboard's 2014 Mid-Year Music Industry Report, the on-demand audio streaming market grew by more than 50% during the first six months of 2014. Apple has already taken steps to shift its music strategy by acquiring the Beats Music streaming service earlier this year. While it seems unlikely that even a new music format could reverse the overall trend toward music streaming, Apple may be hoping that the format it is developing with U2 will help slow the decline of its digital download sales.
Bono is not the only musician who is helping Apple rework its music business. In a recent interview with Billboard, Trent Reznor of Nine Inch Nails fame revealed that he is working on a project for Apple that's related to music delivery. "This is very creative work that's not directly making music, but it's around music," Reznor told Billboard.
Besides dropping a few more hints about his new music format project with Apple, Bono also appeared to step back from a previous statement he made about U2's controversial Songs of Innocence album launch on iTunes. U2 raised the ire of some Apple users when the band's last album was pushed to more than 500 million iTunes users' music libraries without their permission. As reported by the BBC, Bono later apologized for the snafu. However, at the recent Web Summit, Bono joked that the album launch was a good idea after all.
"We got a lot people who weren't interested in U2 to be mad at U2," said Bono, according to VentureBeat. "I would call that an improvement in the relationship."
Follow Nathanael on Twitter @ArnoldEtan_WSCS
More from Tech Cheat Sheet:
Want more great content like this? Sign up here to receive the best of Cheat Sheet delivered daily. No spam; just tailored content straight to your inbox.