Ubisoft Has High Hopes for 'Far Cry 4′
Ubisoft has officially revealed the next game in the Far Cry series. It's simply called Far Cry 4, and it's coming November 18 to PlayStation 3, PlayStation 4, Xbox 360, Xbox One, and Windows PC. As is becoming usual for this type of AAA cross-generation game, the Wii U has been left out.
Details about the Far Cry 4 remain scarce, as Ubisoft plans to trickle out information over the coming months. However, the press release says that the game takes place in Kyrat, a fictional wild region of the Himalayas that's "ruled by a despotic self-appointed king." The image it released along with the announcement shows a well-dressed man with a cocky smile sitting on a broken statue, relishing his apparent place in the hierarchy. Presumably, this is the despotic king and the game's primary villain.
As for the gameplay, Ubsisoft says that, "Once again, players will be able to craft their own stories as they travel through this exotic open world teeming with wildlife — using their wits along with an assortment of powerful weapons and diverse vehicles." Previous installments of the series have let players wander around open environments, finding enemy strongholds, and clearing them out any way they see fit.
It's no surprise that Far Cry 4 will launch on two generations of consoles. Currently, according to VGChartz, only about 12.2 million people own an Xbox One or a PlayStation 4. Compare that to the 164 million Xbox 360s and PlayStation 4s that have been sold, and it's not hard to see why game companies want to launch games on as many consoles as possible, even if that means sacrificing some of the graphical polish it could add if it restricted games to newer consoles. Most similarly, big budget games will continue to come out across console generations until the install base of the Xbox One and PlayStation 4 grows large enough to justify significant investments from developers and publishers.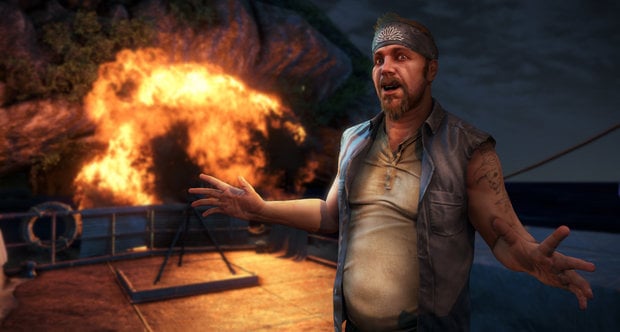 As for the Far Cry series itself, it has been gaining popularity over the years, as the games come out to very positive reviews. Far Cry 3 sold 6.26 million units worldwide across platforms, and Far Cry 2 sold 3.36. If Far Cry 4 is similarly well received by critics, we expect the upward trajectory to continue.
Ubisoft said in its earnings release that its goal for Far Cry 4 is for it to be "among the top 10 best selling games of the year." While Far Cry 3 was very successful, it failed to take a spot among the top 10 of either 2012 or 2013.
Ubisoft also detailed the bonus content for people who preorder Far Cry 4. All preorders will automatically be upgraded to the Limited Edition, which comes with Hurk's Redemption, a three-part single player mission pack starring the character Hurk from Far Cry 3 (pictured above.) Hurk's harpoon gun, named The Impaler, is also included with preorders.
Ubisoft promises it will show more of Far Cry 4 at this year's Electronic Entertainment Expo, where it also plans to give more details on four of its other upcoming titles: Assassin's Creed Unity, Just Dance, The Crew, and Watch Dogs. Ubisoft's conference will be held on June 9.
More From Wall St. Cheat Sheet: