Ubisoft's 8 Big Game Announcements at E3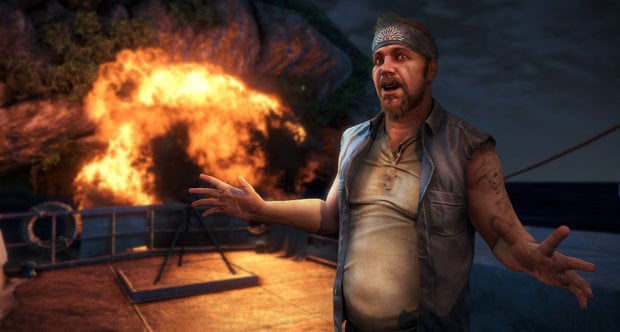 Ubisoft's press conference at the Electronic Entertainment Expo (E3) is over, and the gaming studio had plenty to show off. It's known for many blockbuster titles and has triple-A franchises dating back many years, as well as some just getting off the ground. Here's a look at what it had to show off during the press conference:
Far Cry 4
From Ubisoft Montreal, Far Cry 4 is the next installment in the ongoing franchise. While the third game took players all over the tropical Rook Islands and introduced them to the Rakyat warriors, the villainous Vaas, and many other questionable characters, the next game will take players up into the Himalayas to Kyrat.
The first five minutes of the game were shown at the conference, which puts the protagonist in a bus on his way up the mountains until armed forces interfere. From there, the man who seems to be the main antagonist appears. Naturally, he murders one of his own underlings just to prove how maniacal and villainous he is. He seems to have plans for that protagonist, saying that together they "are gonna tear shit up." Ubisoft claims that "every single second is a story." We'll see how that pans out when the game is launched this fall.
Just Dance 2015
Ubisoft took a quick break from the intense, violent Far Cry franchise to talk about its lighter, bubblier franchise. The next installment of Just Dance has plans to make the fun more accessible than ever before. For one, it puts players in the game as it records their dance moves so players can show off their groove. With Just Dance Now, a free smartphone app, smartphones can become the game controller and any number of people can play the game together on a big screen. Ubisoft demoed it with 31 dancers on stage and around the audience, but claimed that even as many as 20,000 people could play at the same time. Of course, the game will also include more wild backdrops, wilder dancers demonstrating the moves for you, and new tracks, including Pharrell Williams, Ellie Goulding, and Calvin Harris.

Tom Clancy's The Division
Ubisoft has been proving that it knows how to do Tom Clancy titles right. Between the Splinter Cell franchise and the Rainbow Six franchise, Ubisoft has made some great games with Tom Clancy's name in the title. The Division may be another. Set in a New York City ravaged by not only a lethal virus but also the factions who would take advantage of the weakened city, the game follows a skilled team of secretly trained civilians trying to take back New York, fix some of the chaos, and find the cause of the virus. The trailer showed great cinematics and high-end graphics, but there was no indication that they would be the in-game graphics.
The Crew
The host of Ubisoft's conference, Aisha Tyler, pretty much laid out what this game was about when she said: "Last year, Ubisoft introduced a loud, fast, next-gen take on driving games — an MMO with the entirety of the United States, sea to shining sea, available to explore along with every car customization imaginable, so that you can road trip in style. The USA, coast to coast, without one single loading. Ture, expansive, open-world driving mayhem."
The game's scope sounds impressive, though it's not clear if the sprawling states will be part modeled on reality and part simulated or not. Likelihood leans toward randomly generated neighborhoods and such, as having actual recreations of all of our homes would not only be an absurd achievement in mapping America, but also a lot of extra work for the hardware. There will be a closed beta from July 23, and the game will launch on current-gen consoles and PC on November 11.

Assassin's Creed Unity
Here's the one most of us have probably been holding our breath for ever since Ubisoft let out a teaser for the game. Assassin's Creed Unity will naturally continue with the swash buckling, sneaky, high-paced parkour assassin action of the franchise, but this time will be set amidst all the clouds of gunsmoke and rolling heads in the French Revolution.
The new game will continue to add some of the enhanced stealth play, sneaking not only by blending in, but also by hiding behind cover to stay out of sight when you're alone. It will also include enhanced parkour, which gets a little bit more wild when working your way down a building, as opposed to the old method of just jumping into a stack of hay. Aside from adding unique skill sets and arsenals to allow players to form their own play styles, the game will feature a 4-player mode, allowing assassins to assassinate together and aid the ongoing French Revolution. This game will be released October 28.
Shape up
Since the parkour in Assassin's Creed isn't going to get players in any better shape, Shape Up may help fill the fitness gap. The game's creative director, Charles Huteau, address that problem that "fitness is boring" by incorporating gameplay into key fitness movements that create playful challenges to encourage exercise. Whether it's dancing on simulated piano keys in a cross between Dance Dance Revolution and Guitar Hero or having a push-up competition with a friend as the screen puts increasingly heavy objects on your back, there's sure to be plenty to push players. In addition to playing alone or with friends on your own screen, the game allows players to record their performances and either compete alone against their earlier self, or send them to friends as a challenge.

Valiant Hearts: The Great War
This new IP looks to be an artsy side-scroller, perhaps somewhat akin to some recent indie side-scrollers — expect lot of emotion. It's set in World War I and follows four characters, each falling into different roles that will surely present unique and diverse puzzles and gameplay. Then there's a dog. The game will take players through some of WWI while also weaving in archival footage for a history lesson mixed in with the game. It will come out June 25
Rainbow Six: Siege
Maybe you're thinking "What about Rainbow Six: Patriots?" Well, that was scrapped, and Siege is set in its place to be the first new title in the long-lived franchise after six years without one. This game looks to combine some of the best elements of other shooters around. The demo shown featured level destruction perhaps even better than Battlefield's, with players able to blow holes in walls to spot enemies or create new doors, or do the same to a floor to surprise the enemies waiting below. It pits players against each other in a versus-mode that resonates with Counter-Strike, even the HUD looks similar. The planning that goes into the missions rings true for the franchise.
There looks to be plenty to keep the game lively, with breaching charges to create paths almost anywhere, rappelling from roofs, mini drones for scouting ahead and strategizing, shields for defending yourself, and barricades for the baddies looking to secure their positions. The game looked not only fluid, but gorgeous, and the footage shown was only in pre-alpha. You can expect it to only get better from here, as Aisha Tyler said at the start of the show, "We start big, and then we go bigger." These games will be a powerful addition to Ubisoft's continued offerings.
Follow Mark on Twitter @WallStMarkSheet
More From Wall St. Cheat Sheet: