User Adoption of Apple's iOS 7 Rolls On Ahead of iOS 8 Debut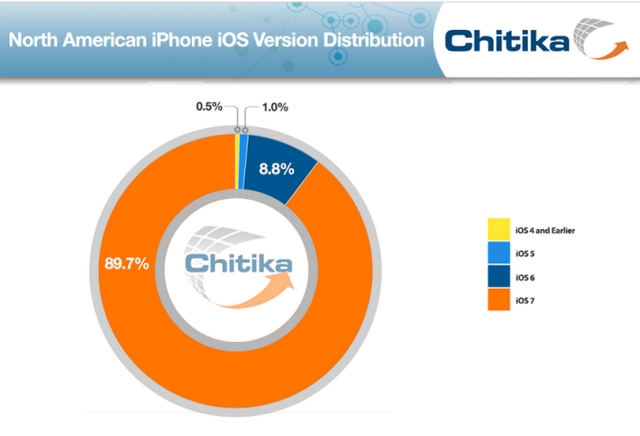 While Apple (NASDAQ:AAPL)  fans and developers eagerly wait to see what changes the Cupertino-based company implemented in the soon-to-be-unveiled iOS 8, the adoption rate for Apple's last mobile operating system continues to climb. A recently released study from online ad network company Chitika showed that Apple's iOS 7 continues to be adopted by users at a rapid pace. According to data gleaned from the tens of millions of online ad impressions generated in Chitika's North American network, 89.7 percent of U.S. and Canadian iPhone Web traffic is produced by devices running some version of iOS 7.
The second most popular iOS version was iOS 6 with an 8.8 percent share, followed by iOS 5 with a 1.0 percent share. Meanwhile, iOS 4 or earlier only had a 0.5 percent share. As noted by Chitika, iOS 7's iPhone share has jumped by 5.4 percentage points since a previous study in February. Apple users have historically shown a tendency to quickly adopt the latest mobile operating system. Five days after iOS 7 was released last September, Apple noted that "more than 200 million iOS devices are now running the completely redesigned iOS 7, making it the fastest software upgrade in history."
Although almost 90 percent of iPhone users in the U.S. and Canada are now running the latest iOS, it should be noted that this is a slightly lower rate of adoption than what was recorded for iOS 6 during the same time period last year. Before last year's WWDC, 92.7 percent of iPhones in North America were found to be running iOS 6. However, unlike iOS 6, iOS 7 featured a completely redesigned user interface with a new, flatter appearance. It's quite likely that the radical changes found in iOS 7 made some users hesitant to upgrade. This reluctance to upgrade may have also been exacerbated by reports that the new zooming effects and parallax animations found in iOS 7 were making some early adopters nauseous. However, Apple later implemented setting changes that allowed users to disable many of these problematic effects.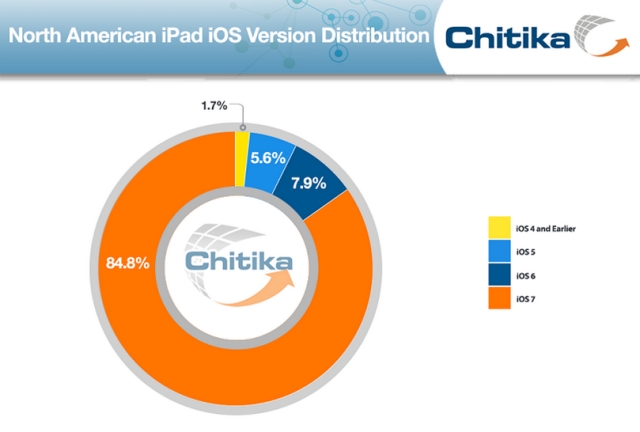 Apple users' high rate of adoption contrasts with the high level of fragmentation seen in Google's (NASDAQ:GOOG) (NASDAQ:GOOGL) open source Android operating system. Apple CEO Tim Cook has repeatedly highlighted the benefits that Apple's users and developers derive from a system that is almost universally upgraded and noted the "compounding problem" that Android has with fragmentation in an interview with Bloomberg last year. "It will show up in developers," Cook told Bloomberg. "It will show up for people that no longer have access to certain apps. It will show up in security issues because if you're not moving your customer base to the latest version, then you have to go back and plug holes in all of this old stuff, and people don't really do that to a great degree."
Chitika also examined the adoption rate for iOS 7 on Apple's iPads. According to Chitika's data, 84.8 percent of iPads being used in North America are running iOS 7, while 7.9 percent are running iOS 6. Although this is not far behind the adoption rates seen on iPhones, an unusually high percentage of iPads were running iOS 5 (5.6 percent) and iOS 4 or earlier (1.7 percent). Chitika speculated that this was likely due to the longer lifespans of iPads, as well as the fewer benefits associated with upgrading software on iPads. As noted by Chitika, iPhone users are more likely to take advantage of new software features such as CarPlay. For this reason, many iPad users may not feel that it is necessary to upgrade to the latest operating system.
However, both studies demonstrated that Apple device users are far more likely to upgrade to the latest operating system than Android device users are. This bodes well for Apple's upcoming iOS 8. Apple will unveil the new iOS 8 at the Worldwide Developers Conference that starts at San Francisco's Moscone Center on Monday, June 2. However, the new operating system will likely not be made publicly available until this fall. While Apple has not revealed any details about the new mobile operating system, a recent report from the Financial Times suggested that iOS 8 may include new automated home capabilities.
More from Wall St. Cheat Sheet:
Follow Nathanael on Twitter (@ArnoldEtan_WSCS)