Verizon and 5 Dow Tech Stocks Making Waves This Week
Verizon Communications (NYSE:VZ): Current price $52.65
Children and their families in San Diego County have been getting medical and dental care since last autumn, in a state-of-the-art mobile clinic which is part of an innovative partnership between La Maestra Community Health Centers and the Verizon Foundation. In 2012, the Foundation awarded a $90,000 grant to La Maestra to help support telemedicine capabilities in the mobile RV clinic, and to provide quality healthcare services to patients at schools, housing complexes, community events and key retail shopping areas. This mobile clinic is now is armed with the latest, most advanced telemedicine and X-ray systems tech.
Verizon will invest $100 million in a solar and fuel-cell energy project which will help to power 19 of its facilities in seven states throughout the United States. Upon completion in 2014, the project will permit Verizon to generate over 70 million kilowatt hours per year of its own green energy, which will be sufficient to power in excess of  6,000 single-family homes annually, while eliminating more than 10,000 metric tons of carbon dioxide, enough to offset the annual CO2 emissions from more over million gallons of gas.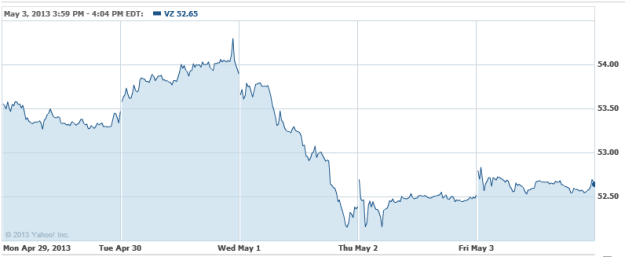 Don't Miss: Who Benefits From the Apple-Samsung Smartphone War?
Intel Corporation (NASDAQ:INTC): Current price $23.96
According to the underlying components of the S&P 500, as ranked by largest market capitalization, Intel Corp has taken the 25th place from Amazon.com (NASDAQ:AMZN), says The Online Investor. Market capitalization exhibits a correct comparison of the value given through the stock market to any particular stock. In the case of Intel, the market cap is now $117.63 billion, versus Amazon.com  at $113.69 billion.

International Business Machines Corporation (NYSE:IBM): Current price $204.59
IBM's board has declared a regular quarterly cash dividend of 95 cents per common share, payable June 10 to stockholders of record on May 10. This new dividend declaration marks an increase of 10 cents, or 12 percent higher than the prior dividend of 85 cents per common share. 2013 is the 18th consecutive year that IBM has increased its quarterly cash dividend, and the tenth year in a row of double-digit percent increases. Further, the company has hiked its dividend by more than 600 percent since the beginning of 2000.
IBM has new problems – thus far it has not managed to resolve bribery charges with the U.S. Securities and Exchange Commission, and now it faces an inquiry by the Justice Department into its worldwide compliance with the Foreign Corrupt Practices Act, as the Department is looking into specific transactions in Poland, Argentina, Bangladesh and Ukraine, along with reviewing IBM's public-sector business, according to an April 30 filing, which also said that IBM is cooperating with the investigations.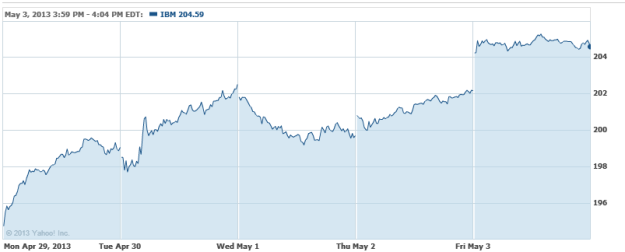 Don't Miss: Chart of the Day: These 5 American Giants Lead the Way.
Hewlett-Packard Co. (NYSE:HPQ): Current price $20.63
HP Enterprise Services has announced new services that are created to allow organizations to break free from legacy contact center tech, and deliver new multichannel customer experience capabilities to customers rapidly and cost-effectively. While end-user consumer expectations continue to increase, the contact center should evolve so as to maintain the highest levels of customer service. The new HP Customer Engagement as a service, unites HP's leadership in enterprise cloud with tech from Avaya to give clients a fast path to transition their legacy contact centers to a new, flexible platform.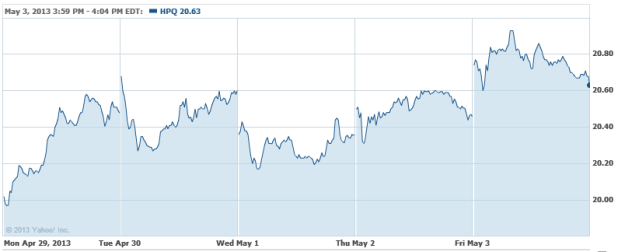 Cisco Systems (NASDAQ:CSCO): Current price $20.83
Cisco has announced new products based on its next-generation 802.11ac wireless networking standard, which offer data transfer speeds of as much as one gigabit per second, sufficiently fast to download significant amounts of Web content and stream video simultaneously. The  products are already being adopted around worldwide by universities, hospitals, law firms and other organizations, and should allow businesses to more easily support the increasing number of devices connected to their wireless networks and high-bandwidth applications, like HD streaming video, Web conferencing, and data backup and transfers.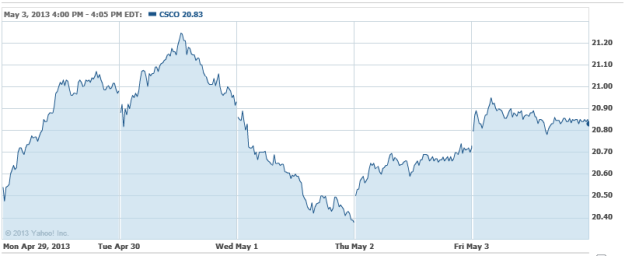 Investing Insights: Will eBay Move Higher?
Vodafone Group (NASDAQ:VOD): Current price $30.34
Vodafone might garner $100 billion from its investment in United States mobile-phone venture Verizon Wireless, but the cash-strapped government of the United Kingdom likely won't see a penny of it due to an automatic exemption. The price for Vodafone's 45-percent interest, which partner Verizon Communications says it would be willing to pay, indicates that the value of Verizon Wireless has tripled since it was created. In the usual case, companies must pay a corporate tax rate of 23 percent on gains in the U.K., but though no arrangement or structure  has been announced, Vodafone could get away with paying zero, because of the so- called substantial shareholding exemption.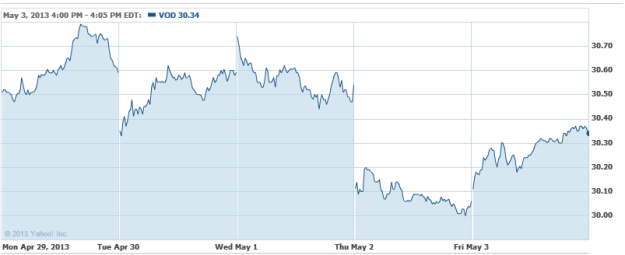 Don't Miss: Microsoft Tries to Dent Google and Apple with This Cheap Phone.