Vodafone Hit Hard by European Economic Slump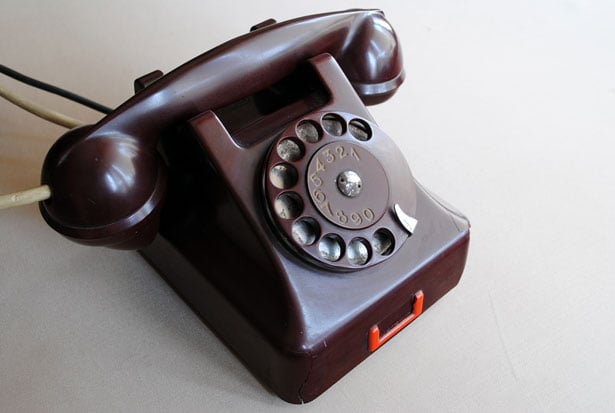 Vodafone Group PLC (NASDAQ:VOD) said Friday that the company's revenue has fallen 3.5 percent in the quarter due to competition and economic troubles in Europe, its biggest market.
The wireless provider's ventures in emerging markets helped take the edge off its struggling European businesses, as growth in India and South Africa is expected to continue. The company's revenue in India grew 13.8 percent for the quarter, and CEO Vittorio Colao is planning further expansion in the country, where Vodafone has the highest minutes usage and one of the lowest average monthly bills.
The company's 45 percent stake in Verizon Wireless, owned by Verizon Communications (NYSE:VZ), also reported earnings on Thursday in another bright spot. Revenue for Vodafone's stake in Verizon Wireless grew 7.2 percent.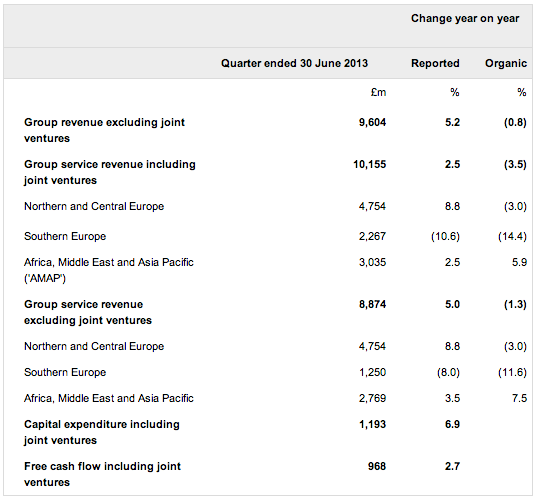 Economic slumps in southern Europe were blamed for the drop in revenue. Revenue in Italy fell 17.6 percent and revenue in Spain fell 10.6 percent. Overall, the company's service sales fell 3.5 percent for the three-month period ending in June. The figure was slightly better than analysts were predicting. Analyst estimates compiled by Bloomberg predicted a 3.6 percent decline.
While Vodafone is strategically investing in markets with higher growth, Europe is still its biggest revenue source, and the unstable economy along with increased competition and stricter regulations have taken a toll on the company's European business. But Colao hasn't given up on Europe completely. Vodafone is hoping that a purchase of Germany's Kable Deutschland Holding AG (KBDHY.PK) will go through by fourth quarter, and the company is working to build its networks in Spain and Italy.
Vodafone is looking to purchase Kable Deutschland as a way to continue growth in Germany, the company's biggest market. An acquisition of Kable Deutschland, the country's biggest cable company, would allow Vodafone to offer bundled packages including TV and phone service in the country.
Colao seemed optimistic that the Kable Deutschland purchase would help turn Vodafone's European fortunes around. "In addition, the proposed acquisition of Kabel Deutschland will create an excellent platform for our unified communications strategy in our most important market," he said in the company's earnings report. "Although regulation, competitive pressures and weak economies, particularly in Southern Europe, continue to restrict revenue growth, we continue to lay strong foundations for the longer term."
Follow Jacqueline on Twitter @Jacqui_WSCS
Don't Miss: Intel's Earnings Report Chips Away at Street Confidence.