Warren Buffett Followers Like Apple
Berkshire Hathaway (NYSE:BRKA) held its annual shareholder meeting in Omaha, Nebraska on Saturday and some of the investors who attended seemed more enthusiastic about Apple's (NASDAQ:AAPL) future prospects than they were about Berkshire stock. While Warren Buffett, the famous "Oracle of Omaha," offered his sage commentary on Berkshire stock and the American economy, slightly less famous investors shared their views on the Cupertino-based technology company's investment value.
Stephen Gandel at CNNMoney spoke to several prominent investors and money managers who talked up Apple's value at the annual gathering of Buffett's followers. One of these investors was hedge fund manager Whitney Tilson, who manages Kase Capital.
Regarding Apple's $17 billion bond deal, Tilson stated via CNNMoney that "I think it is half right. It's enough, along with a little innovation, to make the stock go up for now. But they need a better capital plan and more innovation for me to be a long-term shareholder." Apple will likely use the majority of last week's $17 billion bond offering to help fund its ambitious $100 billion shareholder capital return plan, although the company may also use some its newly acquired cash for other projects.
However, Tilson also revealed that he has recently been buying into the iPhone maker and believes that Apple's share price could go up to $550. Gandel also spoke to Bill Miller, who is Chairman and Portfolio Manager at Legg Mason Capital Management.
Like Tilson, Miller has also been recently investing in Apple shares. He noted that the value of Apple shares is increasing while the stock still trades at half the estimated worth of the proposed Dell (NASDAQ:DELL) deal. Quite simply, Miller believes Apple is "the best investment in the market right now."
Here's how Apple and Berkshire traded throughout this past week.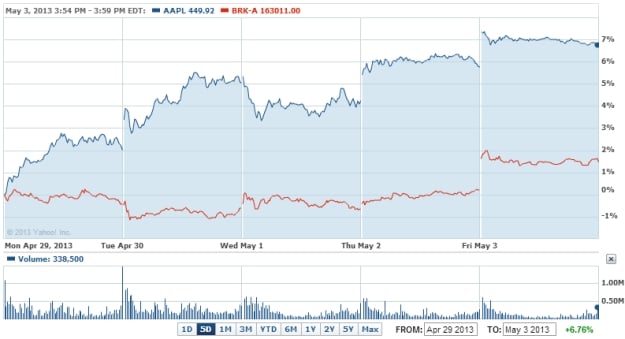 Don't Miss: Apple Is Burning the Midnight Oil for This Project.