Was Comcast a Silent Victor in the Hulu Deal Breakdown?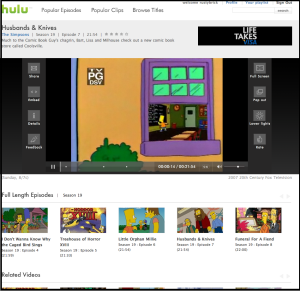 On Friday, Hulu co-owners The Walt Disney Co. (NYSE:DIS), Comcast's (NASDAQ:CMCSA) NBCUniversal, and 21st Century Fox (NASDAQ:FOXA) – which split from parent company News Corp. (NASDAQ:NWS) last month — announced that they would not not sell the company, deciding instead to retain joint ownership and invest $750 million into the company to spur growth.
Chase Carey, president and chief operating officer of 21st Century Fox, said in a statement, "with 21st Century Fox and Disney fully aligned in our collective vision and goals for the business, we decided to continue to empower the Hulu team, in this fashion, to continue the incredible momentum they've built over the last few years."
While Hulu might be off the table in terms of a wholesale, it appears that Time Warner Cable (NYSE:TWC) is still in discussions to purchase a stake in the streaming video service. According to a trio of sources, Time Warner Cable was previously interested in purchasing a 25 percent stake in the company, and a deal could be made within the next two weeks. If the deal were to go through, Hulu would have even more money to put into its service than the $750 million its current owners have pledged.
The news can be seen as a blow to the popular video streaming service in a variety of ways. In an article for paidContent, the deal is described as having losers everywhere: Hulu's co-owners didn't get the money they wanted; Hulu staff are stuck with co-owners trying to pull the company in different directions; and content is likely to move further behind a paywall, meaning Hulu users are likely to get increasingly frustrated.
However, Comcast, which owns one-third of Hulu, might be the lone winner in the entire deal. Because of regulatory conditions following Comcast's merger with NBC Universal, it was not allowed to influence business even if it wanted to. Chances are, Comcast  would have pressed for the deal to fail because some of the proposed buyers of Hulu were some of Comcast's biggest rivals, such as AT&T (NYSE:T) and DirecTV (NASDAQ:DTV), which are both in direct competition with Comcast as a TV service provider.
The general consensus is that AT&T and DirecTV were interested in using Hulu packaged within their TV services, so the results of the buyout can be seen as a victory for Comcast for the time being. In what could have been the first step towards an online-based TV subscription will now have to wait — though it might not be long.