Was There An Apple-Google Anti-Poaching Conspiracy?
Apple (NASDAQ:AAPL), Google (NASDAQ:GOOG), and several other technology companies will not face a class action lawsuit over an alleged anti-poaching conspiracy — for now. In a decision rendered on Friday, U.S. District Judge Lucy Koh said the plaintiffs had not yet demonstrated that their lawsuits had enough in common to be designated with the class certification, reports Reuters. However, Koh said the "alleged overarching conspiracy" could be granted class certification in the future if "new evidence" is introduced, reports Reuters.
The lawsuit brought by five software employees alleges that Apple, Google, Adobe (NASDAQ:ADBE), Intel (NASDAQ:INTC), Intuit (NASDAQ:INTU), and Disney's (NYSE:DIS) Lucasfilm and Pixar units conspired to not poach employees from each others' companies, thereby limiting the employees' job options and salary potential. If proven, this would be a violation of federal antitrust laws, including the Clayton Act and  the Sherman Act. Although the employees can still sue individually, class certification of their lawsuits would help them get a larger financial settlement than they would separately…
Current Apple CEO Tim Cook gave testimony in regards to the case in January of this year, according to Apple Insider. According to Reuters, a 2010 U.S. Department of Justice probe regarding similar allegations revealed emails from former Apple CEO Steve Jobs that requested Google stop its efforts to hire an Apple engineer. Eric Schmidt of Google and Paul Otellini of Intel were also ordered to testify in the case.
Apple moved down 1.26 percent at $422.33 in early afternoon trading on Friday.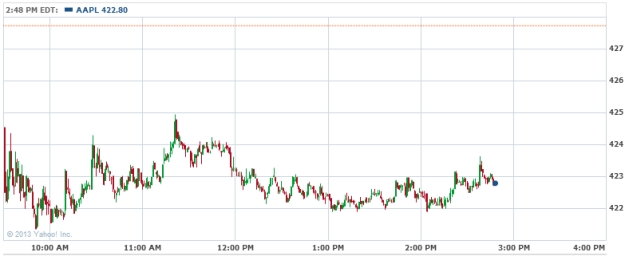 Don't Miss: Here's A Surprising Change in the Guard at Hewlett-Packard.