Was United Technologies to Blame for Boeing's Latest Issue?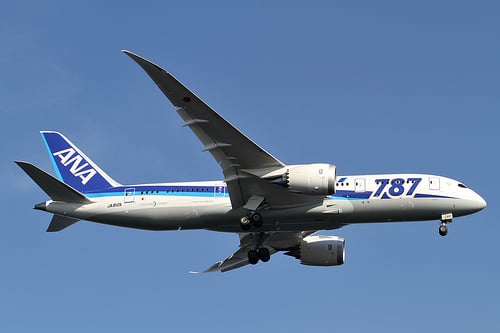 On Friday, a unit of United Technologies Corp. (NYSE:UTX) took responsibility for assembly errors in engine-fire extinguishing systems that caused a round of inspections for Boeing Co. (NYSE:BA) 787 jets earlier this week. The improperly assembled extinguisher bottles were discovered on three All Nippon Holdings Inc. 787s, causing Boeing to recommend inspections by operators.
An emailed statement to The Wall Street Journal by a spokesman for United Technologies read, "An assembly error in our service center impacted a limited number of refurbished fire extinguisher bottles."
The systems were manufactured at United Technologies' Kiddie Aerospace unit. The company said that the "error has been corrected and we are working with Boeing and the airlines to complete the necessary inspections, which we expect will be completed over the next few days."
In an earlier statement, Boeing said, "improperly configured components are not acceptable and this issue is being addressed promptly." They also said that "Boeing will follow standard disciplined procedures to understand how this discrepancy occurred and ensure it is not repeated."
Despite Boeing's push for further inspections, the company explained on Thursday that the issue wasn't a "safety of flight issue" because the aircrafts are equipped with other fire-extinguishing systems and the engine-fire extinguisher does not impact the engine's performance. On Friday, United Continental Holdings Inc. (NYSE:UAL) was continuing extinguisher inspections, as it operates seven 787s, but has not yet found any improperly installed engine fire extinguishers.
While the news that the issue is relatively harmless is likely a relief for the embattled airplane manufacturer, what Boeing would truly like is stay out of the news entirely. There have been battery problems, botched landings and fires all within the last year. While this latest setback turned out to be much ado about nothing, Boeing once again saw the last year come roaring back into the limelight.