Watch Out Apple, Microsoft's on the Tablet Offensive
Sometimes in a battle, the best defense is offense. Microsoft (NASDAQ:MSFT) seems to be taking this adage to heart when it revealed its strategy to challenge Apple's (NASDAQ:AAPL) iPad tablet market dominance with the upcoming release of a smaller tablet reports Apple Insider. Microsoft's chief financial officer, Peter Klein, revealed the company's plans during a conference call that followed the release of the Redmond-based company's earnings report.
Via Apple Insider, Klein stated that Microsoft is "working closely with OEMs on a new suite of small touch devices powered by Windows." Unlike Microsoft's current Surface tablet device which retails starting at $499, this new, smaller tablet will be cheaper in order to better compete in the tablet market.
"These devices will have competitive price points, partly enabled by our latest OEM offerings designed specifically for these smaller devices, and will be available in the coming months," stated Klein according to Apple Insider. Microsoft's smaller tablets will also feature Windows 8, albeit with a lower resolution and slightly less functions than the fully loaded software.
Microsoft has struggled to find a strategy to cope with the overall worldwide decline in the PC market and the related poor reception for its Windows 8 software. Microsoft's struggles are the exception in the overall growth of the tablet market. To date, Amazon (NASDAQ:AMZN) and Apple have solidified their leadership in the future of mobile computing. As a consumer, the only real decision at the moment is whether to buy an iPad or Kindle.
According to the IDC's latest reports via Bloomberg, worldwide sales of tablets reached 128.3 million units in 2012. Over half of those sales were for versions of Apple's iPad. Microsoft's current tablet offerings, the Surface RT and the Surface Pro, have failed to generate consumer excitement like Apple's iPad.
Although Klein referred to OEMs, other sources believe Microsoft might be developing its own 7-inch tablet, which could potentially be joined to its Xbox ecosystem reports Apple Insider.
Apple shares closed at $390.50 on Friday after shedding $1.55, or 0.40 percent, from its price at the opening bell. Microsoft gained 0.97 cents, or 3.39 percent, to close at $29.76.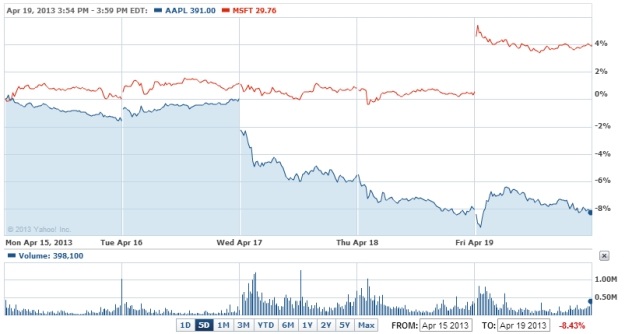 Don't Miss: Is Penguin Abandoning Apple?