Wearable Tech Expected to Be $50B Industry in 5 Years
In a new report, research firm ON World projects that wearable tech devices — ranging from smartwatches to smart glasses to all types of wearable sensors — will constitute a $50 billion industry within the next five years. Over the next five years, it expects 700 million devices to ship globally, and projects that 330 million smartwatches will have been shipped globally by 2018, up from fewer than 3 million in 2013.
Hardware is expected to make up the majority of the area's revenue in the next five years, though monitoring services, mobile apps, and other subscriptions will also grow. The firm also expects smartwatches, smart glasses, and wearable sensors to overtake health and fitness-focused devices, and make up two-thirds of revenue from wearable tech in 2018. ON World believes that the smartwatch will disrupt the current technology market, positing that "smartwatches will replace the application needs of many smart phone users." The firm also surveyed 1,000 consumers and found that 55 percent preferred a wristwatch to other wearable tech, and 38 percent reported an interest in health applications of the technology.
Though the product won't launch until the fall, the consumer survey found that "Apple's (NASDAQ:AAPL) iWatch is the most preferred smartwatch offering even though it is not yet available."  Price is also a key factor in consumer decisions, with 40 percent of surveyed consumers willing to pay $99 or more for a smartwatch that tracked blood pressure, heart rate, and activity, while only 8 percent would be willing to pay $299 or more.
The firm evaluated current and forthcoming offerings by approximately 70 different companies competing in the wearables market, and over 50 of those manufacture smartwatches. "The top five smartwatch market leaders in 2013 were Samsung (SSNLF.PK), Nike (NYSE:NKE), Pebble, Sony (NYSE:SNE) and Garmin (NASDAQ:GRMN) with numerous new entrants in 2014 including LG (LGEAF.PK), Motorola (NYSE:MSI) and Nissan (NSANY.PK) who are joining dozens of existing competitors."
Let's take a look at the smartwatches offered by some of the companies who are leading the market currently, starting with the smartwatch that ON World found is already preferred by consumers even before its launch.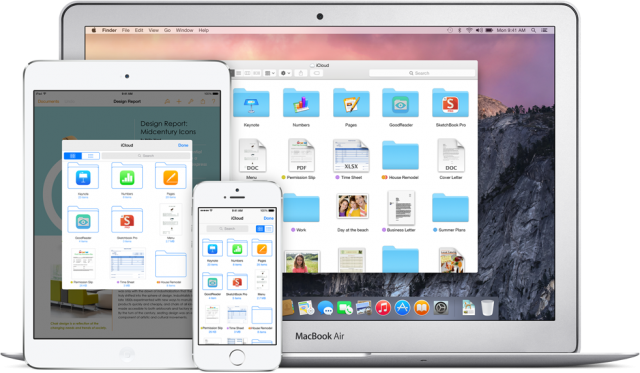 The iWatch
Apple hasn't yet officially announced the much-rumored iWatch, though it's expected that the forthcoming iOS 8 was designed with the smartwatch in mind. The watch is rumored to feature a full version of iOS, and could feature biometrics and other sensors. The display is rumored to be between 1.3 to 2.5 inches, and the smartwatch is expected to launch during the fall of this year.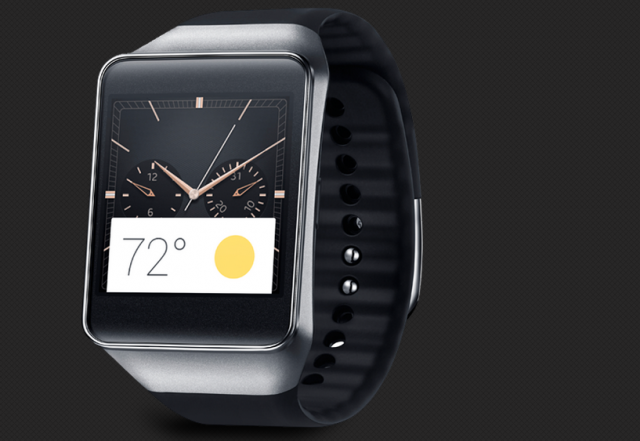 Samsung Gear Live
The Samsung Gear Live, officially launching July 7, runs on Google's (NASDAQ:GOOG) Android Wear, which also powers the LG G and the Motorola Moto 360. It features a 1.63-inch display, the same size as Samsung's Gear 2 smartwatch, which runs on Samsung's own Tizen. The Gear Live is the company's fourth smartwatch in twelve months, and features a 1.2 GHz processor, 4 GB of internal memory, and a built-in heart rate monitor and accelerometer. Samsung's older smartwatch models are the Gear 2 Neo, the Gear 2, and the Gear Fit.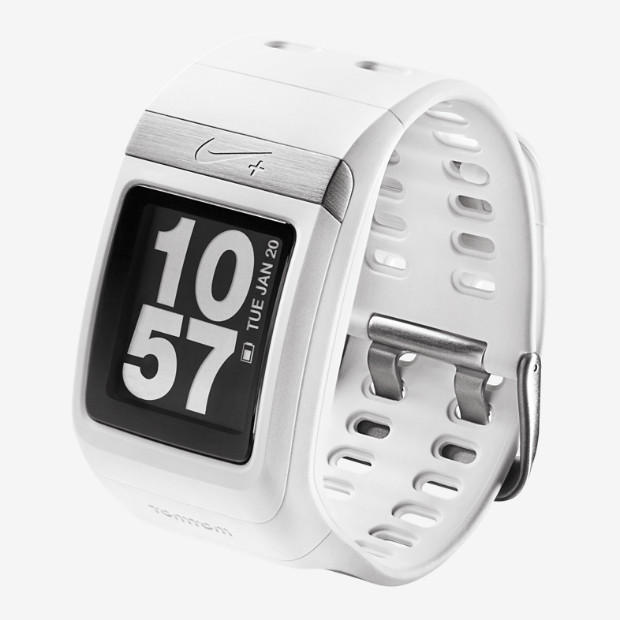 Nike+ Sportwatch GPS
The Nike+ Sportwatch GPS is targeted at runners, and uses TomTom navigation to track distance, pace, time, routes, calories burned, and other variables. A Nike+ sensor provides speed and distance information if the GPS connectivity is interrupted. Users can track their route on the Nike Plus website, and the separate Polar Wearlink+ Transmitter can track heart rate. The current Nike+ Sportwatch GPS is a revamped version of the watch that originally launched in 2011, and currently costs $140 on Nike's website. The Sportwatch GPS also pairs with a shoe sensor, and the only sensor onboard is an accelerometer, showing that it's becoming a little outdated compared to other smartwatch options. Nike also offers the Fuelband SE, which is more accurately classified as an activity tracker than a smartwatch.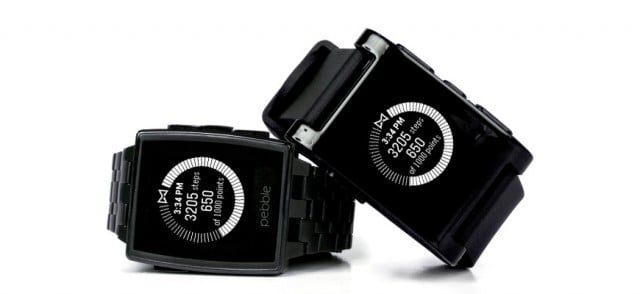 The Pebble 
The Pebble smartwatch is compatible with both Android and iOS, and can track activities, and send texts and notifications. A variety of apps run directly on the watch, and features built-in alarm capability. Pebble was originally funded by a Kickstarter campaign, and now offers its original smartwatch model plus a new "Steel" version, which features stainless steel and Gorilla Glass.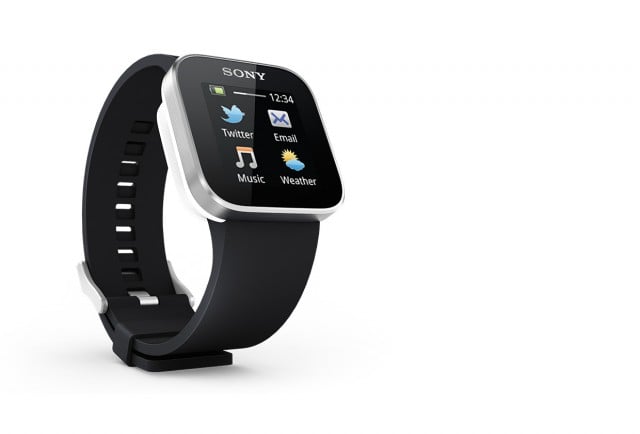 SmartWatch
Sony's SmartWatch aims to be "a mini version of your smartphone" and is compatible with most Android phones. It features notifications for emails and text messages, and calendar alerts, Facebook messages, and tweets. It also functions as an "Android remote" within a 32-foot range of a smartphone to enable users to control the phone's music player and to display apps on the SmartWatch itself. Additionally, users can choose between a digital and analog watch face, and the watch features a multi-touch display.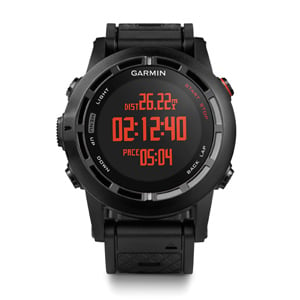 Fenix 2
Garmin offers a variety of smartwatch options specialized for different applications, from flying to boating to hiking to running. One of those many options is the Fenix 2, a multisport watch that offers navigation plus tracking of distance and pace, and heart rate when an external monitor is used. It offers multiple feature sets for a long list of sports — "running, climbing, riding, hiking, paddling, skiing or swimming," — and features GPS plus an altimeter, barometer, and compass. The LCD displays notifications for emails, text messages, and other alerts, and can pair with external sensors or smartphones.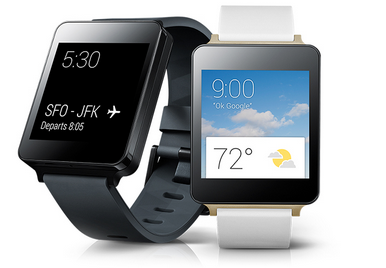 LG G Watch
The LG G Watch, like the Samsung Gear Live, is powered by Android Wear to easily interface with any Android device. The watch's 1.65-inch display is always on, but consumes low amounts of power. The G Watch features a 1.2 GHz processor, and displays text messages and incoming phone calls, plus can control music playback. Like the Samsung Gear Live, the G Watch uses the card-based Android Wear interface, meant to provide easily glance-able information that requires minimal interaction.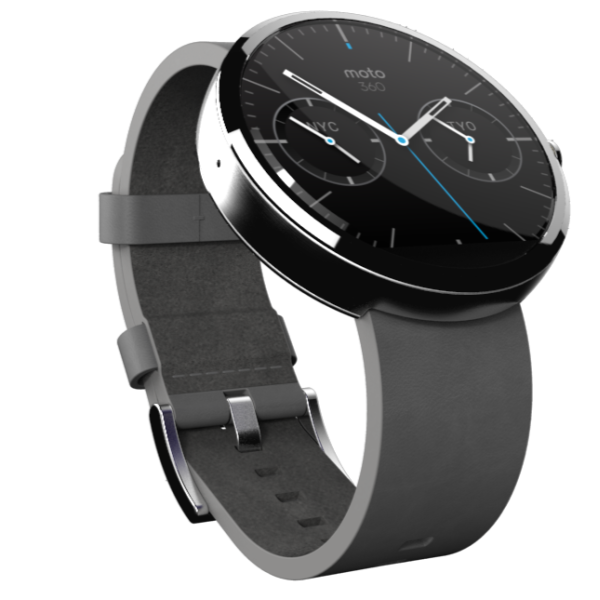 Motorola Moto 360 
The Motorola Moto 360 also runs Android Wear, and its round shape contrasts with the Samsung Gear Live and the LG G Watch. In addition to the standard Android Wear interface and notifications, the Moto 360 is expected to offer more in terms of hardware. Multiple biometric sensors or a better way to charge the battery are a possibility. The smartwatch can be woken up from power-saving mode by pressing a button on the side or by tapping the face. The smartwatch will answer calls, replay to messages, track steps, and control music playback.
More from Wall St. Cheat Sheet: