What Are GE's Industrial Internet Plans All About?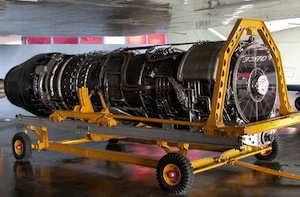 General Electric (NYSE:GE) is hiring thousands of engineers near San Francisco in an effort to support their Industrial Internet, a multi-billion dollar attempt to connect everything from jet-engines and medical imaging machines to the web with one common goal in mind: efficiency.
"We've opened a software center in the East Bay, hiring thousands of software engineers to basically bring all the great innovation you've seen in Silicon Valley now to industry," Beth Comstock, chief marketing officer at GE, said at the Bloomberg Next Big Thing Summit in Half Moon Bay, California.
GE first announced the Industrial Internet last year, with the hopes that the gargantuan investment would pay off by building networks that track loads of data from machines, then providing customers with services to help analyze all this data.
"We probably haven't seen anything yet when it comes to data when machines start talking to machines and machines start talking to people," Comstock said. "We have to make sense of it."
They've invested in a $1 billion facility in San Ramon, a city near Silicon Valley, to help them analyze the information. Bloomberg reports that they've also started hiring engineers away from Oracle (NASDAQ:ORCL), SAP AG (NYSE:SAP), and Symantec (NASDAQ:SYMC), in addition to new hires from the University of California, Berkeley and Stanford University.
Jet engines, in particular, seem to be a crucial component of GE's plans going forward. The company recently announced it would reduce maintenance and fuel costs of jet engines by incorporating ceramic parts that could withstand higher temperatures. CEO Jeff Immelt said that even a 1 percent improvement in commercial aircraft operations would translate into $2 billion less a year in fuel costs for GE customers, something Immelt hopes the Industrial Internet can help accomplish.
Meanwhile GE's chief rival in the jet engine business, United Technologies (NYSE:UTX), hasn't been nearly as progressive. They have announced their plans to implement a Geared Turbofan engine, which could cut fuel costs by 15 percent. But the closest thing to the Industrial Internet that United can offer its customers is work done by the Integrated Media Systems Center, which was introduced years ago.
The future appears bright for GE and the Industrial Internet, especially with jet engines. It's now up to their competitors to find a way to stay relevant.
Don't Miss: As U.S. Energy Boom Begins, Is Exxon a Good Buy?