What Does Apple Have Planned For the Wordwide Developers Conference?
That time of year is rolling around again — which could mean many things to many different people, but for Apple (NASDAQ:AAPL) fans, it means that the Wordwide Developers Conference (or WWDC) is coming up in San Francisco, California.
Generally, about 5,000 people show up for the annual event, the vast majority of whom create apps for Apple's iOS-based products, such as the iPhone and iPad, as well as other Mac software. The company uses the event as an opportunity to introduce new products coming down the R&D pipeline.
Heating competition around the globe and recent market valuation losses estimated at $280 billion have spurred curiosity among observers and investors alike as to what Apple's next big reveal will be, and which analysts speculate is tantalizingly close. Historically, Apple has hosted Spring events for its new iPad introductions, but that time frame has come and gone already this year, leaving people to wonder what may be released at the WWDC this year.
Though Apple has yet to announce a formal date for the enormously popular event (it sold out last year in two hours), fan sites are estimating that the likely date will be June 10th.
Among the whispers blowing around the analyst community, Apple could be gearing up for a number of things. A new take on the television, a smartwatch, web-based music streaming services, a cheaper iPhone or the next generation of the current device, even a ring-formatted remote for the Apple TV speculations. If you've been waiting around for any of these, CEO Tim Cook has some bad news — you'll have to keep waiting, until the Fall. At least.
"Our teams are hard at work on some amazing new hardware, software and services that we can't wait to introduce in the fall and throughout 2014," Cook said on a conference call with analysts, following the company's quarterly reports.
However, with the disappointing news comes a glimpse of hope for those waiting on Apple's innovation to step up its game. Cook also said Apple sees potential in some "exciting new product categories."
For some, Fall is not enough. "Apple has to do something in the next six months," Gene Munster of Piper Jaffray said. "Or else the consumers will start going elsewhere."
Here's how Apple finished trading on Thursday: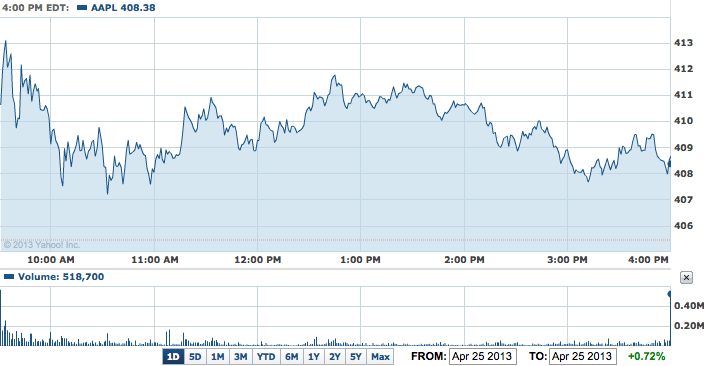 Don't Miss: Does Apple Still Have Something to Prove?