What Every Investor Should Know About Apple
Apple's (NASDAQ:AAPL) annual flagship Worldwide Developers Conference will begin in San Francisco in less than a month, and it could be a watershed event for the company. But with a number of competitors announcing new products and services, Apple could find it difficult to "wow" at WWDC.
Investors are expecting Apple and Chief Executive Officer Tim Cook to show that the company can still deliver innovative products. A new round of 13F statements filed with the Securities and Exchange Commission over the past few days revealed that a number of mutual funds and hedge fund managers have trimmed their Apple holdings as concerns for the iPhone maker's future have put its shares under pressure.
Robert Paul Leitao, founder of Braeburn Group, wrote in a late April blog post that he expects to see evidence of Apple's next disruptive step at the WWDC conference and he believes that the first step will be the release of the iOS 7 this summer.
"While there's talk of a larger-screen iPhone, a less expensive iPhone for emerging markets and expectations for major product refreshes over the next six months, what will drive Apple's long-term growth is the company's eco-system, expanding customer base and growth in the number of active iOS device users," he wrote.
With this in mind, it's important of investors to understand that Apple is changing, both as a company as an investment opportunity. Here's a groundwork for understanding the type of company Apple is today.
Revenue/Earnings Growth
Leitao argued that Apple is creating a firm foundation for future growth. But despite this assessment, the company's most recent quarterly results provided fuel for critics who believe that Apple has lost its innovative touch. Yet, the company's reported revenue of $43.60 billion represented a March quarter record and the company's third highest quarterly revenue in history.
However, for the March-ending period, Apple reported its first quarter-over-quarter earnings decline in a decade and its slowest rate of quarterly revenue growth in years. Since the third quarter of 2012, quarterly revenue growth has slowed to a pace last seen at the peak of the Great Recession.
Not only did the iPhone maker report that quarterly growth slowed, but that growth in the company's fastest-growing revenue region, Greater China, dropped to 7.54 percent, below the 11.27 percent revenue growth experienced by the company as a whole.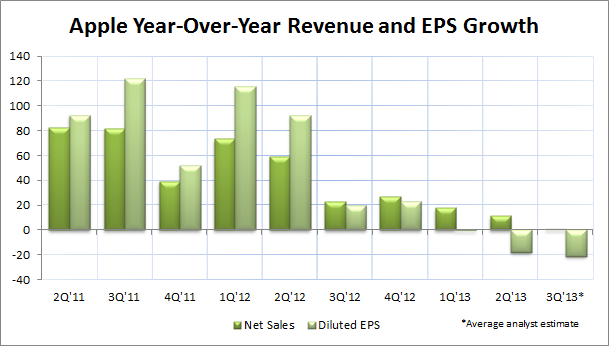 Gross Margin
For several years, Apple enjoyed industry-leading margins, but in the last four fiscal quarters, its gross margin has dropped significantly. In the first fiscal quarter, Apple reported gross margin of 37.5 percent, its worst performance since the fourth quarter of 2010. That quarter was the first full quarter of sales for the iPhone 4, and the change in the iconic smartphone's form factor that year mirrors the change in the form factor for the iPhone 5.
As the timing of those two dips show, the high costs of equipment for the new handsets negatively impacted gross margin. Comparatively, the company's gross margin reached its highest level during the first two quarters following the release of the second handset in the iPhone 4 series, due in a large part to the economies of scale created by the two-phone series. The release of the rumored iPhone 5S will likely result in a partial gross margin recover for Apple.
| | | | | | | |
| --- | --- | --- | --- | --- | --- | --- |
| | Mar. 31, 2012 | Jun. 30, 2012 | Sep. 30, 2012 | Dec. 31, 2012 | Mar. 31, 2013 | Jun. 30, 2012 (guidance) |
| Gross Margin (%) | 47.4 | 42.8 | 40.0 | 38.6 | 37.5 | 36 to 37 |
Product Mix
It's important to understand that while the iPhone is by far Apple's biggest cash cow, it is growing the slowest of any major product category. At this point, as indicated below, the iPod is showing negative growth. Sales of the music player have been cannibalized by the iPhone and iPad — a development that is not necessarily bad. Apple executives seem comfortable with the idea that the device's relevancy is diminishing.
Last quarter, the iPad accounted for 20 percent of total revenues while growing 40 percent on the year, the highest growth rate of any category. Following the iPad was revenue from iTunes, software, and services, a category that the company and investors will be putting more and more weight on as it grows in the coming years. Mac sales continued to plug along at a single-digit rate.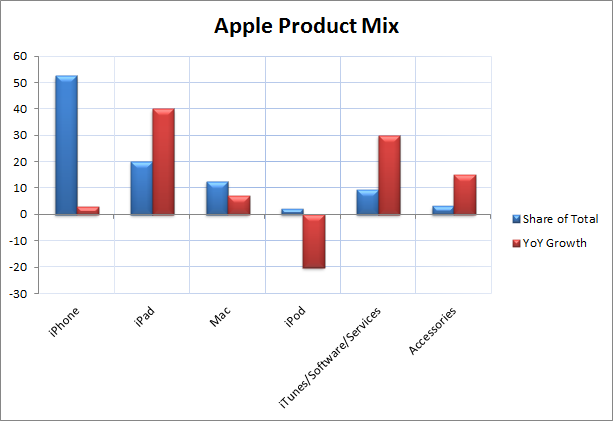 Capital Return
Any way you cut it, Apple is growing up. Year-over-year revenue and earnings growth has clearly decelerated, indicating that the company is ripening into maturity. Apple's transition years have proven to be awkward so far — qualitatively in the conversation surrounding the company, and quantitatively in its stock price — and investors from all walks have been forced to change how they think about the business.
Apple's capital return program was a long time coming, but patient investors who have sat with the stock through its fall from over $700 last September were rewarded in April. The company announced the largest single share repurchase authorization in history — $60 billion total, trumping records set by previous heavy-hitters like Microsoft (NASDAQ:MSFT) and Proctor & Gamble (NYSE:PG).
Apple also increased its quarterly dividend by 15 percent, announcing a second-quarter payout of $3.05 per share. All told, by the end of 2015, Apple will return about $100 billion to shareholders. The capital return program seems to have put a floor beneath the stock. Any lower than $400 per share and value investors would practically be obligated to buy shares.
Meghan Foley contributed reporting to this post.
Follow Meghan on Twitter at @MFoley_WSCS. Follow Dan at @WSCS_Dan.
Don't Miss: Hey, Hedge Fund Managers Still Love Apple!