What Happened to the Social Media Bubble?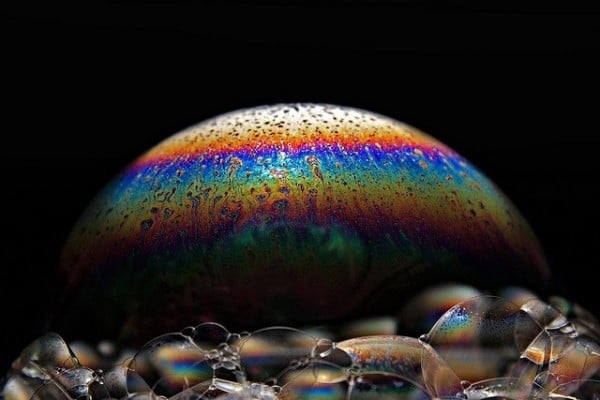 Not too long ago, the social media craze was considered the latest fad involving an Internet connection. Its introduction to Wall Street brought back memories of the dotcom bubble, and any reports suggesting their value could be realized were ridiculed. However, the latest round of earnings from the biggest players has many investors thinking twice.
Facebook's (NASDAQ:FB) initial public offering was tagged as a failure from the beginning. The social media giant went public last year at a price of $38 per share, but shares quickly lost momentum when they hit the secondary market. Facebook ultimately hit a low of $17.55, and received a handful of downgrades. Despite the complications, Wall Street appears to like Facebook and other social media names more than ever.
After announcing financial results for the second quarter, shares of Facebook surged 30 percent in a single day — its best one-day performance since going public. Revenue surged 53.1 percent from the year-ago quarter to $1.8 billion, easily beating estimates calling for $1.62 billion. There are now more than 1 million active advertisers on Facebook, and nearly 700 million daily active users.
More importantly, Facebook was able to crush any fears about a mobile strategy. Revenue from mobile advertising represented 41 percent of advertising revenue in the second quarter. Meanwhile, the number of monthly active users on mobile jumped 51 percent year-over-year to 819 million, hardly a sign of a dying fad.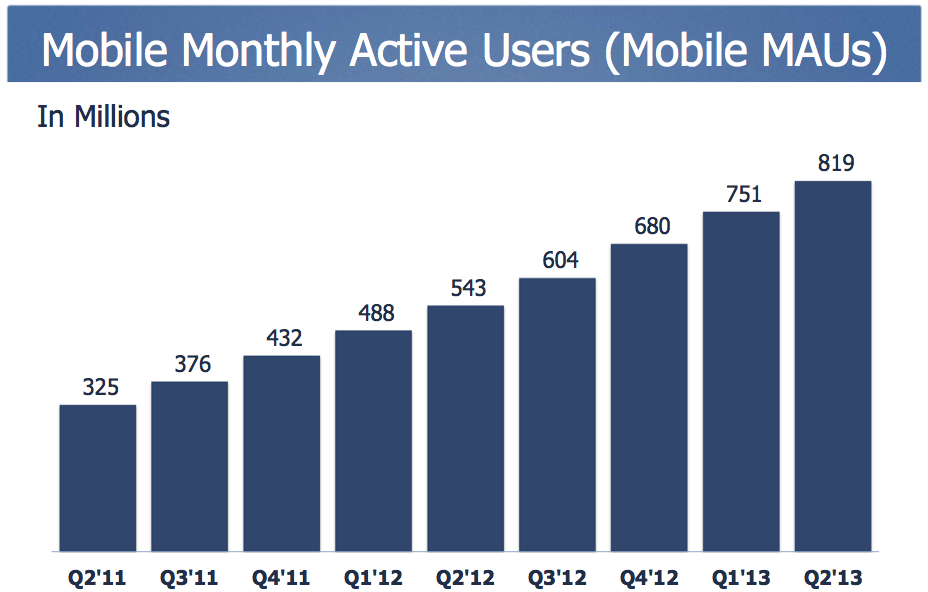 "We've made good progress growing our community, deepening engagement and delivering strong financial results, especially on mobile," said Mark Zuckerberg, founder and chief executive officer of Facebook. "The work we've done to make mobile the best Facebook experience is showing good results and provides us with a solid foundation for the future."
LinkedIn (NYSE:LNKD) never had the blemishes on its resume that Facebook did, but shares have exceeded the expectations of just about everyone on Wall Street. The world's largest professional network recently hit fresh all-time highs near $240. Shares jumped by double-digits on Friday after impressive quarterly results, and have more than quadrupled from the IPO price of $45.
Revenue for the three months ended June 30 increased 59 percent to $363.7 million, compared to $228.2 million a year earlier. During the same period, net income rose from $2.8 million to $3.7 million. Analysts expected revenue of about $354 million. LinkedIn has topped revenue estimates every quarter since going public in 2011.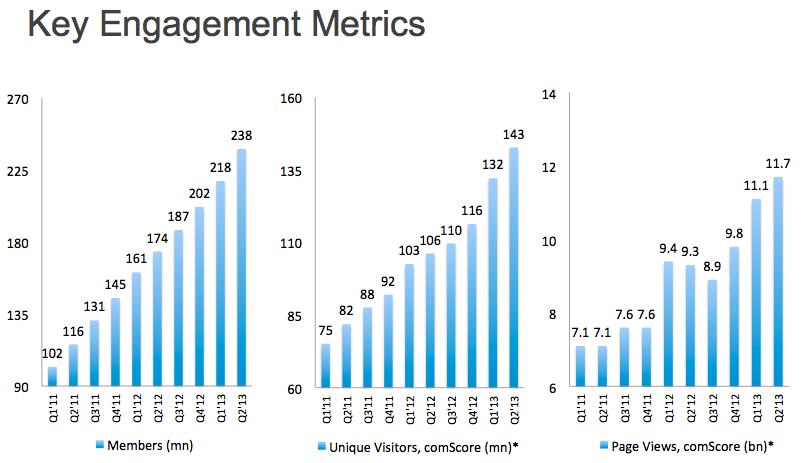 LinkedIn has more than 238 million members, and the number of unique visitors and page views hit fresh all-time highs in the second quarter. "Accelerated member growth and strong engagement drove record operating and financial results in the second quarter," said Jeff Weiner, CEO of LinkedIn. "We are continuing to invest in driving scale across the LinkedIn platform, in order to fully realize our long-term potential."
While social media has been performing well this year, it still appears to be well below its full potential. A study released last year found that value and productivity waiting to be tapped through social media technologies could add more than $1 trillion annually to the economy.
Based on a lengthy in-depth analysis on usage in sectors that represent almost 20 percent of global industry sales, the McKinsey Global Institute, the business and economics research arm of McKinsey & Company, claims that social technologies can create value across business chains between $900 billion and $1.3 trillion. However, to reach the maximum value estimate, all participants would have to fully implement the technologies to improve teamwork, and reinvest the savings in the most productive ways.
The report explained, "Two-thirds of the value creation opportunity afforded by social technologies lies in improving communications and collaboration within and across enterprises. By adopting these organizational technologies, we estimate that companies could raise the productivity of knowledge workers by 20 to 25 percent. However, realizing such gains will require significant transformations in management practices and organizational behavior."
Follow Eric on Twitter @Mr_Eric_WSCS
Don't Miss: Rising Factory Orders Confirm Modest Manufacturing Recovery.