What is Lynch Doing on Apple's Mystery Team?
Is a former Apple (NASDAQ:AAPL) gadfly now in charge of one of the Cupertino-based company's infamous secret projects? As reported by Bloomberg, Apple controversially hired Adobe (NASDAQ:ADBE) Chief Technology Officer Kevin Lynch as a vice president for technology last month. Lynch gained notoriety among Apple followers for his criticism of Apple's refusal to use Adobe's Flash video program for its devices.
However, the former Apple critic is now rumored to be heading up a team that may be working on Apple's next big product reports Apple Insider. According to MacGeneration sources via Apple Insider, Lynch is managing a team of Apple engineers that includes many names associated with the development of Apple's iPod.
According to 9to5Mac, Robert Curtis, developer of the iPod firmware, has been associated with Lynch's team. Steve Bollinger, who is the creator behind several user-interface patents related to the iPad and iPod, is also rumored to be a part of the team. Some observers have speculated that the project in development may be related to the long anticipated iWatch device…
Lynch reports directly to Senior VP Bob Mansfield, who is in charge of Apple's new "Technologies" division, according to Apple Insider. The new division was formed from teams working on semiconductor development and wireless technologies.
Apple shares are down $4.58, or 1.05 percent, at $429.75 in late Friday morning trading.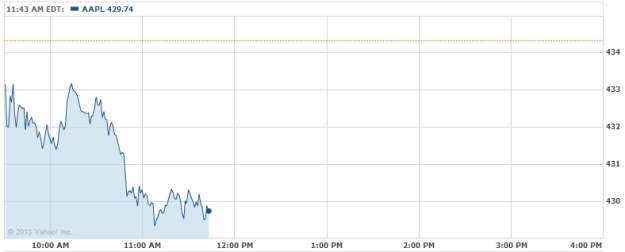 Don't Miss: Apple Just Took This Major Step Towards iRadio.