What New Direction Will Google Choose for Google Glass?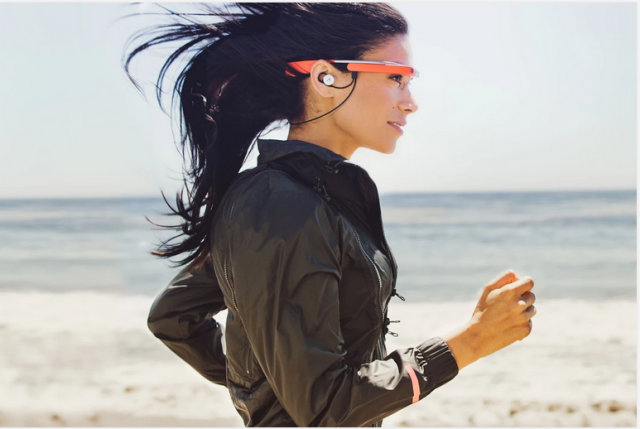 The team behind Google Glass announced on its Google+ page that Glass is "graduating" from the GoogleX labs to become its own standalone unit within the company. As part of the transition, the Explorer Program, which made a $1,500 test version of Glass available to anyone, will be closed as of January 19. Future versions of Glass will be built out of public view, using an approach that The Wall Street Journal points out is favored by companies like Apple, which develops gadgets in secret and releases them as fully finished products.
This approach contrasts with Google's tendency, as a software company, to release early versions of its products to a test group to gain their feedback. The Google+ post notes that Google began the Glass Explorer Program "as a kind of 'open beta' to hear what people had to say." So what has Google learned from the program, and will it be able to leverage the feedback gained and lessons learned to remake Glass into a successful product?
Conor Dougherty reports for The New York Times that while "regular people" will no longer be able to purchase the wearable, Google will continue the Glass at Work initiative to pilot the device in workplaces like hospitals and factories.  Glass will also still be available to "certified partners" who are developing software for it. A statement from Google explained, "After nearly two years, and an incredible amount of useful feedback about what works and what needs to be better, we're closing the program so we can focus on future versions of Glass."
That future will include what Dougherty, who focuses on covering "how Google the company is changing the world" and "how Google's products are changing the world" for the Times, characterizes as an "unusual arrangement" for the company. Ivy Ross, who oversees Glass, will now report to Tony Fadell, who is chief executive of Google's Nest division and the former leader of Apple's iPod division.
As Marcus Wohlsen notes at Wired, Google Glass hasn't come close to changing the world. The object of derision, confusion, and even indifference, the wearable has largely failed to make a case for wearing a computer on our faces. The iPod's upending of the music industry and its huge impact on the arena of personal technology contrasts sharply with Google Glass's failure to do something radically new or to take off with consumers. But Wohlsen points out that Fadell has a strong track record in both of those areas, and the move to give Fadell oversight of Glass will help Google tackle the problem of defining what Glass is for, and communicating its uses and utility to consumers.
Even as critics argued over the privacy intrusions posed by a head-mounted device with an always-accessible camera, such backlash drew discussion away from a basic question: What is the point of Google Glass? The advantage of Glass over a smartphone was never made clear, and Google instead seemed to hope that the early adopters of the wearable would figure out a killer app or compelling use for it. Wohlsen points out that consumers aren't interested in newness for newness's sake, because newness doesn't entail innovation unless usefulness is part of the picture.
In the meantime, connected headsets seem to have found a niche audience in work-related contexts, and provide clear benefits to professionals like surgeons. Remaking Glass could involve pitching it as a device for work, but Google will still need to convey a well-defined purpose for the device — one that makes its usefulness obvious to potential customers in whatever broad or niche markets Google targets.
The Wall Street Journal reports that a new version of Google Glass will be available sometime this year. However, the next device won't be sold to early testers, and Google will release a final version only when Ross and Fadell both think it's ready. Ross, a former marketing executive whom Google recruited to help Glass gain wider acceptance, explained, "There's no reason to throw it out there again. Now it's time to hunker down." The updated Google Glass is expected to feature a lower price tag, better battery life, improved sound quality, and a better display. Google is also reportedly considering adding a light to show when the outward-facing camera is recording.
The fact that Google is weighing the inclusion of such an indicator light shows that Google is looking seriously at the lessons learned from Google Glass's time on the market. As ZDNet editor-in-chief Larry Dignan writes, the potential lessons gleaned from the Explorer Program are numerous. Google has learned that the appearance of a wearable device — and making it as unobtrusive as possible — matters greatly to the general consumer. The reception of Google Glass has also shown that wearable devices need to move beyond mimicking the functionality of a smartphone, and depending on a smartphone, to find a compelling use and pitch it to potential customers.
With the development of the next version of Google Glass now firmly out of the limelight, there's little to do but speculate about the many directions that Fadell, Ross, and the Google Glass team could take the next iteration of the wearable. It remains unclear if Google Glass will ever succeed as a consumer product, and the only thing that is clear is that Google will go back to the drawing board with the entire strategy that underpins Google Glass. This year, Google will likely change not only how its smart glasses look and work, but the type of customer the wearable targets and the kind of marketing strategy the product adopts, all in pursuit of a clearer vision for Glass 2.0.
More from Tech Cheat Sheet:
Want more great content like this? Sign up here to receive the best of Cheat Sheet delivered daily. No spam; just tailored content straight to your inbox.