What to Expect of the Apple Watch's April Launch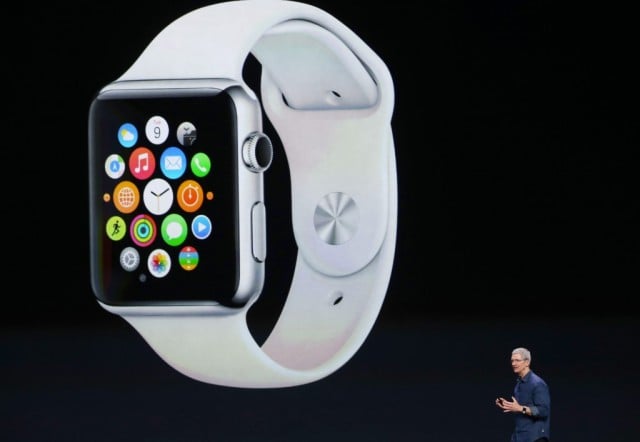 In the months since Apple first unveiled the Apple Watch at its September iPhone event, we've been awaiting news on when the company's first wearable will actually arrive in Apple Stores for consumers to try on and purchase. According to Quartz, Apple's Chief Executive Tim Cook finally gave the official word on when the wearable will arrive. Cook said during the company's conference call with investors over its first quarter earnings that the Apple Watch will launch in April 2015. Cook says that everything is "right on schedule" according to internal estimates.
Previously, the company had said only that the launch of the wearable would come in "early 2015," sparking speculation about a March launch date. While some consumers may need to wait a bit longer than they expected to get their hands on the Apple Watch, Cook noted that dividing the year into thirds still puts an April launch date in "early 2015." (He explained that the company considers the first four months of the year "early," the next four "mid," and the final four "late.")
Apple unveiled the Apple Watch in September, and has revealed that the device will be offered in three collections starting at $349, with a wide variety of aesthetic choices in each. As the Wall Street Journal reports, Apple is entering the smartwatch market later than many of its rivals, as it did with the iPhone and iPad. It hopes that its offering can redefine the emerging product category, which has struggled to take off among consumers who question whether they need another mobile device.
The Apple Watch will need to be paired with an iPhone to send and receive data. It's unclear whether Apple or the independent developers who have already begun building apps for the Apple Watch will be able to identify and build a killer app that makes the device a must-have for consumers.
Cook himself clearly doesn't need to wait to try out the Apple Watch, telling those on the call, "I'm using it every day and love it, and I can't live without it. I see we're making great progress on the development of it. The number of developers that are writing apps for it is impressive, and we're seeing some incredible innovation coming out there."
The WatchKit SDK was made available to developers in November, and while it's unclear so far exactly which titles will be available as apps for the Apple Watch, Cook says that many of the developers building apps for the watch are particularly interested in the "Glances" feature that sends notifications to the watch. Glances enables users to see real-time views of information like weather, stocks, and calendar events, and the watch sends gentle taps with the Taptic Engine when a user receives an alert or notification.
Re/code reoprts that the Apple Watch marks the first new product category for Apple since its introduction of the iPad in 2010. Some analysts are projecting that anywhere between 10 million and 30 million of the smartwatches could be sold in the first 12 months that it's on the market. Few expect that less-than-optimum battery life could sabotage the launch of the wearable, and even traditional watchmakers are noticeably scared of the effects that the Apple Watch could have on their industry.
As Tech Cheat Sheet recently reported, KGI Securities analyst Ming-Chi Kuo made some major predictions about Apple in a recent note to investors. Besides predicting that the Apple Watch would launch in March, he projected at the time that Apple will ship 2.8 million Apple Watch units in the first quarter that they're available. While most Apple Watch suppliers are expected to produce enough components to build between 4 million and 5 million units, he reported that the supply of several key parts may be constrained, which would affect final assembly rates.
Kuo also said that he thinks that Apple will reveal more details about the Apple Watch before its launch, including more information on the device's battery life. Recent reports have suggested that Apple is struggling to meet its original goals for battery life. The company has said that the device will require daily charging, and a report by 9to5Mac claims that Apple is targeting two-and-a-half hours of "heavy" app use or three-and-a-half hours of standard app use.
As of 2014, Apple wanted the wearable to provide roughly two-and-a-half to four hours of active app use versus 19 hours of combined active and passive use, three days of pure standby time, or four days if left in a sleeping mode. 9to5Mac's sources say Apple is likely to achieve only two to three days in either the standby or low-power modes. But because most users are likely to actively engage with the Apple Watch for only short periods of time in a given day, the watch will likely last through a day for the average user, even if Apple fails to reach its target of 19 hours of mixed use with the first generation of the wearable.
9to5Mac reports that battery life has been a source of concern for Apple over the past year, and was a contributing factor in the decision to push back the Apple Watch's retail launch from late 2014 to early 2015. Additionally, to test real-world performance in a variety of conditions, the company has reportedly circulated nearly 3,000 test units of the smartwatch, mostly the stainless steel variant. It's also been working on perfecting the MagSafe inductive charging mechanism for the watch, which has reportedly been responsible for slower-than-expected charging times, but is presumed to be fixed ahead of the wearable's release.
More from Tech Cheat Sheet:
Want more great content like this? Sign up here to receive the best of Cheat Sheet delivered daily. No spam; just tailored content straight to your inbox.