What Will Twitter's Q4 Revenue Look Like?
After making its S-1 filing with the SEC public a few weeks back, Twitter (NYSE:TWTR) filed an updated to its doc last week, which included Q3 revenues for the quarter ended October 1. As the company prepares for its IPO, these revenue growth numbers are being closely scrutinized, Twitter's valuation will be heavily dependent on whether investors believe they can significantly increase that revenue growth rate going forward.
But the interesting thing is that there are still no Sell Side analyst estimate for Twitter's revenue. Meanwhile, about four months ago we decided to do a little experiment at Estimize by putting Twitter on the platform for estimation. We weren't sure what was going to happen, and what did honestly floored us.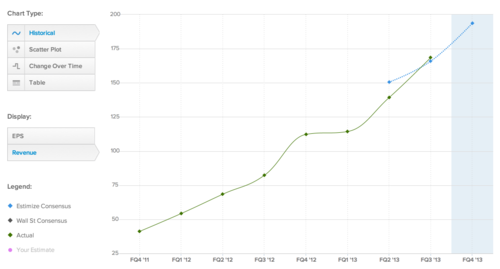 For the 2nd quarter the Estimize consensus from 12 Buy Side and Independent analysts who submitted to Estimize was about $10M off. But for the 3rd quarter, the same 12 analysts were only $2.5M from the actual results reported in the updated S-1 filing.
Now here's the really interesting part. One of the main questions that is always asked about the Estimize data set is, are analysts on the platform just anchoring to the Wall Street consensus, are they really doing any of their own work, or are they just guessing up or down. To be honest, my opinion is that there is definitely a lot of this behavior, and that's fine, because if that represents their sentiment regarding what the company will report, so be it, that's valuable data for everyone.
I have time and time again talked about how even most Buy Side analysts at major hedge funds are taking the Sell Side analyst model and just fiddling with the numbers in Excel, they don't do most of their own work. So why should fiddling with the numbers on Estimize be looked at any differently, even being once removed from the core inputs in Excel. It shouldn't, that's the answer.
But there's a difference between that and really understanding the drivers of the earnings and revenue, and my expectation when we put Twitter on the site was that there might be a really wide range of estimates due to a lack of understand for what the revenue drivers of Twitter were.
What we found was astonishing. Without any anchor from the Wall Street analysts, without even any anchor from previously reported actuals from the company, the Estimize community was able to guess extremely accurately as to what the numbers would be. I was floored.
Being $10M off in Q2 was good, but being $2.5M off in Q3 was insane. This proves without a doubt that even without an anchor point, the Estimize community can be extremely accurate, and provide a ton of value where even Wall Street hadn't published any estimates. People need to rethink how they look at many of the Estimize made on the platform, even being extremely close to the community and data set as I am, I've had to rethink some of that as well.
For Twitter's Q4 report it looks like the community is projecting revenue growth in the 81 percent YOY range. This would be down from 105 percent last quarter.
My assumption is that you're going to see that number rise throughout the quarter. It should be interesting how that slowdown, or perceived slowdown in revenue growth will effect the valuation that Twitter gets at IPO time. We will see.
Originally written for Estimize, an open financial estimates platform that facilitates the aggregation of fundamental estimates from independent, buy-side, and sell-side analysts, along with those of private investors and students. By sourcing estimates from a diverse community of individuals, Estimize provides both a more accurate and more representative view of expectations compared to sell side only data sets which suffer from several severe biases.
Don't Miss: Do You Want LinkedIn Linked to Your Email?