What's Going On Under the Hood at Twitter?
It looks like not even the partial shutdown of the U.S. government can slow down Twitter's initial public offering. Consistent with what sources told Quartz earlier this week, the social media platform made its S-1 filing public on Thursday, drawing back the curtain on information about its finances and operations that would-be investors have been itching to get their hands on.
Twitter has exercised extreme caution during the buildup to its IPO. In the eyes of many potential investors, the company falls into the same nebulous category of technology and Internet startups that Facebook (NASDAQ:FB) does, and as a result, carries some of the same dubious baggage. The platform is popular, but is it profitable? Revenues are increasing, but are they growing sustainably? Can mobile be monetized?
The prudence of Twitter's executive team in the buildup to the IPO announcement has helped keep speculation positive and concerns muted. Now that the company's S-1 is public, we can really take a look under the hood.
Twitter reports that it grew revenue between 2011 and 2012 by 198 percent, to $316.9 million, which is fairly consistent with analyst expectations. For the six months ended June 30, the company reported revenues of $253.6 million, up 107 percent on the year, and a net loss of $69.3 million, up 41 percent on the year. Adjusted EBITDA increased from nearly nothing to $21.4 million.
Twitter reported 218 million monthly active users in in June, up from 151 million a year ago. Timeline views — a measure of engagement, or use of the platform — increased nearly 62 percent over the same period, to about 160 billion.
Like Facebook, Twitter's success will largely hinge on its ability to attract and retain advertising dollars. In the second half of 2013, the company generated 87 percent of its revenue from advertising. Twitter's major advertising products are its three "promoted" products: Promoted Tweets, Promoted Accounts, and Promoted Trends.
Twitter described its value proposition to advertisers in the context of what makes Twitter unique as a social platform. For example, Twitter offers "ad formats native to the user experience" — promoted Tweets — that fall more or less seamlessly into a user's timeline, and achieve a natural feel that Facebook has spent years trying to pin down.
Twitter also offers advertisers a level of real-time advertising that even Facebook has trouble matching. The ability of Twitter to serve as the go-to platform for real-time information is a huge value add for users, advertisers, and data partners, according to the company.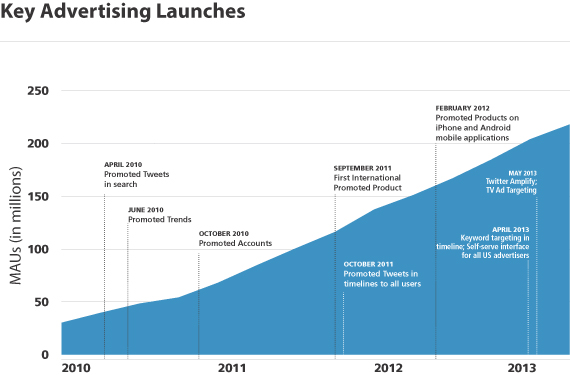 Twitter reports that it expects the worldwide online advertising market — excluding mobile — to increase from $91.1 billion in 2012 to $124.7 billion in 2017. It expects the mobile advertising market to increase from $10 billion to $52.2 billion — and it expects to be a leader in this latter category.
Twitter reported in its S-1 that "over 65% of our advertising revenue was generated from mobile devices. We expect that the proportion of active users on, and advertising revenue generated from, mobile devices, will continue to grow in the near term."
Don't Miss: Want to Live at Work? Facebook Employees Probably Do.