What's Next for Apple and Goldman Sachs?
Now that Goldman Sachs (NYSE:GS) has proven to be a worthy Wall Street partner for Apple (NASDAQ:AAPL) by successfully handling the Cupertino-based company's $17 billion bond sale, is there any other collaboration in the works? Although Goldman Sachs and Deutsche Bank (NYSE:DB) were each "Joint Book-Running Managers" for Apple's recent bond offering, it appears Goldman Sachs was the only bank to assist in the process until Deutsche Bank was tapped in April. In this sense, Goldman Sachs was Apple's primary partner for the bond deal.
Despite eventually marrying a fixed-income trading strategist who worked for Goldman Sachs, Steve Jobs was notoriously suspicious of Wall Street. However, his CEO successor seems more inclined to collaborate with Wall Street bankers.  In fact, Tim Cook consulted with Goldman Sachs over Apple's growing cash pile soon after he became CEO in 2011.
When Apple decided to proceed with its recent bond offering, Cook returned to the premium Wall Street firm for assistance. After months of preparation, Goldman Sachs was able to successfully execute this rather tricky financial maneuver by completing the bond deal in one day without any technical difficulties.
So is there any possibility that Apple will soon be using Goldman Sachs's services again? Apple still has an enormous overseas cash reserve that could easily be utilized for a strategic company purchase. For this reason, some analysts believe that Apple will soon start looking at mergers and acquisitions as another way to put its cash hoard to use.
Besides growing the company, acquisitions can also help Apple secure access to key future technologies and expand the company's pool of talented personnel. Judging by Goldman Sachs's successful execution of Apple's bond sale, it is likely that this Wall Street titan would be Apple's mergers-and-acquisition partner for any future deals.
Tim Cook briefly addressed the possibility of Apple acquiring a large company when he spoke at an investor conference hosted by Goldman Sachs in February. Via The Wall Street Journal, Cook said, "We have looked at large companies. In each case, it didn't pass our test. Will we look at more? I think so. But we're disciplined and thoughtful, and we don't feel a pressure to go out and acquire revenue. We want to make great products. If a large company could help us, then that would be of interest. But again, deliberate, thoughtful, is our mantra."
Apple shares closed down 0.83 percent at $452.97 on Friday after shedding $3.80 from its price at the opening bell. Here's how Apple has traded over the past week.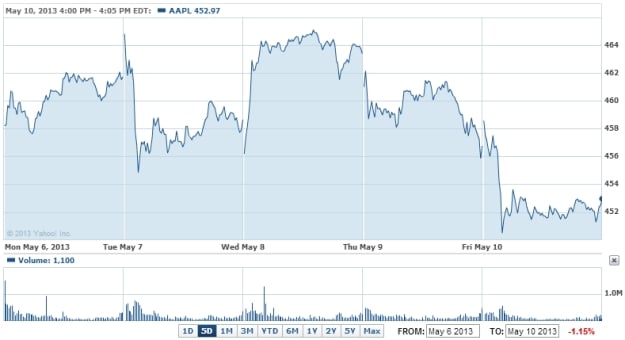 Don't Miss: Will the Pentagon be Apple's Next Battleground?