What's Next for IBM? iOS Apps, Watson, and Cloud Computing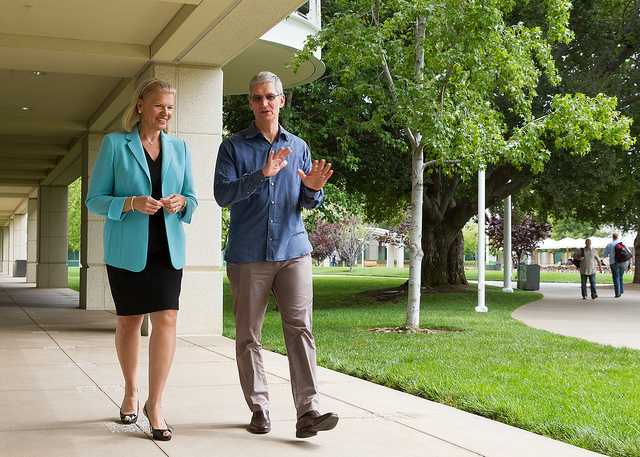 After IBM's quarterly results badly missed Wall Street's expectations, the company's chief executive Ginni Rometty told CNBC that "We have a very clear strategy about how to take this company to the future." On exactly what that strategy is, Rometty offered little detail. To some, like investor Mark Cuban, IBM is no longer a tech company, and lacks a vision for recognizable products that will carry it into the future. So can the company prove Cuban wrong? What's next for IBM? What areas have the biggest potential for the tech giant, and where will it have to change its strategies to reinvent itself?
IBM's first iOS apps for enterprise to launch soon
With a new collaboration with Apple, IBM is placing a bet on mobile apps as a new arena to offer companies the software they need to manage their data and their businesses. In a partnership announced in July, IBM and Apple said that they would collaborate to build more than 100 industry-specific apps for the iPhone and iPad. Apple is also adding a new class of service for enterprise customers to its AppleCare program, and IBM will both continue to support other mobile operating systems, including Android, and sell iPhones and iPads to its corporate customers.
The enterprise apps will run on IBM's cloud infrastructure, or on private clouds specific to the customer. The apps will be tailored to the specific industry, such as retail, healthcare, travel, or banking, and as of yet, it's not clear which of those areas will be served by the first round of apps, due out before the end of the year.
Apple Insider reported that during the company's September quarter earnings call with investors, Apple chief executive Tim Cook announced that the initial round of "Mobile First" enterprise apps developed under the partnership with IBM will be available in November. Cook said:
"Our partnership aims to redefine the way work gets done, address key industry mobility challenges, and spark true mobile led business change. Developer teams have been working closely to develop the first wave of Mobile First solutions and these solutions will be ready for customers beginning next month, across six sectors: banking, government, insurance, retail, travel and transportation, and telecommunications."
Apple's chief financial officer Luca Maestri said that even before IBM's first apps launch, many corporations have expressed interest in them, and the iPad continues to gain momentum among enterprise customers. "Hundreds of corporations around the world have expressed interest in Mobile First solutions. We are actively working with over 50 of them to become foundation clients for Mobile First solutions in their industries."
New resources power the growth of Watson
Another of IBM's big bets is to transform its Watson supercomputer from an inaccessible innovation to a resource that developers of a wide variety of apps and projects can put to use. Because Watson is built on cognitive computing, it can not only surface connections and insight from huge amounts of data, but can understand natural language input, and learn over time.
Early in the year, IBM formed the Watson Group unit, signaling its intent to build a large business around the computing tech by announcing that it was devoting $1 billion, and eventually up to 2,000 employees, to the unit. As VentureBeat reported at the time, IBM announced that that investment would include a $100 million venture fund to "fund the ecosystem" of startups and businesses developing apps powered by Watson. The Watson Group also gained a new headquarters in New York, and was intended to draw on the talent of subject matter experts from IBM as well as industry experts in healthcare, financial services, retail, travel, and telecommunications.
With the announcement, the company cast the move to commercialize cognitive computing as a "strategic shift by IBM to accelerate into the marketplace a new class of software, services and apps that think, improve by learning, and discover answers and insights to complex questions from massive amounts of Big Data." At the time, IBM unveiled Watson Discovery Advisor, to help researchers uncover connections in journal articles and studies; Watson Analytics, which enables users to input natural language inquiries and receive data for visualization; and Watson Explorer, which gives companies a unified display of all of the data they have on a given topic.
IBM has opened Watson to developers working on medical and healthcare-related apps, and many startups are now using Watson to explore large amounts of information and then offer useful health suggestions to consumers via a simple app. Watson has also been demonstrated to help doctors discover diseases faster by surfacing connections that users don't even know they're looking for.
As VentureBeat reported recently, the Watson for Oncology software, built in conjunction with New York's Memorial Sloan Kettering Cancer Center, is just one example of the potentially groundbreaking applications of the computing tech. Watson for Oncology helps oncologists identify treatment options. Experts taught Watson to make these suggestions — using natural language processing, its knowledge of medical language, algorithms, and other guidelines — by vetting Watson's suggestions and further teaching it to improve its suggestions over time.
Startups like GenieMD, Pathway Genomics, and Welltok all leverage Watson's computing power to answer people's questions about their health, providing them with answers on the health of their family members, the illnesses which they might be predisposed to develop, or what they should do to reach their health goals. The accessibility of these types of apps to the average consumer, and the visibility of the health sector, only improves Watson's chances of success.
Catching up in cloud services will be crucial
In its response to Mark Cuban's statements in a CNBC interview, where he said that IBM has no vision for its future, the company said that "IBM will accelerate our growth strategy, creating a dedicated cloud business and specialized units to serve industries and professions being transformed by data and analytics." Cloud computing is one of IBM's biggest bets, but it's a bet that IBM needs to get right if it's going to pay off.
Katie Benner recently reported for Bloomberg that "IBM needs to get its head in the cloud." While cloud computing is an important technological advance that enables companies to rent the hardware and software that they used to buy. The cloud streamlines the ways that companies manage their data and their businesses. The success of a wide range of cloud computing companies and the products that they offer demonstrates that enterprise customers prefer cloud computing to legacy business models. But as Benner points out, consulting remains core to IBM's business, and under the company's "solutions business" model, IBM still operates by consulting with businesses, choosing the products that they need, and then installing and maintaining them.
By contrast, many cloud services from storage to computing power appeal to businesses because they're quick to set up and can be accessed on demand. Many companies uses freemium products — those that offer a base model for free and charge for upgrades in features and services — which lets them try new products for free before committing to them.
Many successful cloud computing companies build relationships with customers over a suite of storage and computing products that are continually updated and gradually generate fees over time, instead of selling an expensive package up front. The on-demand model of the cloud has outdated the model of consulting with companies to implement solutions with high licensing fees attached.
Of IBM's $100 billion of revenue last year, cloud services accounted for only $4.4 billion. With Rometty promising that IBM will reinvent itself, the company will need to make up for lost ground and learn from the competition before it's completely left behind. And that means offering not only simple cloud platforms, but also the services and software that go with it and make the platform useful and comprehensive for customers.
Could IBM actually split its services unit from hardware and software?
Re/Code's Arik Hesseldahl reports that though IBM chief executive Rometty dismissed the idea in a recent interview with CNBC's David Faber, a corporate split could still be a possibility for IBM. While the company's third quarter results missed expectations by a long shot, and the company announced that it was abandoning the earnings per share goal set in the 2015 Roadmap promise (which was made by former chief executive Sam Palmisano in 2010). Rometty dismissed the suggestion that IBM would become the latest in a series of tech giants to undergo a corporate split to enable better focus on disparate areas of business — focus that critics say that the company currently doesn't have.
Hesseldahl notes that on paper, there are two IBMs: its $57 billion (and declining) services business, and its $40 billion hardware and software business. However, despite the fact that IBM's two services units — Global Technology Services and Global Business Services — have posted combined revenue declines for ten straight quarters, open the door for the rest of the company. Services personnel know what customers need and sell them software and hardware, but the consulting model is outdated, especially when it comes to new areas like the cloud.
Nevertheless, IBM is betting on the cloud to save it. All of IBM's business software is being "repurposed" to run in the cloud, and the company has added its SoftLayer cloud service to attract more business. IBM's partnership to build cloud-friendly apps with Apple is just a small part of a major strategy to build higher-profit cloud and software businesses as its hardware business gradually declines. And instead of splitting the company in two, IBM is more likely to sell off unprofitable units as it builds up new ones.
IBM is already in the process of shedding less-profitable hardware operations — first the sale of customer service business to Symex, then the sale of the x86 server business to Lenovo, and more recently the announcement that IBM will pay GlobalFoundries $1.5 billion to take its chip manufacturing business — to build up cloud operations, which, for competitors, bring in gross margins between 70% and 90%, as reported by a July piece on Re/Code. CNBC learned that Rometty intends to have divested assets worth about $7 billion in annual revenue by the end of the year.
But moving IBM into the future will require rethinking the strategies that the company has relied on for the past several decades, and strategically positioning IBM to use new technology to create new strengths for its business.
More from Tech Cheat Sheet:
Want more great content like this? Sign up here to receive the best of Cheat Sheet delivered daily. No spam; just tailored content straight to your inbox.