What's Yahoo Doing with This Famed Tech Journalist?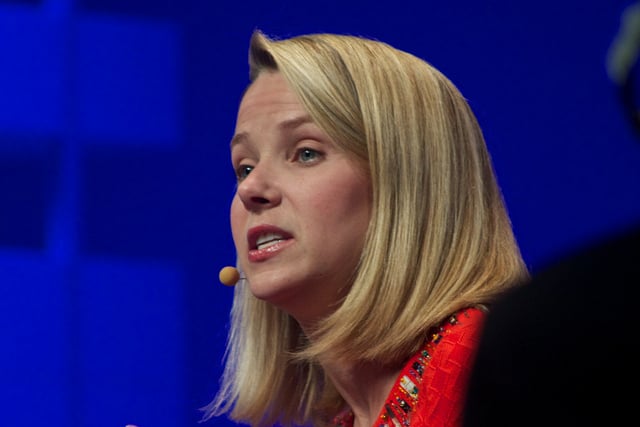 Yahoo (NASDAQ:YHOO) CEO Marissa Mayer and beloved New York Times tech columnist David Pogue are teaming up on a new Yahoo consumer tech website, the two announced on Monday. Pogue has written for The New York Times for 13 years, makes a series of humorous tech videos, and has contributed to CBS News Sunday Morning and Scientific American.
Another New York Times reporter, Brian Stelter, tweeted the news, saying, "Longtime NYT columnist David @Pogue 'is leaving to help launch a consumer-tech site at Yahoo,' per an internal memo." Pogue responded on Twitter, saying, "Yes, it's true: After 13 years, I'm leaving the NY Times to start a new tech site (and much more) at Yahoo," according to a TechCrunch report.
Mayer, meanwhile, said in a post on Yahoo's Tumblr page, "David will lead a major expansion of consumer tech coverage on Yahoo and will publish columns, blog posts and video stories that demystify the gadgets, apps and technology that powers our users' daily lives."
Pogue also posted about the move on his Tumblr page, saying that he is sad to leave the newspaper he's worked at for 13 years, but also excited about the new possibilities Yahoo will offer. He said of the project: "Actually, 'site' doesn't even cover it. I'll be writing columns and blog posts each week, of course, and making my goofy videos. But my team and I have much bigger plans, too, for all kinds of online and real-world creations." Pogue also noted that he will continue his work with CBS, Scientific American, and other projects. He has been praised for his longtime work in tech journalism, which he infused with his characteristic sense of humor.
Pogue acknowledged that Yahoo has been considered an "underdog" in the past, but praised Mayer's leadership as a reason he's excited to join the company. "This is a company that's young, revitalized, aggressive — and, under Marissa Mayer's leadership, razor-focused, for the first time in years," he wrote. "She's overseen brilliant overhauls of several Yahoo sites and apps, and had the courage to shut down the derelict ones. Above all, she's created a 'try stuff' atmosphere."
The move is a part of Mayer's relentless acquisition spree to turn Yahoo into a more formidable competitor against her former employer, Google (NASDAQ:GOOG). Given Pogue's reputation as a both entertaining and knowledgeable journalist, he and his new site are sure to become a valuable asset for Yahoo.
Follow Jacqueline on Twitter @Jacqui_WSCS
Don't Miss: Analyst: Amazon Q3 Revenue to Come in Above Consensus.