When It Comes To Retail, No One Is Better Than Apple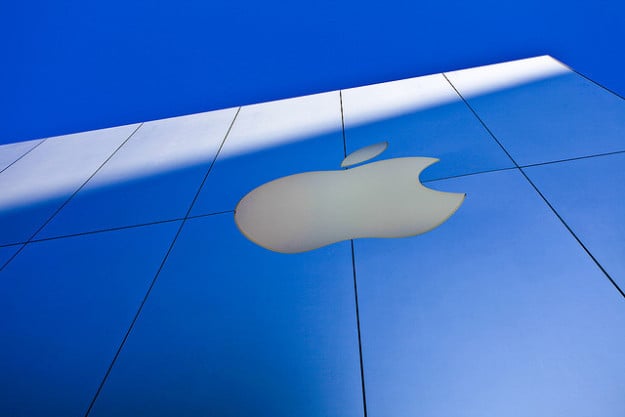 Long-established sellers of diamonds and increasingly popular yoga-inspired athletic apparel retailers have nothing on Apple (NASDAQ:AAPL). In terms of sales per square foot of retail space, the iPhone maker operates the most successful and profitable stores in the United States, performing twice as well as Tiffany & Co. (NYSE:TIF), the second best retailer, and three times as well as Lululemon Athletica (NASDAQ:LULU), the third best retailer. In general, the company's stores have outpaced the rest of the retail industry in sales per customer.
Industry data compiled by Asymco's Horace Dediu showed that visitors to Apple's retail stores soared 7 percent in the last quarter while revenue-per-visitor hit a new record of $57.60. This is an increase from the $51.75 spent per visitor in the first quarter of 2012. Due to these solid numbers, the average revenue per Apple store reached $13 million in the first three months of 2013, the highest level for a non-holiday quarter.
Overall, Apple stores are now generating a profit of about $12 per visitor per quarter, according to Dediu.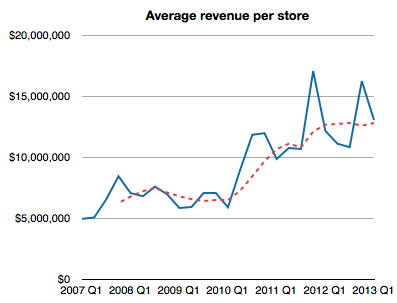 Alongside the increases in revenue and profit, the average number of visitors has steadied to 250,000 per quarter, a quantum increase from approximately 170,000 per store per quarter for the 12-month period ending with the first quarter of 2010. Dediu postulated that the reason for this growth could be the increase in floor space of newer stores and the renovation of older stores.
The increase in visitors not only indicates that the company has made efforts to keep its stores appealing, but also hints at the boost in popularity that Apple products have enjoyed during the same period. In order to maintain the service standard for which Apple stores are known, and to staff new locations, the company grew its workforce correspondingly. Since 2007, employment has more than doubled, with each location now employing an average of 110 workers.
As Dediu's interpretation of the data suggests, Apple's retail performance remains constrained by store size — which dictates the number of visitors — and the total number of stores. He noted that the company's strategy to boost sales seems to rest on expanding stores in the United States and opening new stores abroad.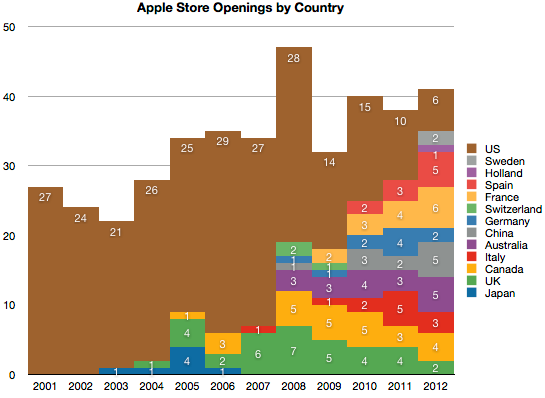 Follow Meghan on Twitter @MFoley_WSCS
Don't Miss: Is the U.S. Government Giving Apple Shoddy Treatment?