When Will Siri Get Its Mac On?
This is one question that Siri, Apple's (NASDAQ:AAPL) voice-activated personal assistant, won't be able to answer for you no matter how many times you ask. No one, except a privileged few at Apple's Cupertino headquarters, knows for sure if the next version of OS X will feature Apple's vaunted Siri program. Siri is currently only available on Apple's iPhones and iPads. However, one analyst is willing to venture a prediction about the possibility of Siri crossing over into Mac territory.
Ezra Gottheil of the market research firm, Technology Business Research, predicts via Computerworld that the new edition of OS X will not include Siri. He bases this prediction on the fact that it would be too burdensome since "Siri would require hardware modifications as well as software."
However, according to Aaron Vronko, CEO of an Apple product repair business called Rapid Repair; Macs already have all the necessary hardware to run the Siri application. Although some Macs only have one microphone to process audio commands, Siri would still be able to run on these computers, albeit with slightly less verbal command processing accuracy. On the other hand, most people also use their Macs in quieter environments that they use their mobile devices in.
Gottheil thinks there is another reason for Apple to not to introduce Siri on its desktop computers. He believes that Apple is financially benefiting from the overall separation of the mobile and PC markets. This separation is what allows the Cupertino-based company to market its mobile line of devices as superior to comparable products from its rivals that try to combine aspects of both types of products into everything they sell. However, if Apple does decide to incorporate Siri into the next iteration of OS X, it would be a useful boost for its slightly lagging Mac sales.
Apple has long shied away from making products that try to do everything for everyone. This is why Apple has refused to incorporate touchscreens onto its laptops. Although Apple could have easily incorporated touchscreen technology into its MacBooks much like Google (NASDAQ:GOOG) has incorporated touchscreens into its Chromebooks, Apple discovered that touchscreens were ergonomically uncomfortable to use on laptops and were therefore best-suited to tablet devices.
Siri may not be able to tell you, but there is one way to find out for sure whether or not Macs will get the Siri program. Join the rest of the developers and Apple fans at this year's Worldwide Developers Conference when Apple is expected to unveil its new edition of OS X.
Here's how Apple has traded so far throughout this week.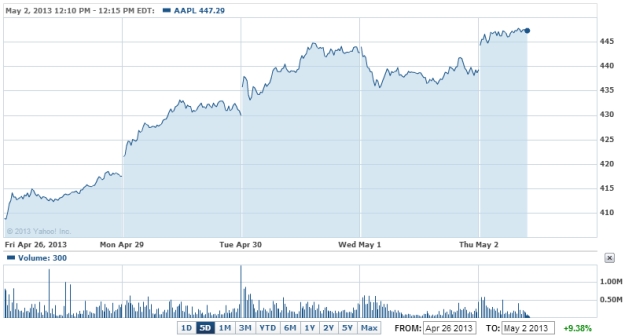 Don't Miss: Apple's iOS 7 Redesign: Too Much, Too Late?