Which Wireless Carrier's Customers Use the Most Data?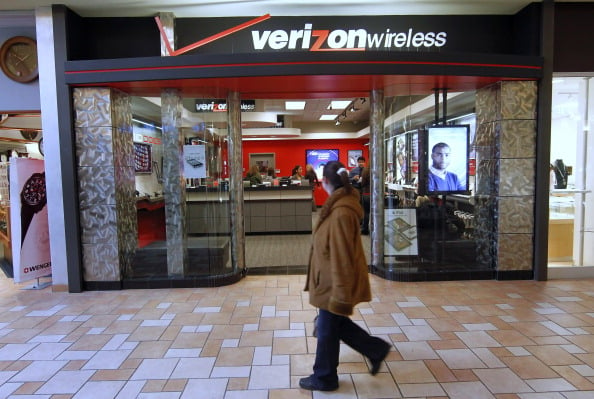 Verizon (NYSE:VZ) may be now sharing the top wireless carrier spot with AT&T () when it comes to customer market share, but it's still firmly ahead of AT&T when it comes to data usage according to a new report. Verizon customers use the most data. They are also the least likely to have an unlimited data plan, meaning that gets to charge by usage rates. This data is from a new report by research firm Consumer Intelligence
Research Partners (CIRP). The report is based on new and used smartphones activated from April to June 2014. It looked at data usage and how customers paid for their data. Data usage is growing. It is a side effect of the rapid growth of smartphones and tablets. Data is used for apps and to access the Internet.
Sprint (NYSE:S) and T-Mobile customers are the most likely to have unlimited data plans. About 78 percent of these customers in CIRP's sample had an unlimited data plan. Just under half — 44 percent — of AT&T users had unlimited data plans. Verizon customers are the least likely to have unlimited data, with only 22 percent of users in the Verizon sample.
"Verizon has succeeded in getting the most out of its smartphone customers," said Josh Lowitz, Partner and Co-Founder of CIRP. "Not only do more of their customers use Verizon data on additional devices, with limited data plans, their customers also pay for their actual data usage."
Mobile data usage is only going up, too. A white paper by Cisco shows that an increasing number of people are using their devices to get on mobile. More than 526 million devices and connections came online in 2013. For wireless carriers this is good news. More devices means more demand for wireless carriers providing data, which customers usually pay for in the form of a data plan, either capped at a certain usage level or unlimited.
When it comes to the money, Verizon customers were also the most likely to have a monthly bill of $200 or more, with 14 percent of the group. The average Verizon customer is more likely to pay between $50-199 for their phone bills, with 78 percent of its group in that sample. AT&T, T-Mobile, and Sprint customers were also most likely to fall into this price range. These prices included all aspects of a mobile phone plan, not just for data usage.
The short version is that across the four major American carriers, Verizon customers use the most data. They are also the least likely to have an unlimited data plan. Generally, mobile data usage is going up — this is good news for wireless companies who get to profit from selling users data plans, limited and unlimited alike.
More From Wall St. Cheat Sheet:
[mediagraph-partner content_url="c3d1f79f983757e8820f3221″]
Want more great content like this? Sign up here to receive the best of Cheat Sheet delivered daily. No spam; just tailored content straight to your inbox.