Who Has the Toughest Smartphone Glass?
While smartphone makers compete with one another over the products they make, some on the supply side have to compete to have their parts selected for use in the most popular devices. Corning (NYSE:GLW) and GT Advanced Technologies (NASDAQGS:GTAT) are both competing for favor.
Many people who have owned a cellphone have had the day-ruining experience of dropping their device anywhere from a few inches to a few feet and watching the screen — the center of all the action — crack and shatter into a hundred pieces. On many modern devices, this is a tragedy that can be avoided, but there's fierce competition over who can avoid it the best.
NEW! Discover a new stock idea each week for less than the cost of 1 trade. CLICK HERE for your Weekly Stock Cheat Sheets NOW!
Corning lucked out big when it got to supply the glass that appears on the front of Apple's (NASDAQ:AAPL) iPhones, and it hasn't stopped lucking out. Its signature Gorilla Glass has appeared on many of the most popular devices in the market, including Samsung's (SSNLF.PK) line of Galaxy smartphones. In a press release late last year, Corning announced that its glass had been put into over 1 billion devices. But, competition could soon heat up for Corning.
GT Advanced Technologies has been working on an alternative that is is theoretically second in strength only to diamonds. The company produces its own lab-grown sapphire to use as screen covers — as well as in other capacities — on devices. The sapphire should be stronger than Corning's Gorilla Glass and shouldn't be scratched by anything short of a diamond. However, there is contention from Corning.
Both companies conducted tests to examine the strength of their products. Of course, when they are conducting those tests, they want to make sure their product is shown in a good light. Corning demonstrated the strength of its latest Gorilla Glass head-to-head with a sapphire cover they produced. Naturally they demonstrated the sapphire breaking while the Gorilla Glass held up to each of the tests. GT Advanced Technologies showed off its sapphire in Barcelona, bashing up the cover without damaging it a bit. The two companies haven't had these latest products tested against one another in a in-depth independent study, so it's hard to say where truth lies.
NEW! Discover a new stock idea each week for less than the cost of 1 trade. CLICK HERE for your Weekly Stock Cheat Sheets NOW!
However, even if Gorilla Glass proves to be slightly weaker than sapphire, it is the cheaper of the two to produce, and wouldn't be likely to lose its prominence in the technology sector. With the recent announcement of a new generation of Gorilla Glass, it makes sense that Corning hit a 52-week high of $15.50 on the New York Stock Exchange Monday.
You can follow Mark on Twitter (@WallStMarkSheet) for the latest industry news.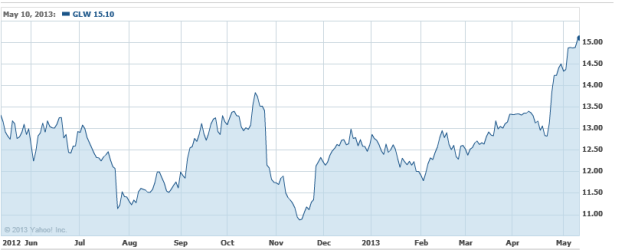 Investing Insights: Is Nokia a Buy at These Prices?