Who Is Microsoft's Latest CEO Candidate?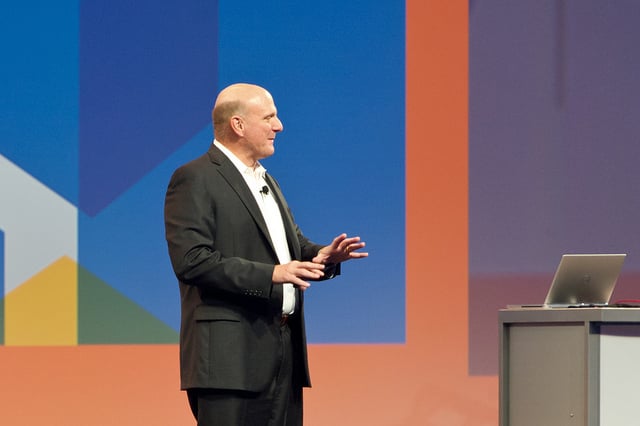 A new candidate is reported to be among those being considered for Microsoft's (NASDAQ:MSFT) CEO spot when Steve Ballmer leaves the company. According sources familiar with the matter who spoke to Bloomberg, Erisson's (NASDAQ:ERIC) CEO Hans Vestberg is on Microsoft's CEO wish list.
Nokia (NYSE:NOK) CEO Stephen Elop will be returning to work at Microsoft when Microsoft's acquisition of Nokia's handset unit is completed during the first quarter of this year. Internal candidates include cloud-computing head Satya Nadella, Skype CEO Tony Bates and Chief Operating Officer Kevin Turner. Ford (NYSE:F) CEO Alan Mulally was lusted after for awhile, but Microsoft's ardor for him has cooled since he has been adamant that he will stay with Ford at least through 2014. While Mulally has helped Ford engineer a successful turnaround after nearly reaching bankruptcy during the financial crisis, his lack of experience in tech made some call his candidacy for the Microsoft spot into question.
Erisson's stock has risen 19 percent under Vestberg, who has also increased the company's revenue since taking the helm in 2010, according to estimates compiled by Bloomberg. Some of Vestberg's biggest projects at the company have included stopping the joint handset venture with Sony (NYSE:SNE) and shifting the company's focus towards building networks.
Back in December, Microsoft's board of directors said in a blog post that the company's list of CEO candidates had gone from 100 down to 20, and has been narrowed down even further from the top 20, although it wasn't specified exactly how many people were still on the list at that time.
There are major concerns for whoever takes the helm of Microsoft after Ballmer. The company needs desperately to be revitalized after falling behind competitors in mobile technology. Turning around such a large company that has faced such huge losses recently will be no easy feat. In addition, Ballmer and Bill Gates will remain on Microsoft's board, meaning whoever the new CEO is could face opposition from the company's two former CEOs when trying to initiate the big changes Microsoft needs. Meanwhile, Microsoft has been continuously pushing back the date by which it plans to have found a new leader. Last week, the company said not to expect an announcement before February.
More From Wall St. Cheat Sheet:
Follow Jacqueline on Twitter @Jacqui_WSCS