Why are Google's Cheap Smartphones Fumbling?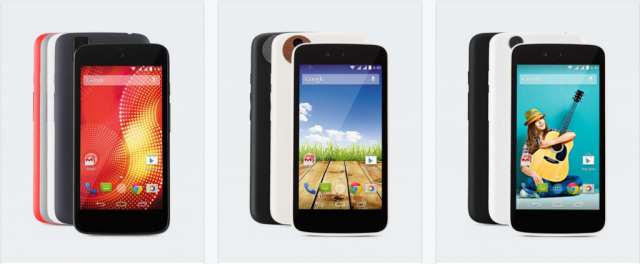 Earlier this fall, Google launched the first smartphones in its Android One program, which aims to simultaneously place affordable smartphones in the hands of large numbers of consumers in emerging markets and to tame the growing fragmentation of the Android operating system. But given the dismal numbers from the first three smartphones' first few months of availability, it doesn't look as if Google will be achieving those goals anytime soon.
The Android One program was launched in September with the mission of helping smarpthone manufacturers create low-cost phones for consumers in emerging markets. Quartz reports that while Android devices sell for as low as Rs 2,000, or $32, in countries like India, the quality of the hardware varies drastically and the viability of operating system upgrades for the largely underpowered devices is low. This contributes to the growing problem of Android fragmentation, which Google worries could negatively impact people's experiences with and perceptions of its mobile operating system. The Android One program's inclusion of free data for software updates aims, in part, to take on that problem.
However, consumers and even retailers aren't getting on board with the program as quickly as Google planned. Approximately 480,000 Android One smartphones were imported into India since the program's launch in mid-September, accounting for only about 3% of the total number of smartphones imported into the country during the period.
The Economic Times reports that India's leading retailers refused to sell Google's Android One smartphones, taking issue with the company's choice to go online-only with the launch of the program — a strategy that Quartz notes has been tremendously successful for manufacturers like China's Xiaomi.
Citing five senior industry executives, the Economic Times reports that Croma, Future Group, Planet MRetail and Next Retail, BigC, Lot Mobiles, Reliance Retail, and Sangeetha Mobiles, which together operate more than 1,800 stores, have not stocked any of the three Android One smartphones.
Micromax, Karbonn, and Spice, the makers of the three Android One phones that launched in September, used their websites to launch sales of the phones. The devices were also available through online retailers Flipkart, Amazon, and Snapdeal. The Economic Times reports that the manufacturers recently decided to turn to brick-and-mortar stores for a boost as online sales "failed to gather pace," but it seems that the move was too little, too late.
Soon after the launch, small retailers threatened to boycott the Android One devices. The CEO of a company that the Economic Times identifies as "a top consumer electronics retail chain" said that the margin offered for Android One phones was between 3 and 4%, much less than the industry average of 9 to 10%.
Two weeks ago, two chains, The MobileStore and UniverCell, began selling the Karbonn Android One phone, but the company says that it may not carry the other two phones in the program. IDC's Karan Thakkar told the Economic Times that the manufacturers should have begun selling the phones via online and offline outlets simultaneously. Industry estimates cited by the paper put the proportion of India's smartphone sales that are driven by e-commerce at only 12% — highlighting the fact that launching the program online-only may not only have angered retailers, but could prove a critical miscalculation in the effort to reach the highest number of consumers possible.
While the Android One smartphones were promised to cost no more than $100, they ended up being priced at just over $100. D. Sathish Babu of UniverCell Telecom told the Economic Times that if Google wants to reach the Indian masses, it should launch a good device in the Rs 2,000-3,000 price bracket — approximately $32 to $48. He also said that "the price segment where Android One is positioned has quite a few good handsets," implying that a high-quality device might stand out more in a lower-cost price range, and would likely draw more buyers there.
The 5,000-rupee to 10,000-rupee price range, where the current Android One phones compete, is an increasingly crowded segment of India's smartphone market, and similar products by other manufacturers are proving more attractive to consumers, not only because Android One phones were initially sold online-only, but also perhaps because of specifications such as their limited built-in storage. The lack of clear marketing may be yet another factor in the market's lackluster response to the Android One product line.
Google enters a crowded market in India, where many manufacturers, not limited to big names like Motorola and Xiaomi, already have a strong presence. The competition — even for consumers shopping for a device in what Google touts as a newly low price point — is a major reason that Google's line of Android One phones have so far failed to take off with the speed and warm reception that the company had anticipated.
Android Authority learned that during  the last two weeks of September, a total of 230,000 Android One units were imported into India. But only 200,000 Android One devices were imported in the entire month of October — a month during which roughly 8 million smartphones were shipped into India. Android One devices accounted for just 2.5% of those.
Quartz notes that the report that fewer than half a million Android One phones have shipped is especially dismal given the fact that the period includes the so-called festive season, during which Indians do the majority of their annual spending. The figure contrasts sharply with the 23.5 million smartphones that were sold in India during the third quarter of the year.
As Google presses ahead with the program — with new partnering manufacturers and new markets like Indonesia expected soon — it will need to do more to differentiate its product in an increasingly crowded and competitive market. As consumers can continually get better devices with more impressive specifications for relatively low prices, manufacturers are beginning to see that simply building a cheap smartphone doesn't guarantee a customer anymore.
Like Tech Cheat Sheet on Facebook!
More From Tech Cheat Sheet:
Want more great content like this? Sign up here to receive the best of Cheat Sheet delivered daily. No spam; just tailored content straight to your inbox.