Why Are Investors Showing Confidence in Yahoo?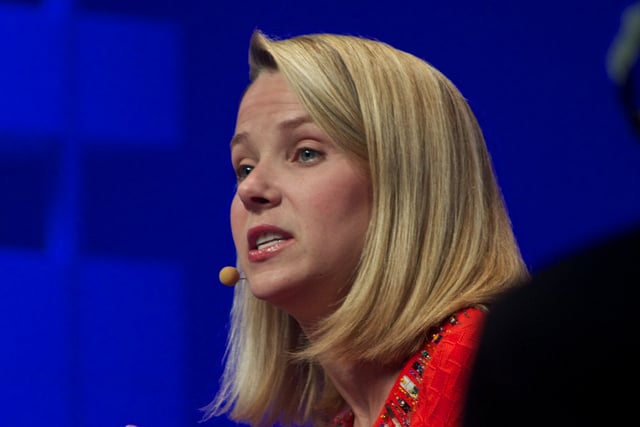 Shares of Yahoo (NASDAQ:YHOO) have been advancing for the past twelve months. For the second time this week, shares brushed a new 52-week high. After hitting $36.19 on Monday, investors bid shares up nearly fifty cents to $36.66 on Thursday. That was a six-year high for Yahoo's shares.
The particular impetus for the wave of confidence that lifted the stock on Thursday was the news that the internet company announced it would increase its share buyback plan by $5 billion; shares rose two percent to $35.32 in after-hours trading on Tuesday and continued advancing until they touched the new high. A share buyback is a means to reward investors in that it acts as vote of confidence in the company's stock. It means Yahoo management believes that its stock is the best investment for the company's own money.
Plus, it also reduces the number of shares available on the stock market, meaning the value of the remaining shares will increase and existing investors will own a larger portion of Microsoft. Tuesday's announcement doubled the separate $5 billion stock buybacks that Yahoo began in May 2012. According of the company's most recent quarterly earnings statement, as of September 30, it had repurchased all but $324 million of that amount.
By appointing former Google (NASDAQ:GOOG) executive Marissa Mayer as its chief executive, Yahoo injected some much needed enthusiasm into the company and its investors. If there are any signs that Yahoo is quite a different company than it was before Mayer was appointed in July 2012 it is the steadily upward movement its shares have traced out on the stock chart.
Looking at the broad trend in Yahoo's stock, shares picked up momentum in the later half of 2012  – just after Marissa Mayer took over as the company's chief executive — and continued to advance throughout all of 2013. The stock has gained more than 88 percent this year to date and 74 percent in the past twelve months.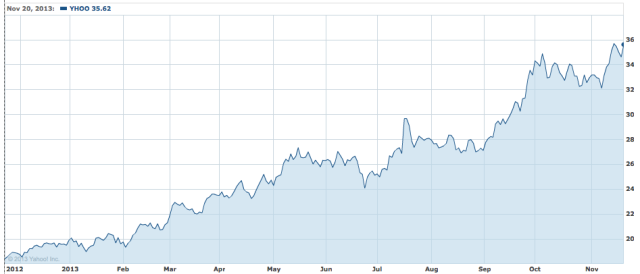 Yahoo's recent movement on the stock chart poses quite a contrast to the stock's four-year funk that followed a botched 2008 attempt by then-CEO Jerry Yang to sell Yahoo to Microsoft (NASDAQ:MSFT) for $33 per share, a failure the drew the ire of company shareholders and kept Yahoo's stock price below $20 for years. But earlier this year, Mayer began to build the foundations for what is meant to be a reversal of Yahoo's financial fortunes, and investors slowly began to grow more confident in the company's future prospects. Recent efforts — stock buybacks and major acquisitions like Tumblr — have already boosted the company's profile. But those changes have yet to significantly improve Yahoo's financials.
As Mayer told investors and analysts during the company's third-quarter earnings conference call, Yahoo released more than 15 "significant" new product updates, aimed at "modernizing and increasing user engagement across [the company's] digital daily habits," a term used to describe media consumption habits like checking email and reading news.
With new products and an influx of advertising dollars, profit surpassed analysts' expectations during the three month period. However, the results were not all good news. Revenue rose to $1.1 billion from $1.09 billion in the year-ago quarter, while earnings fell to 34 cents per share from 35 cents per share. Analysts had expected the company to earn 33 cents per share on a revenue of $1.08 billion.
While traffic and engagement numbers have improved — a fact that Mayer has chosen to highlight in recent quarters rather than detail the company's still-ailing financials — analysts are concerned about the source of the company's revenue. The problem is that Yahoo's 24 percent stake in Alibaba Group Holding, China's largest e-commerce company, is seen as a major driver of Yahoo's own stock value. Alibaba, whose $120 billion market valuation is more than three times that of Yahoo, is preparing for an initial public offering, and those plans have helped keep Yahoo's stock high.
Follow Meghan on Twitter @MFoley_WSCS
Investing Insights: Is Yahoo a Buy Near Yearly Highs?