Why Can't You Buy Samsung's Smartwatch by Itself?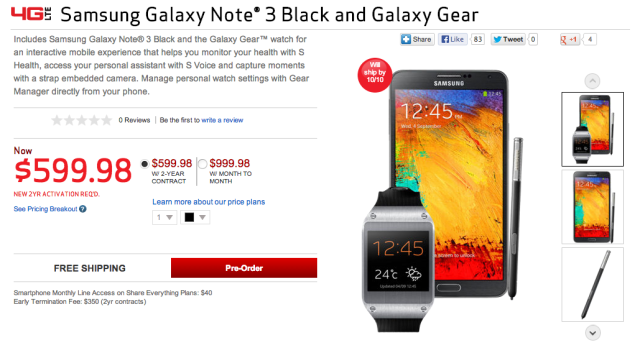 Samsung's (SSNLF.PK) smartwatch, the Galaxy Gear, is finally available for preorder, but here's the catch: it's not for purchase as a standalone product. At least, not yet.
Currently, customers who can't wait to get their hands on the piece of wearable tech can only buy it bundled with Samsung's Galaxy Note 3 smartphone via Verizon (NYSE:VZ) for $599.98 and a two-year contract. The preorder site, which launched Friday, says the devices will ship by October 10. AT&T (NYSE:T), which also has plans to offer the Galaxy Gear, only has its preorder page for the Note 3 up. This may give Verizon an edge in drawing in Galaxy fans and those customers most interested in getting their hands on a Samsung smartwatch as soon as possible.
A Gigaom reporter contacted Verizon for comment on whether the carrier would sell the smartwatch as a standalone product but didn't receive a response. Gigaom said that though AT&T, T-Mobile (NYSE:TMUS), and U.S. Cellular all confirmed they would be carrying the smartwatch, none have said if they would be offering it alone, either.
Gizmodo points out that even if the Galaxy Gear were offered by itself, there's no point in buying it alone. The tech blog said: "Gear plus Note 3 is really the only option. Since the Gear requires Android 4.3 and a Galaxy phone as a buddy, the Note 3 is literally your only choice until the rest of the Galaxy line gets updated. Unless you want to just drop a ton of money on a watch with a screen that turns off automatically."

By itself, the Note 3 with a two-year contract costs $299.99 from both Verizon and AT&T, and the Galaxy Gear costs $299.99 — meaning the bundle is nothing more than a promotional point, rather than offering any sort of discount.
Mashable rounded up a list of U.S. carriers offering the Note 3 on preorder, and the price seems pretty consistent across the board, though Sprint (NYSE:S) only has a teaser page up for the phone. Verizon, AT&T, and T-Mobile, which all announced monthly plans for customers who want to upgrade their phones more often without being bound by a contract, are also offering the Note 3 on monthly payment plans.
Don't Miss: Analyst: iPhone Will Get Bigger — Just Not That Big.