Why Did Americans Like Samsung Better Than Apple in 2014?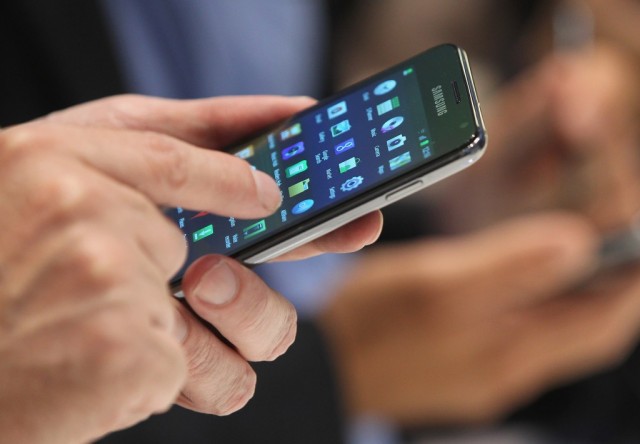 According to the results of the massive American Customer Satisfaction Index, which surveys about 70,000 consumers each year, Americans now like Samsung better than Apple. In this year's ACSI benchmarks for the "cellular telephones" industry, Apple earned a customer satisfaction score of 79 out of 100, dropping 2.5% from its score of 81 in 2013 and 4.8% from its score of 83 in 2012. Apple fell several points behind Samsung, which scored 81 out of 100 this year, up from 76 in 2013 and 71 in 2012.
The surprising victory for Samsung could a big win for the company as it heads into 2015 looking to regain momentum and reinvent itself. Rumors suggest that Samsung redesigned the upcoming Galaxy S6 from the ground up, and a recent report indicates that the company is in the midst of reinventing its traditional corporate culture.
Despite this year's high-profile release of the iPhone 6 and iPhone 6 Plus — which was the largest cell phone launch in history, with more than 10 million units sold in the models'  debut weekend — Apple's customer satisfaction score as measured by the ACSI fell. Conversely, despite its difficult year, Samsung saw its customer satisfaction score rise. It's impossible to pinpoint exactly what caused customers' satisfaction with Apple to drop, and their satisfaction with Samsung rise.
Engadget notes that factors like general Android improvements might contribute for Samsung, while some iPhone 5 and iPhone 5S users' dissatisfaction with the larger size of the iPhone 6 and iPhone 6 Plus could have been at play for Apple. Even customers' satisfaction with the Galaxy S5, despite its poor reception among pundits and industry watchers, may have positively impacted Samsung's score.
As BGR points out, Samsung had a rough year. The company's new flagship smartphone, the Galaxy S5, was seen as a disappointment and reportedly failed to meet internal sales estimates. 9to5Mac reports that Samsung has been steadily reporting drops in mobile profits as it restructures its mobile division and sales of Galaxy-branded devices decline. In its most recent quarter, the company saw its operating profit drop by a massive 60% under pressure at both the high and the low ends of the super-competitive smartphone market.
As Quartz recently reported, Samsung faces intense pressure from both sides of the market. Apple's iPhones have traditionally succeeded — and continue to perform well — at the high end of the market, while Chinese companies like Xiaomi are quickly gaining market share with inexpensive phones. Samsung's market share has fallen to 25% from its high point above 30%, and its overall sales are shrinking. However, the latest statistics on smartphone sales would seem to contradict the ACSI's findings, as Apple continues to see growth of iPhone sales at the expense of Samsung and other competitors.
Samsung will look to stay in the good graces of customers in the new year, and continue to look for ways to stand out in a competitive market. Samsung Electronics vice president Jaiil Lee told Quartz, "Because of rapidly changing technology and market conditions, and very fast pursuit by Chinese companies we've felt a sense of crisis. We've been thinking of many ways to overcome that situation." Lee runs Samsung's Creativity & Innovation Center, and has helped launch two programs intended to shift the company's culture to become more inclusive and more innovative — more like the quintessential Silicon Valley tech company than the rigid hierarchy that it traditionally has been.
One such program is C-Lab, a two-year-old program that enables employees to pitch ideas as part of a competition. Those who win can take at least a year off from their regular job to work with a small team on researching and developing the idea. There are now C-Lab organizations in 10 divisions throughout Samsung, working on 50 active projects.
Quartz notes that the program is analogous, in a way, to Google's use of the 20% time program to enable engineers to work on projects that are separate from their core area of work. But unlike Google's 20% time, which gave employees time to incubate products like Gmail, Google Transit, Google Talk, and Google News, as Quartz reported in 2013, the C-Lab ideas that Samsung shared with Quartz seem unlikely to advance beyond their niche applications and advance Samsung's core business.
However, Quartz notes that a spokesperson responding to the publication's assessment of the projects — which include an eye-tracking mouse for people with diseases like ALS, a miniaturized smell sensor, a device to help people with hearing loss to experience music, and an algorithm that can predict a person's risk for a stroke — disagreed with the idea that these are niche products. The spokesperson noted, "The potential applications of these breakthroughs are limitless and show incredibly strong promise for the development of future products."
The second initiative launched by Lee's group is MOSAIC — which stands for "Most Open Space for Advice, Intelligence and Creativity" — an internal website that Quart characterizes as a combination of Facebook, Reddit, and a series of forums. On the site, Samsung's 100,000 Korean employees can suggest ideas to the company, raise problems or dissatisfaction with management, and seek expertise from or solve problems with others in the company. While participation is voluntary, the site is gaining traction and each day sees about 90,000 logins and 45,000 posts.
Quartz notes that MOSAIC is a good step toward transparency for a company where seniority plays a powerful role, and Lee says that C-Lab has helped Samsung realize that it isn't maximizing the talent of its workforce. The uptake of C-Lab demonstrates that many employees are interested in taking advantage of a creative outlet within the company. Quartz points out that while Samsung has transformed itself before — catching up with well-established practices — figuring out how to empower employees to incubate the innovations that eventually win over more customers will be just as challenging a task.
Ultimately it's impossible to identify with any certainty the specific factors that caused Americans to be happier with Samsung than with Apple this year. But what is clear is that the competition between the two companies — and with the many others vying for a piece of the smartphone market — should ultimately benefit for consumers, who will be able to demand more functional and innovative products as brands compete for their attention and affection. Consumers, who are becoming more price and tech-savvy, will increasingly influence the course that competing tech companies take.
More from Tech Cheat Sheet:
Want more great content like this? Sign up here to receive the best of Cheat Sheet delivered daily. No spam; just tailored content straight to your inbox.