Why Did This Big Investor Cut His Stake in Apple?
Is this big investor's Apple (NASDAQ:AAPL) cutback a sign of trouble ahead for the company? Will Danoff, the manager of the tech-heavy Fidelity Contrafund, has expressed his "heightened concern" about Apple's  long-term prospects by cutting the equity mutual fund's stake in the Cupertino-based company by 1.46 million shares in the first quarter.
According to its quarterly report, this still leaves Contrafund with a substantial stake in Apple with 10.1 million shares at a value of $4.5 billion. However, this is a 12 percent reduction in Contrafund's total Apple shares from the 11.56 million shares it owned at the end of last year.
In the quarterly review, Danoff based his concerns over Apple on "increased competition" from rival phone makers such as Samsung (SSNLF.PK). He also cited Apple's falling profit margins. However, Danoff's faith in the overall strength of the tech sector still remains strong, as Contrafund has its largest holding of $5.1 billion in tech giant Google (NASDAQ:GOOG). The equity fund also holds a $610 million stake in the cloud-computing company Salesforce.com Inc. (NYSE:CRM).
Apple's stock has jumped approximately 10 percent since it announced its ambitious $100 billion shareholder capital return plan. However, the stock is still 37 percent below its record-high of $705.07 that it hit in September 2012. Although Danoff trimmed Contrafund's overall stake in Apple in the first quarter, he still sees smartphones as a real source of potential growth. Danoff is also still Apple's largest active shareholder.
Contrafund is one of the most successful equity mutual funds and Danoff is one of the most respected mutual fund managers in the industry. Since 1998, Contrafund has outperformed 94 percent of similar funds and annually beaten the S&P 500 Index by an average of 3.3 points. The first quarter of this year was an exception, when Contrafund underperformed the S&P 500 Index by 1.43 percent. Danoff believes Apple's lackluster performance was one reason for Contrafund's decreased percentage advance.
The chart below compares Apple stock movement to Contrafund's movement over the past year.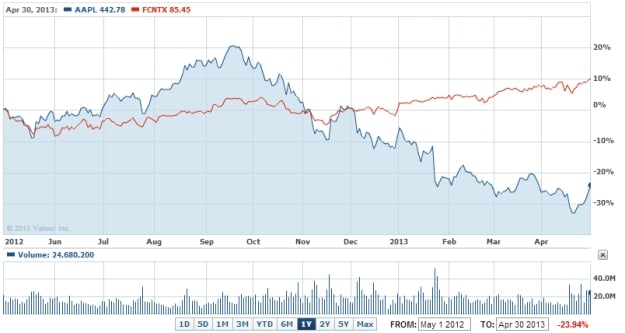 Don't Miss: Here's How Apple Went From Junk To Bond Champion.