Why Do These People Want Apple, Google in Their Cars?
Based on the results of a recent car safety survey, it appears that this may be an opportune time for both Apple (NASDAQ:AAPL) and Google (NASDAQ:GOOG) to step into the automobile business. According to a survey commissioned by CarSafetyRules.com, consumers have more confidence in the abilities of these two tech companies to improve future car safety features than they do in the abilities of established car manufacturers.
The safety survey asked 1,000 consumers who had recently purchased a new car in the U.K. which brands they expected to provide car safety innovations. Overall, 21 percent of respondents chose Apple as the most likely company to develop innovative car safety technologies. Google was the second most popular with 19.8 percent of respondents picking the Mountain View-based company. Volvo was the only actual car maker in the top three, with 19.7 percent of consumers picking the safety-oriented car company.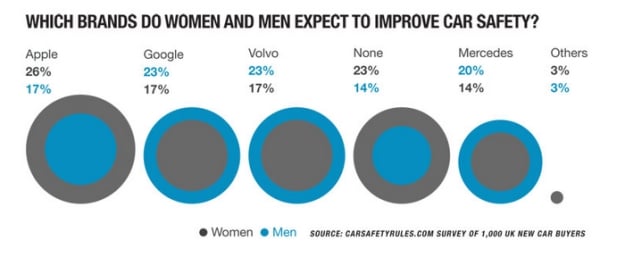 The survey also separated the respondents by gender. Apple proved the most popular with women, with 26 percent picking the Cupertino-based tech company as opposed to 17 percent of the men. However, the trend was almost reversed when it came to Google. Twenty-three percent of men chose Google as the most progressive car safety company, while only 17 percent of women picked the Internet search company.
So why are consumers actually looking outside of the automobile industry when it comes to improving car safety? One reason may be the increasing reliance on electronics when it comes to this realm. Apple has already dabbled in car technologies by patenting a method to locate and unlock your car using the iPhone's Bluetooth capabilities. Google is currently experimenting with driverless car technology, although ironically, consumers in this survey ranked driverless technology low on their list of desired car safety features.
Here's how Apple and Google stock has traded so far this week.

Don't Miss: Will Apple's iPads Make Flying Cheaper?