Why Ello Isn't Giving Up — or Worrying About Facebook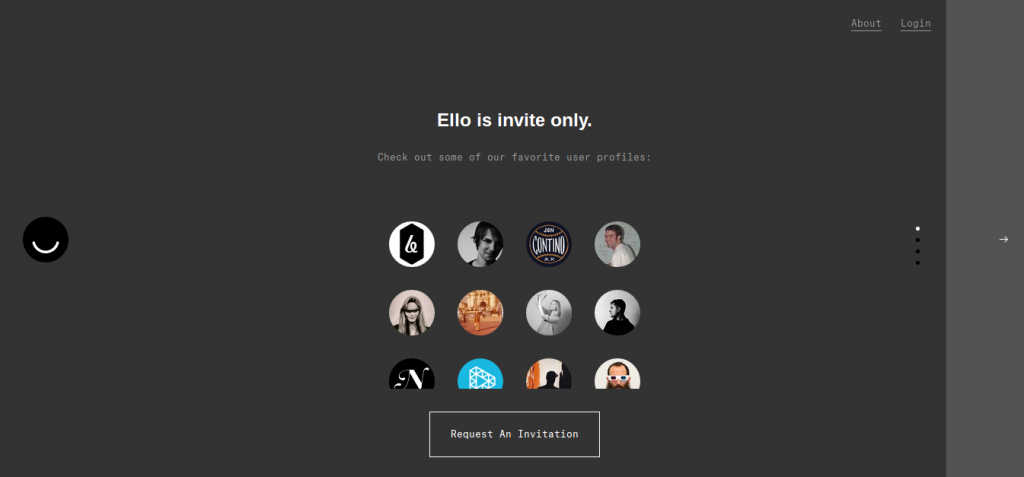 Ad-free social network Ello has taken on what many consider an impossible battle: Challenging Facebook for market share in the crowded world of social networks. VentureBeat reported recently that though many in the tech world have pronounced Ello's moment over, the new invitation-only social network isn't giving up. In 2015, Ello plans to launch native apps for iOS and Android and complete a "big" redesign of its website. Ello revealed that news in an email to users, and a spokesman confirmed it to VentureBeat, as well.
Ello launched its website a few months ago, and drew wide attention when word of the ad-free and "anti-Facebook" social network coincided with backlash over Facebook's enforcement of its controversial real-name policy. In October, Ello announced that it had raised $5.5 million and revealed its plans to become a public benefit corporation.
From the beginning, Ello planned to do things differently from other social networks. Ello's widely circulated manifesto warned users, "Your social network is owned by advertisers. Every post you share, every friend you make, and every link you follow is tracked, recorded, and converted into data. Advertisers buy your data so they can show you more ads. You are the product that's bought and sold." The manifesto promised "a better way," a social network that wouldn't track users' behavior or expose them to ads, and would act as "a place to connect, create, and celebrate life."
As VentureBeat reported in October, at the time that Ello got its initial press, it had only taken on $435,000 in funding — enough that observers believed that the social network would be able to generate a return for its investors without doing anything "too flagrantly commercial." But the extra $5.5 million in funding carries with it the expectation of a bigger return on the investment — a return that would depend on Ello attracting a much larger base of the "power users" whom Ello might reach with the paid features it eventually plans to implement.
Ello considers its goals to be fundamentally different than Facebook's
While Ello doesn't share Facebook's goal of connecting everyone in the world, it does aspire to build a large network. By becoming a public benefit corporation — essentially a for-profit company legally chartered to do social good — Ello now has a charter that forbids it from selling user data or paid advertising. Its new corporate status also brings changes to Ello's corporate structure, with GigaOm pointing out that the duties of Ello's directors now extend to ensuring the public benefit set out in the charter. Ello's main investors, Foundry Group and Techstars' Bullet Time Ventures, both wrote that they fully back the company's status as a public benefit corporation and the pledges it has made. They also say that they are supporting the company as investors, and don't view their investments as charity.
In the short period of time since its launch, Ello has added and improved features, including a "reply all" button it launched the day it announced its 2015 plans for apps and a web redesign. Earlier in December, Ello also added emoji and username autocompletion for the mobile version of its website. Budnitz recently told ReadWrite that when Ello's mobile app rolls out, the network "may come out of beta and the invitation only practice at that time, but we're not sure." Budnitz says that Ello has worked through about two-thirds of the list of features that it currently plans to implement by releasing updates and improvements every few weeks.
A spokesperson declined to tell VentureBeat the timeline for the iOS and Android apps the company plans to launch in 2015, and VentureBeat speculates that Ello's planned "BIG design update to the desktop interface" could see it moving away from its minimalist, black and white design. None of Ello's updates and features so far have dramatically altered the design of the site, though many users have complained that the interface is confusing.
And Ello doesn't care that Facebook doesn't think its freemium model will succeed
As BetaBeat notes, the potential success of Ello's freemium model is a source of contention in the social networking industry, with none other than Facebook's Mark Zuckerberg positing that despite its ethical merits, Ello's business model won't scale. Ello co-founders responded to Zuckerberg's remarks, with cofounder Todd Berger telling BeatBeat, "Freemium is working the world over. Versus: 'No, no, it's free, it's free! But we're selling all your data to god knows who at exorbitant rates in order to create new scams for people who didn't ask for it.'"
Ello doesn't seem concerned with what Facebook is doing or has to say. Budnitz says that Ello is targeting a different market than Facebook, reporting that his social network's power users have already left Facebook behind — and more will join in time. "With Ello, we provide things that people would want to spend money on while offering the best social network service on the web and growing, the bulk of which is no-strings-attached. Facebook's strings are pretty heavy, and a lot of people are waking up to that."
Ello has declined to discuss its growth since its launch, but a report by CivicScience, which collected data from almost 40,000 respondents from October 1 to November 1, provided some insight into who has joined Ello so far — and why. The report grouped respondents into three groups: "Joiners," who have already joined or who plan to join; "detractors," who don't plan to join; and "aspirers," who haven't been invited but want to join.
The study reported some logical findings, such as the fact that joiners were more likely to be 34 years old or under, while detractors were more likely to belong to older age groups. Those who have joined or aspire to join Ello are also more likely to follow fashion and music trends, be influenced by social media, or consider themselves tech savvy. However, interestingly enough, the report notes that early joiners of Ello are getting on board "less for the company's 'manifesto' about handling of users' data than for its 'new' factor."
Joiners are significantly less concerned about data privacy issues and practices than the general population, and CivicScience's blog post notes that "The draw for these users is perhaps the bragging rights of gaining early entry to the shiny new Internet thing." Meanwhile, those users whose values most closely align with the ideals of Ello's manifesto are still waiting in line to receive an invitation to join.
As Ello moves forward, it will need to find its own way to outlast the draw of its network's initial novelty. The goals of gaining traction in the competitive social networking market and building a network with an active, engaged user base necessitate providing users with all of the web and mobile tools that they'll need to make Ello just as addictive a part of their lives as Facebook has proved it can be. While Ello's unique ethics and design sensibility may attract users initially, better user interfaces and experiences will have to accompany them to make sure that Ello comes out a winner in its uphill battle to draw users away from Facebook and company.
More from Tech Cheat Sheet:
Want more great content like this? Sign up here to receive the best of Cheat Sheet delivered daily. No spam; just tailored content straight to your inbox.