Why iOS 8 Adoption Is Low and Android 5.0 Is Lower
Fragmentation is one of the biggest, most visible problems for Android, Google's mobile operating system. Fragmentation, which refers both to the divergence of the many different devices running Android and to the many different versions of the operating system that Android users run on those devices, is a problem that's often compared to the adoption of versions of iOS, Apple's mobile operating system.
Both Google and Apple have recently released new versions of their mobile operating systems, Android 5.0 and iOS 8, enabling us to draw a stark comparison between the two. Though Apple recently reported that adoption of iOS 8 is progressing more slowly than the adoption of iOS 7 last year, even adoption that's slow for iOS is extremely quick compared to the adoption rate for Google's latest Android release.
While the latest data from Apple's developer portal shows that 60% of iOS devices were running iOS 8 as of November 24, the latest data from the Android developer portal shows that Android 5.0, nicknamed "Lollipop," is running on fewer than 0.1% of Android handsets. The chart above shows that data, contrasting the many versions of Android currently in use on Android devices around the world with the much smaller number of iOS versions running on consumers' iPhones.
Quartz, which spotted the most recent Android data, up-to-date as of December 1, notes that the latest Android release is installed on so few devices that it doesn't even register on Google's charts. As the developer portal explains, any Android versions with less than 0.1% distribution are not shown in the version breakdown — meaning that Lollipop is running on fewer than 0.1% of Android handsets.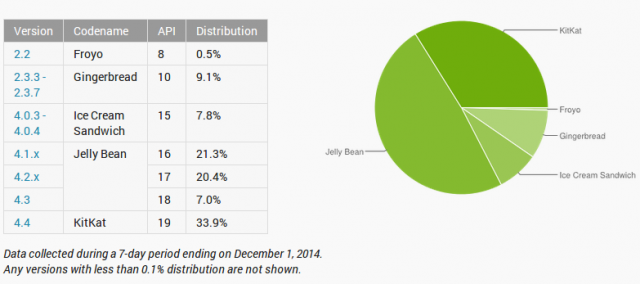 As the developer portal explains, the data is collected from the new Google Play Store app, which supports Android 2.2 and above. (That means that devices running versions older than Android 2.2 aren't included.) However, handsets running those old versions are likely very few in number. In August 2013, versions older than Android 2.2 accounted for just 1% of devices that checked in to Google servers — not those that visited that Google Play Store.
As Quartz points out, the disparity between the huge fragmentation that Android experiences and the relatively slow adoption of iOS 8 isn't a surprise. While Apple releases each new version of its mobile operating system on its own, and supports the majority of recent devices with every update, Android updates are released more slowly and haphazardly. Device manufacturers and mobile carriers are responsible for distributing each update, and it traditionally takes them some time to customize and test their own versions of Android.
Even the Nexus devices, made by Google to show off the latest, purest versions of Android as they become available, are now subject to delays when new upgrades become available. Quartz reports that Google's Nexus 9 users already had Lollipop installed when the device began shipping on November 3, while other Nexus products didn't gain access to Lollipop until November 12. As BGR reports, Nexus devices that are sold by carriers may not receive new Android updates as quickly as they used to thanks to an update to Android policies. The newly-reworded policy states, "based on your carrier, it may take longer than two weeks after release to get an update," on a Nexus or Google Play Edition device.
Even more recently, iDigitalTimes reported that owners of devices like the Nexus 4, Nexus 5, Nexus 7, and Nexus 10 are still waiting for the Android Lollipop update, even though it officially began rolling out in November. The report notes that while one of the original appeals of Nexus devices was their timely updates, that benefit has become less reliable over time. Devices like the Moto X, LG G3, and Nvidia Shield Tablet have all beat Nexus devices to the Android 5.0 Lollipop update, and the value of owning Nexus devices seems diminished.
As BGR explains, this certainly isn't the first time that carriers have delayed an Android update for Nexus phone or tablet. But the change demonstrates that Google is acknowledging the fact that carriers have an influence over Android updates for Nexus devices. Earlier this year, Google said that it needs carriers' help to get the Nexus 6 into the hands of as many customers as possible. Many will subsidize the device, which is more expensive than its predecessors.
It's also worth noting that Android policies state that Nexus or Google Play Edition devices may not receive the latest version of Android at all "if they fall outside of the update window, which is usually around 18 months after a device has been released." By contrast, Apple's latest version of iOS, this fall's iOS 8, is available for iPhones as old as the iPhone 4s, which was introduced three years earlier, in 2011. It's possible that by delaying the release of updates or declining to offer them altogether on older phones, manufacturers and carriers could entice software-centric users to upgrade to a new device rather than wait indefinitely for a rollout that may never come.
While BGR notes that Nexus users can manually upgrade their devices to the latest Android version available, without waiting for their carrier to approve the release, other users aren't so lucky. CNET reported that for LG's latest flagship phone, the G3, for example, the upgrade was inexplicably first available in Poland. The release put LG ahead of other smartphone makers in rolling out the release, but timeframes for the update varied among markets with little explanation from LG.
While Android's ability to let manufacturers and carriers use and customize Android freely is a certain factor in rise as the most popular mobile operating system in the world, the fragmentation that results from thousands of different devices running different versions of Android can adversely affect the Android experience for both users and developers. Few developers build for Android first in part because there is such a wide range of devices — with different shapes, sizes, performance levels, and screen sizes — to account for, and in part because very few Android users are on the latest version. As Quartz notes, that leaves little incentive for app developers to adopt new features of the latest operating system or optimize their code for it.
OpenSignal noted with its report on the state of Android fragmentation in August that while "developing apps that work across the whole range of Android devices can be extremely challenging and time-consuming," it considers Android fragmentation to have benefits, as well. "Android is now the dominant mobile operating system and this is because of fragmentation, not in spite of it," the report explains.
According to the report, the Android operating system is the most fragmented it's ever been, 18,796 distinct devices, and a variety of operating system versions still in wide circulation. The latest version at the time of OpenSignal's report, Android 4.4 KitKat, accounted for just 20.9% of devices running Android. The latest iOS version at the time, iOS 7, accounted for 91% of iOS devices.
While iOS adoption is always gradual — iOS 7 didn't reach 90% adoption until July, 10 months after its introduction — iOS 8's adoption rate was 60% as of November 24, lower than the 78% adoption that iOS 7 achieved by December last year.
Wired reported in mid-October that adoption of iOS 8 was slow because Apple's latest operating system version was a "nerd release," without headlining features that appeal to the casual user. Developer Andrew Clark asked Wired at the time, "Can you think of any non-power-user features that it's worth upgrading for? Home Kit and Health Kit are useless until all the accessory makers get on board. Extensions and third party keyboards are great, but a casual user isn't going to understand or care about them. iCloud Photo Library will be huge but it's in beta and is switched off by default."
Additionally, important features of iOS 8, like Continuity and Apple Pay, weren't yet available when iOS 8 first became available to consumers. Many users simply weren't aware of those features and their release timelines. Users might also have been deterred from downloading iOS 8 by a couple of other factors, such as reported or expected performance issues, particularly with older devices, and the fact that the download required about 6GB of space. Apple's release of the flawed 8.0.1 upgrade also didn't help.
Apple also doesn't place much pressure on users to upgrade, but that pressure will likely increase as the company seeks to protect iOS from the fragmentation that Android experiences. Apple already "sunsets" support for new operating systems on older devices, and will continue to do so to ensure a regular upgrade cycle and reduced fragmentation.
iOS developers are also getting a small taste of what fragmentation looks like as iPhone 6 Plus users complain of the woes of apps designed for the iPhone 5 scaled up on their devices' much larger screens. Many compared the problem to the similar issue of scaling up an iPhone app for the iPad. Developers now need to optimize their iPhone apps for several different screen sizes, or risk losing users of the larger phones who are annoyed with apps that don't support the new display sizes.
Fragmentation — on two vastly different scales — is a challenge for both Android and iOS. Developers will need to become increasingly creative to deal with the many hurdles that fragmentation puts up, from designing for a variety of screen sizes to creating apps that can run on devices with large variances in performance and capability.
More from Tech Cheat Sheet:
Want more great content like this? Sign up here to receive the best of Cheat Sheet delivered daily. No spam; just tailored content straight to your inbox.