Why Is a Chinese Phone Maker the World's Hottest Startup?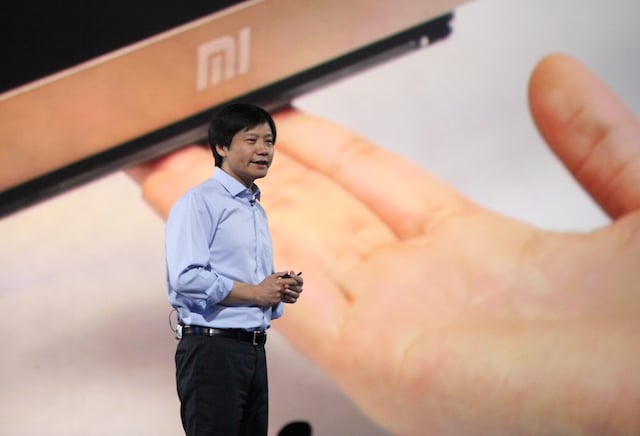 News recently broke that Chinese smartphone manufacturer Xiaomi is now the world's most valuable tech startup, thanks to a recent round of funding that places the privately-held company at a valuation to rival many public companies. But where did Xiaomi, a relative newcomer to the tech sphere, come from? And what makes it such a powerful player in the global smartphone market?
As Re/Code's Ina Fried and Kara Swisher report, Xiaomi's chief executive and founder Lei Jun announced on China's Weibo that Xiaomi closed a $1.1 billion round of funding, which values the company at $45 billion. That valuation makes Xiaomi the most highly-valued tech startup in the world, beating even Uber's recent sky-high valuation of $40 billion.
The New York Times notes that the latest valuation makes Xiaomi — which last summer claimed the No. 1 position in China's incredibly competitive smartphone market, which is the world's largest — more valuable than household names like Sony or Nokia, and almost as much as Yahoo. Xiaomi has overtaken both Apple and Samsung in China by offering inexpensive but high-quality smartphones.
The company has built a following by marketing its products with online campaigns that appeal to young and affluent Chinese consumers, and is poised to capitalize on the scale of the Chinese market. IDC projects that about 500 million smartphones will be sold in China in 2015, more than three times as many as will be sold in the United States. Xiaomi itself plans to sell 100 million phones next year.
DST Global, the investment group headed by Russian venture capitalist Yuri Milner, participated in the round, which consisted mostly of new investors. DST Global has reportedly already invested $500 million in Xiaomi, and Re/Code characterizes Milner's interest in the company as "intriguing," comparing it to his early bets on Facebook. As Bloomberg reports, Milner says that Xiaomi's valuation could more than double to $100 billion, and that it has the same potential as Facebook or Alibaba to reach that valuation.
Milner told Bloomberg of Xiaomi, "It has significant potential to become China's first global consumer brand." When it comes to smartphones, he says, "Xiaomi can take significant market share globally, but that doesn't cover the whole opportunity. There are a number of other interesting categories that Xiaomi can target."
Yunfeng Capital, a private equity group affiliated with Alibaba's Jack Ma also invested in Xiaomi's funding round, as did All-Stars Investment, an investment fund run by former Morgan Stanley analyst Richard Ji. Other investors include GIC, Singapore's sovereign investment corporation, and Hopu Investment Management, one of China's largest private equity groups.
While Xiaomi has skyrocketed to the place of the third-largest smartphone maker in the world, its profits remain slim, reaching just $56 million in 2013. However, in spite of thin margins, the company's valuation has continued to increase as Xiaomi works to expand beyond China and become a global player. A round of funding in 2012 valued the company at $4 billion, and investments in 2013 valued it at $10 billion.
As Re/Code reports, sources say that $10 billion is also roughly equal to the amount of revenue that Xiaomi posts annually. The latest round of funding illustrates the global interest in backing companies that have thrived in China's extremely competitive market, where Xiaomi routinely sells tens of thousands of phones per minute through its online store.
How does Xiaomi measure up against other tech startups?
The investment in Xiaomi is the second huge round of funding to take place in December — and to create a private company valued at a sum more familiar to public companies. Uber, which has also grown very large in a short time, recently confirmed a $1.2 billion funding round at a $40 billion valuation, as TechCrunch reported at the time.
The Wall Street Journal notes that the "real test" for the company will be living up to investors' high expectations. Xiaomi rose to the top of China's smartphone market in just four years, and investors are hoping that the company can build a more lucrative business that includes not just inexpensive smartphones, but software, services, and even internet-connected home electronics.
Xiaomi's valuation places it above all other startups backed by venture capitalists, and only Facebook in 2011 raised capital at a higher valuation from private investors, with an investment from Goldman Sachs valuing the social network at $50 billion at the time. The WSJ notes that Xiaomi is at the top of the "billion-dollar startup club," a club that is becoming less exclusive as venture capitalists invest large sums into the world's best startups. Trailing Xiaomi and Uber are Airbnb, Dropbox, Snapchat, and Flipkart, each valued at $10 billion; followed by Palantir at $9.3 billion, Theranos at $9 billion, Square at $6 billion, Pinterest and WeWork at $5 billion, SpaceX at $4.8 billion, Cloudera at $4.1 billion, and Spotify at $4 billion.
Should Xiaomi be compared to Apple and Samsung?
Bloomberg notes that Xiaomi's revenue is expected to more than double this year, to exceed $12 billion, according to estimates from Neil Shah at Counterpoint Research. At $45 billion, Xiaomi would be valued at 3.75 times Shah's estimate for this year, second only to Apple when it comes to personal-computer or mobile-phone makers. Apple trades at 3.8 times sales.
So should Xiaomi be compared to Apple and Samsung, or to similarly young tech startups from around the world? In China at least, Xiaomi is often compared to Apple. The company has been accused by critics and consumers alike of copying Apple's designs, or taking cues from the Cupertino-based company's marketing events and tactics. Xiaomi lacks a large patent portfolio of its own, and was temporarily blocked from selling in India due to a patent complaint filed by Ericcson.
The competition from other local manufacturers is heating up, sparked by the phenomenon that Xiaomi has proven to be in China. Domestic companies are copying Xiaomi, with competitors like Huawei and ZTE following Xiaomi's strategy of selling some models of smartphones primarily online. Some are trying to undercut Xiaomi by selling high-quality smartphones at even lower prices.
Xiaomi, which was founded in 2010 to make software for mobile devices running Google's Android, introduced its first smartphone in China in 2011 and has since expanded into other consumer electronics, including set-top boxes and tablet computers. However, the company doesn't make its own devices, instead relying on contract manufacturers to build them. Sandy Shen of Gartner expects that Xiaomi "will be able to establish an ecosystem like that of Apple that includes hardware, software and services, an ecosystem that works not only over mobile phones but also other devices."
Selling high-quality smartphones at low prices is a way for Xiaomi to acquire users for its apps and services, and the Wall Street Journal notes that the important numbers to measure the company's success aren't just smartphone sales, but the number of users for MIUI, its highly customized version of Google's Android. MIUI, which has its own app store, is the central platform for Xiaomi's services.
Xiaomi reported 85 million active MIUI users as of November, and said that as of November 25, the total number of downloads from the app store had reached 10 billion — double the number of downloads seen in July and up by a factor of ten compared with September of last year. The Wall Street Journal notes that Xiaomi's app store thrives, at least in part, because most of Google's services, including the Google Play store, are blocked in China.
Running a platform that distributes apps and services — and taking a portion of their revenue — can be more profitable than selling hardware, as demonstrated by the success of Chinese Internet giant Tencent Holdings, which has made online games and social networks its main business and posted a net profit margin of 29% in the third quarter. While Xiaomi, as a private company, doesn't disclose profit margins, a confidential document obtained by the WSJ indicated that Xiaomi H.K. Ltd., the unit that controls the company's domestic and Taiwan units, had a profit margin of 13%.
The New York Times notes that while Xiaomi's rapidly-rising valuation will likely raise expectations for an initial public offering — which investment bankers are already maneuvering to help manage — company insiders have said that Xiaomi is still likely years away from an IPO.
More from Tech Cheat Sheet:
Want more great content like this? Sign up here to receive the best of Cheat Sheet delivered daily. No spam; just tailored content straight to your inbox.