Why Is Apple After the Fashion Crowd With the Apple Watch?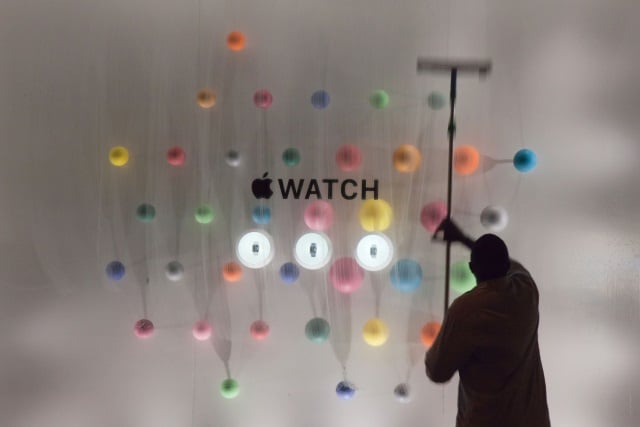 As Apple reinvents itself ahead of the 2015 release of the Apple Watch, its first wearable, the company is going after the fashion crowd and the style-conscious consumer. The Apple Watch has been featured on the cover of Chinese Vogue. Fashion world luminaries including designer Karl Lagerfeld, Vogue's Anna Wintour, and Colette's Sarah Andelman were in attendance at a Paris Fashion Week event showcasing the wearable. In its marketing of the Apple Watch and its plans for selling the device in-store, Apple is preparing to present itself as a luxury retailer not only when it comes to technology, but to fashion as well.
Consumers are already interested in Apple's new approach to tech products intended for use everyday. Mashable reports that a new study, conducted by retail research firm First Insight, found that "women not only loved the Apple Watch — they were actually willing to pay nearly $50 more than market price for the Apple watch when buying it for themselves," providing preliminary data that would seem to validate Apple's strategy of positioning the Apple Watch as a luxury fashion accessory. Roughly 73% of consumers surveyed are considering buying a smartwatch for themselves or for someone else, and the study found that most consumers are looking for a smartwatch that looks like a "real watch."
The survey is far from an indication that the Apple Watch will be the next fashion craze, but the thumbs-up that the wearable received, especially from women, could indicate that customers who are statistically more inclined to have interests in fashion and style are interested in what Apple has to say about the device. As First Insight noted, that interest could even lead to iterations of the device specifically for women in the future: "Apple has an opportunity to create a smartwatch specifically designed to appeal to women, and charge even more for it."
Apple Stores could take cues from luxury fashion retailers
According to 9to5Mac, internal hiring documents show that Apple is recruiting retail candidates with "a fashion or luxury background," suggesting that some changes will take place in Apple's retail stores ahead of the 2015 launch of the Apple Watch. With former Burberry chief executive at the helm of Apple's retail efforts, the company is likely planning an entirely new in-store experience to introduce the Apple Watch to the public, and position as not just another technology product, but a piece of jewelry that will capture the interest of the fashion world.
In addition to building up a staff of retail employees well-versed in the worlds of fashion and luxury goods, Apple could be planning a potential Apple Store "makeover," according to 9to5Mac, a change that could be catalyzed by the necessity for choices of colors, sizes, and styles of the Apple Watch. The company has highlighted the need for personalization in a device that it expects users to wear everyday, with Jony Ive noting in October that "[a]s soon as something is worn, we have expectations of choice."
Personalization could help Apple appeal to the style-conscious set
Ive isn't the only one at Apple who thinks offering the Apple Watch with an array of choices in colors and styles is a necessity. The Apple Watch website prominently features the headline that "There's an Apple Watch for everyone" on the "Design" page. The site explains, "Selecting a watch is very personal. As with all things you wear, how it looks is at least as important as what it does. So we set out to make Apple Watch something you'll love to use every day. As well as something you can't wait to put on every morning."
To showcase the Apple Watch to potential buyers, Apple will need to dedicate more space in the Apple Store than it would take to simply show the wearable in a few colors. The options that buyers can choose from include watches measuring 38mm and 42mm, finishes of stainless steel, space black stainless steel, silver aluminum, space gray aluminum, 18-karat yellow gold, and 18-karat rose gold, and six different band styles, which are also all available in different colorways.
9to5Mac posits that Apple could showcase that variety of choices in-store by presenting the Apple Watch as it did at its announcement event and at a showcase at Colette: behind glass in tables consistent with the styling of Apple Stores. Displays could provide easy access for Apple employees to remove specific Apple Watches for customers to try on, and interact with the software.
It's also possible that Apple could present the lower-priced models on the floor with anchored alarms, and reserve the higher-priced models for trying on by request. 9to5Mac notes that either way, the hiring news suggests that Apple will take an approach similar to that of other luxury retailers, and bring fundamental changes to the experience of shopping in the Apple Store.
Tech first and design second, or vice versa?
Wearable technology is drawing a growing amount of attention from the fashion world. A collaborative platform from Intel and Milk Studios called Muzse recently created an interactive exhibit called, "Adorned: The Shape of Things to Come." It showcases a range of wearables, from a baby monitor embedded into a romper to a ring that lights up when the wearer receives a text message.
Style.com, reporting on the opening of the exhibit, writes that Adorned aims "to give fashion tech some context, with a ballet pointe shoe on display as an example of how wearable technology of the past has allowed us to escape the limits of our own bodies." Mazdack Rassi, the cofounder and creative director of Milk Studios, said that it approached Intel because the influencer community of magazine, editors, designers, musicians, and filmmakers "has ideas, but the execution and understanding of technology is the difficult part."
Only a few of the devices in the exhibit are associated with Intel — but those include the the MICA, in-ear headphones from SMS Audio, and Basis Peak — and Sandra Lopez, Intel's director of business and marketing strategy for wearable technology, told Style.com that Intel's history and creative partnerships are about "enabling ecosystems." Lopez said that Apple's entry into the wearable tech market with the Apple Watch "validates that wearables is a category that does exist," somewhere in the intersection of fashion and technology.
Figuring out which of those is more important to a wearable will be a challenge for those entering the burgeoning industry, with devices like the Apple Watch emphasizing technology more than devices like Intel's MICA, which is a fashion accessory first and a smart bracelet second. As quickly as trends pass out of vogue in the fashion world, new innovations eclipse older products in the tech world. The key will be to pair useful technology with distinct design, to strike the delicate balance that will make a compelling use case to every customer considering the purchase of a wearable device.
More from Tech Cheat Sheet:
Want more great content like this? Sign up here to receive the best of Cheat Sheet delivered daily. No spam; just tailored content straight to your inbox.