Why Is Cash-Rich Apple Going Into Debt?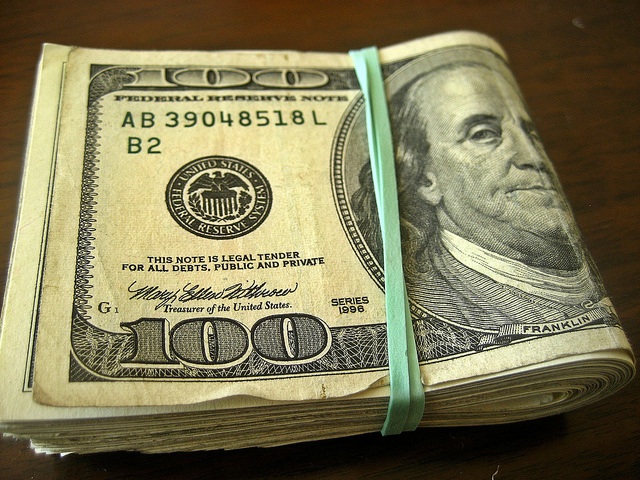 Why is one of the richest companies in the world taking out a loan? Although it's no secret to most investors and analysts that Apple (NASDAQ:AAPL) has an enormous cash reserve of $145 billion, fewer may know that only $45 billion of that total amount is readily available to Apple in the U.S. After recently announcing an ambitious $100 billion shareholder capital return plan, Apple suddenly found itself about $60 billion short of its needed cash in hand.
However, taking the cash out of overseas banks was not a financially viable option. As Apple finance chief Peter Oppenheimer explained in an analyst conference call, "We are continuing to generate significant cash offshore and repatriating this cash would result in significant tax consequences under current U.S. tax law."
In this case, the phrase "significant tax consequences" may be an understatement.  If Apple returned its overseas cash hoard to America's shores, it would lose approximately 35 percent of its cash in taxes alone.
On the other hand, the Federal Reserve is holding interest rates for borrowing at historical-lows. Not only can Apple borrow its funds at an interest rate of less than 3 percent, but it can also write off 100 percent of the cost of that interest as a tax deduction. The move to acquire these funds is part of Apple's overall transition from a young upstart company known for rocketing growth to a more mature company that provides steady long-term growth and a reliable dividend.
Although it may seem odd for one of the richest companies in the world to go into debt, it's not an uncommon tax game. Microsoft (NASDAQ:MSFT) and Google (NASDAQ:GOOG) are two large tech companies that have implemented similar tax-avoidance strategies. Any company that generates a significant chunk of overseas profits has a logical profit incentive to keep its funds hidden safely away from America's higher corporate tax rate.
Although it is widely expected that Apple will use majority of the proceeds from its bond sale to fund its $100 billion shareholder capital return plan, the Cupertino-based company may also use its newly acquired cash for other projects. Via a prospectus filed with the U.S. Securities and Exchange Commission, Apple states that "Other general corporate purposes may include, among other things, funding for working capital, capital expenditures, and acquisitions. We may temporarily invest funds that are not immediately needed for these purposes in short-term investments, including marketable securities."
The chart below shows Apple stock movement so far this week.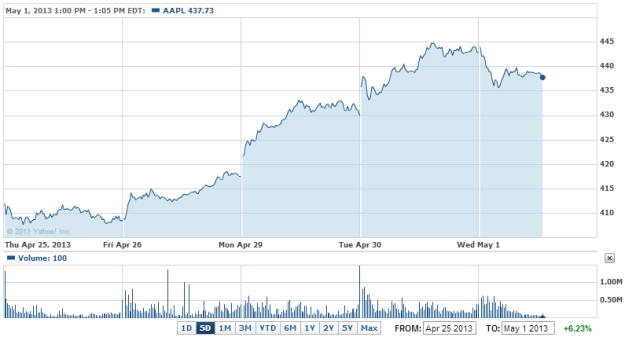 Don't Miss: Here's How Apple Went From Junk To Bond Champion.