Why Is This Apple Supplier Turning to Samsung?
Longtime Apple (NASDAQ:AAPL) supplier Sharp is turning to one of the Cupertino-based company's biggest rivals for increased revenue, as the Japanese component-maker fights to ensure its future survival. According to anonymous sources cited by Reuters, Sharp is planning on expanding its output of small display panels to Samsung (SSNLF.PK) in order to compensate for dropping product orders from Apple and improve its overall profitability.
Earlier this year, Sharp saw a decrease in its iPad screen production for Apple. According to Reuters, anonymous sources report that Sharp is expected to post a 500 billion yen net loss for the year ended in March.
Meanwhile, Apple has already forecast falling gross margins for the June quarter due to the increase in sales of lower-profit products like the iPad mini. Apple indicated that its gross profit margins could drop as low as 36 percent in the third quarter.
However, Sharp may soon see a boost from Apple's new product cycle. The Japan-based company was rumored to be preparing for the production of displays for Apple's next iteration of the iPhone.
In March, Samsung made a $103 million investment in Sharp, which some observers felt might threaten Apple's supply chain. However, Samsung's stake in Sharp is only 3 percent, which doesn't give it much influence over the company. Foxconn, which is one of Apple's biggest suppliers, also has a stake in the Japanese electronics company.
It's not uncommon for rivals in the electronics business to have entangled supply chains behind the scenes. However, it is also a wise policy for any company to keep its supply chain strategically diversified in order to avoid having to rely on any particular company for important components or revenue.
Apple shares closed down 0.83 percent at $452.97 on Friday after shedding $3.80 from its price at the opening bell. Here's how Apple has traded over the past week.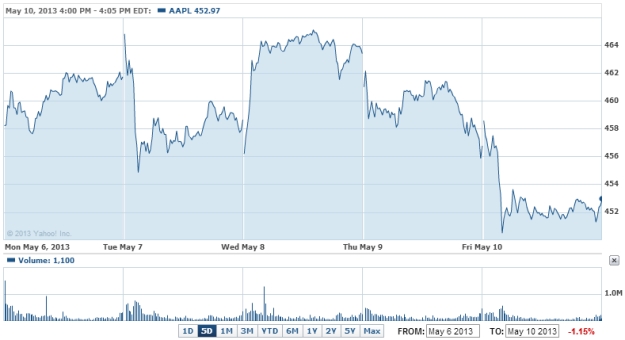 Don't Miss: Ripe Apple Stories Keep Stock Juicy Above $450 This Week.