Why Software Companies Develop Apps for One Another's Devices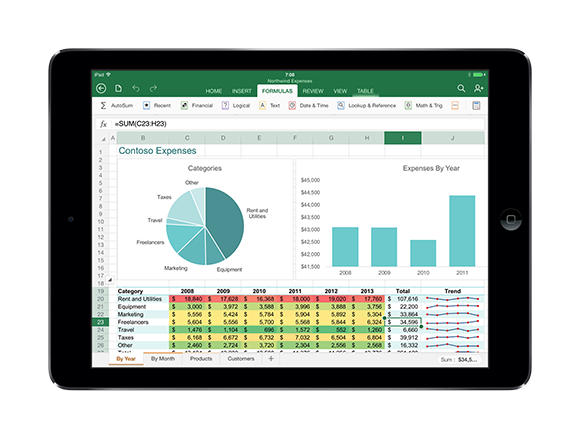 It's an increasingly common phenomenon: companies that build both hardware and software are developing apps for the mobile operating systems of other manufacturers' devices. So if these companies think that they've developed software so good that users on other platforms will want it, then why are they offering the software to users of other operating systems, instead of using the software to attract new users to their own?
Let's take a look at a few examples of companies developing apps for one another's devices, and look at some of the reasons why companies like Microsoft (NASDAQ:MSFT), BlackBerry (NASDAQ:BBRY), and Google (NASDAQ:GOOG) are trading exclusivity for a wider potential user base.
Microsoft dominates iOS productivity apps with Office for iPad…
In a post on its Office Blog, Microsoft announced new updates to its Office for iPad app to make the mobile suite more like its desktop counterpart, four months after the app was initially released. In that four months, Microsoft has demonstrated an uncanny ability to dominate a category in Apple's (NASDAQ:AAPL) App Store.
According to App Annie data, on Thursday, Microsoft Word for iPad was ranked number one among productivity apps, and thirteenth among top apps overall in the U.S. By contrast, the iPad version of Apple's Pages doesn't even show up in the ranking of productivity apps for iPad, though accounting for the iPhone version, as well, it ranks eighth among productivity apps and at spot 241 among top apps overall.
Thursday's update sees Microsoft adding a Presenter View for when PowerPoint users are projecting to another screen, added support for video and audio importing directly from the Camera Roll, more interaction with PivotTables with Excel, and the ability to export to PDF for all users across all Office apps, edit pictures within Office, and use third-party fonts in Office documents.
While the specific updates Microsoft is adding aren't the most exciting developments, they do show that people are using Office on the iPad, and Microsoft is looking to make the suite more capable and more intuitive, which will be key to establishing the software as a good choice for customers long-term.
…And also considers bringing the Cortana assistant to Android and iOS.
It was widely reported in June that Microsoft was weighing the possibility of developing a version of its digital assistant technology, Cortana, for Apple's iOS and Google's Android, expanding it beyond its origin with Windows Phone. At the time, GeekWire quoted Marcus Ash, a group program manager for Windows Phone, as saying that the question was "a bit of a head-scratcher for us right now."
Critics of the idea are primarily concerned with the fact that Microsoft wouldn't be able to make the Cortana experience quite as seamless on non-Windows devices. It's also unclear whether iOS users, for example, would be willing to use Cortana instead of Siri, or if Android users would abandon Google Now in favor of Cortana.
However, Microsoft is amping up its cross-platform programs. It's developed Bing apps for iOS and Android, and of course brought Office to the iPad. The tablet version of Office for Android is also expected out before the Windows 8 version, as Mashable recently reported. The idea behind Microsoft's offerings for iOS and Android is that its software will have more value to users if it's available on more than one platform — even if specific technologies, like Cortana, aren't ready to go to multiple platforms yet.
An easy illustration of cross-platform software success is Google.
Companies like Microsoft are less concerned about keeping software exclusive to their own platforms than making that software popular and pervasive by opening it up to a wider user base across device types. As software companies focus on software as services, they want those services to be available on every platform, so that user base isn't split up by the divisions among users who choose Android, iOS, or Windows phone devices.
An easy example is Google. Though the company is behind the Android operating system, that hasn't stopped it from building a suite of successful apps for iOS devices, and the iOS apps for YouTube, Google Maps, Gmail, Google Search, and even the Chrome browser have all gained large number of downloads. And while part of the reason that Google's apps are so widely used on different operating systems is that they're free and readily accessible, it's also interesting to note that all of Google's services are web-based. They're easily accessible on any desktop computer, and now are accessible on a huge variety of mobile devices. A user could have an Android smartphone, a Windows laptop, and an iPad and still be able to access every Google service in some form from each of those devices.
BlackBerry takes BBM to iOS, Android, and WindowsPhone to appeal to more enterprise customers.
BlackBerry, like Microsoft, is looking to reinvent itself as a software company as its hardware business has waned. It's particularly focusing on appealing to enterprise clients, and has taken its BBM messaging app to other mobile operating systems to make it a more popular choice among corporate and government clients looking for a secure messaging solution.
CNET recently reported that the Android and iOS versions will be redesigned to look less like the native BBM client, and more like the apps that users are accustomed to seeing on their respective mobile operating systems. The new BBM app for Windows Phone is designed to be familiar to Windows Phone users, and the upcoming iOS and Android app redesigns will make the BBM app feel more like a native experience.
But BlackBerry and others find that getting an app right on each operating system is difficult.
BlackBerry's struggle to get a cross-platform app to perform like a native app demonstrates that that's one of the biggest challenges of developing cross-platform apps. The desire to take on the difficult task stems from a desire to open up software to a broader potential market, dropping exclusivity in favor of wider availability — since that's what software, rather than hardware, companies do. Getting an app right on each mobile operating system takes a lot of work, but ultimately companies develop software for each other's devices because they don't want their services and user base to be limited to a single platform.
And while Microsoft has made it increasingly clear that it wants to be a software company in addition to, or maybe even instead of, a hardware company, the strategy that it and BlackBerry take is very different from that of companies that have opted not to look at themselves as software companies — companies who aren't interested in joining the cross-platform movement, but instead plan to stick to their own platform.
Companies like Apple focus on hardware because they want consumers to buy their entire ecosystem. For Apple, the hardware is a vital part of the experience, because the native apps and services are meant to work as a complete whole, rather than in isolation. For example, Apple wouldn't consider building a Siri app for Android or Windows Phone, because Siri is meant to help the user complete tasks on the iPhone and integrate with the specific apps that Apple intended it to.
Apple doesn't try to build apps for other operating systems because it's not interested in gaining the widest exposure for its software; that's just not the game that Apple plays. But Apple's iOS will remain an attractive platform for others looking to gain customers because, as the popularity of Office for iPad demonstrates, users sometimes prefer software that integrates easily with their work processes on other devices to the software made by the company who manufactures their devices.
And the hope that that trend will continue is ultimately the hope of every software company building apps for platforms other than its own: that if it builds software that's functional and intuitive enough, that software will stand a fair chance at gaining popularity with more consumers than it would reach on a single platform.
More from Tech Cheat Sheet:
Want more great content like this? Sign up here to receive the best of Cheat Sheet delivered daily. No spam; just tailored content straight to your inbox.