Why Target Is Brooding Over the P&G-Amazon Deal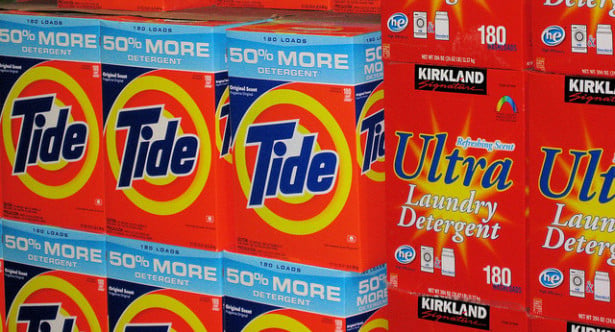 Target (NYSE:TGT) doesn't mess around with its rivalries. Early in 2013, when Procter & Gamble (NYSE:PG) and Amazon (NYSE:AMZN) decided to band together to sell more consumer products online, Target fought back by giving P&G less-prominent placing in its stores. Now, Pampers diapers and Bounty paper towels are back on shelves and highly visible to shoppers, but Target's bitterness still shows how it is more than ready to block out any suppliers that could be helping its rivals gain an advantage.
The Wall Street Journal published a report about the intense competition between mass-market retailers for sales of everyday household goods on Wednesday and pinpointed a pact that is still continuing to upset brick-and-mortar retailers like Target and Wal-Mart (NYSE:WMT). In October, Amazon and P&G secured a partnership that allows Amazon to set up shop within P&G warehouses in order to expedite the filling of consumer goods orders, but it wasn't clear until recently just how much that move offended traditional retailers.
And Target indeed was offended. The Wall Street Journal says that the Minneapolis-based company responded to Amazon and P&G's partnership by giving P&G products less appealing product placements in stores, working with other suppliers to boost their sales figures rather than P&G's, and also banding with other suppliers to work on promotions and discounts. P&G was effectively left out in the cold — or rather, on shelves less visible to consumers, and Target succeeded in sending the company a message that it would continue playing fair and selling its goods, but that didn't necessarily mean it would continue playing nice.
According to the Journal, the dispute between P&G and Target has since died down, and more P&G products can now be easily found, highly visible, on Target shelves, but the P&G-Amazon pact is still going strong. That in itself could result in some changes for the future.
The reason that P&G agreed to the arrangement in the first place is because the company has been trying to grow its online sales. A partnership with Amazon not only allows it to save on transportation and warehouse costs but also lets it partner with the company to provide generous discounts on bulk purchases of diapers and other products. This increases the appeal of the goods and subsequently drives up sales, but it also results in two unhappy brick-and-mortar retailers that believe P&G helps give Amazon an advantage the e-commerce giant really doesn't need.
Target and Wal-Mart have been adamant about keeping a level playing field between traditional retailers and the e-commerce behemoth that is Amazon. Proctor & Gamble upsets that reality by allowing Amazon to offer much lower prices on household goods thanks to minimized transportation and warehouse costs. The Wall Street Journal reports that a box of 216 Pampers Swaddlers diapers costs $36.39 on Amazon after a 20 percent discount for members of a program called Amazon Mom versus $41.51 when using a free subscription service offered by Target and paying with a free, store-branded credit or debit card.
That's a discount that many parents find hard to turn down, and with more and more sales like that, Target will find itself swimming uphill in the consumer goods marketplace. It'll be interesting to see how Target decides to forge ahead, but it is at least clear that P&G is not currently on its good side.
More From Wall St. Cheat Sheet: