Will Aereo Change Television?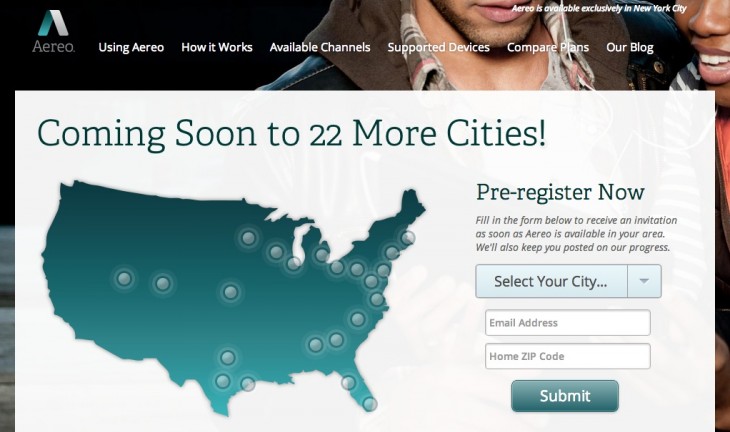 Traditional cable providers DirecTV (NASDAQ:DTV), Time Warner Cable Inc. (NYSE:TWC), and Charter Communications Inc. (NASDAQ:CHTR) are watching the court battle between Aereo Inc. and CBS Corp. (NYSE:CBS) closely, as the result could change the way the cable giants negotiate with the broadcast cable companies forever.
Aereo has the potential to be hugely disruptive to the current relationship between cable providers and cable networks if the courts rule that the start-up was legal. At a price of $8 a month for online access via computers or mobile devices, Aereo captures free broadcast-TV signals using thousands of small antennas to transmit the programming without the permission of broadcasters.
But Aereo, which is backed by billionaire Barry Diller, is currently locked in a court battle with CBS and several other media companies regarding the legality of the service. If the service is deemed legal by the courts — an outcome that seems very possible — cable companies are likely to use the same approach to bypass retransmission fees that have led to big disputes, including the Time Warner Cable and CBS blackout earlier this summer.
Maureen Huff, a spokeswoman for New York-based Time Warner Cable, said on Friday, "If found to be legal, the Aereo concept is very interesting, especially as it relates to retransmission consent fees." According to Bloomberg, people with knowledge of internal discussions have said that Time Warner Cable has even considered purchasing Aereo outright — something Huff declined to comment on.
Along with CBS, Aereo is also locked into legal fights with some of the biggest media companies in the world, including Walt Disney Co. (NYSE:DIS), 21st Century Fox (NASDAQ:FOXA), and Comcast Corp.'s (NASDAQ:CMCSA) NBCUniversal. While the cable broadcasters are attempting to preserve their ability to charge retransmission fees, Rich Greenfield, an analyst with BTIG LLC in New York, suggests that the ruling might not necessarily be in their favor when all is said and done.
"This threatens the retrans gravy train," Greenfield told Bloomberg. "As Aereo continues to win legal battles, it's becoming more apparent it could survive these challenges."
According to research firm SNL Kagan, retransmission fees are expected to double from $3.01 billion this year to $6.1 billion in 2018. Fox President and Chief Operating Officer Chase Carey said in April that the fees were essential to the broadcast industry, explaining that if Aereo is permitted to stay in business, the Fox network would convert to a cable channel and stop delivering over-the-air access altogether. Both CBS CEO Leslie Moonves and Univision Chairman Haim Saban have threatened to do the same.
"It is intellectually and legally inconsistent to saddle the cable industry with billions of dollars each year of broadcast retransmission fees, while allowing a similarly for-profit company to pluck broadcast signals out of the air and sell them without paying any such fees," Leo Hindery, managing partner of New York-based private equity fund InterMedia Partners and former chairman of the YES Network, told Bloomberg. "The cable companies are fully entitled to do everything in their power to stop this travesty."
Don't Miss: '50 Shades of Grey' Lands a New Lead.