Will Apple & Co. Throw Away Your Broken Gadgets in These Countries?
Are Apple (NASDAQ:AAPL) and other tech companies pushing for legislation that would make it easier to send more e-waste to developing countries? A major tech industry trade association is seeking to alter the rules of an international convention that oversees the movement of hazardous waste between countries.
Known as the Basel Convention, this international treaty helps protect developing countries from being unfairly deluged with hazardous electronic detritus from developed countries. The Basil Action Network, or BAN, is a non-governmental watchdog group that seeks to promote the Basil Convention. BAN is accusing the Information Technology Industry Council of attempting to weaken these protective laws at the next meeting of the Basil Convention.
The Washington D.C.-based Information Technology Industry Council is a trade association that advocates on behalf of technology companies. According to its official website, its member roster includes such tech giants as Apple, Microsoft (NASDAQ:MSFT), Google (NASDAQ:GOOG), eBay (NASDAQ:EBAY), and Qualcomm (NASDAQ:QCOM). Essentially, the trade group is looking to redefine what constitutes electronic waste. "[W]e are looking to ensure that late-model, valuable used products continue to be permitted to move for safe and appropriate repair and reuse" said Rick Goss, the trade group's SVP of environment and sustainability via CNET.
BAN disputes the Information Technology Industry Council's perspective. "It's all just a bit disingenuous to claim that exporting broken, obsolete toxic equipment to developing countries is best for the environment," stated Jim Puckett , the watchdog group's executive director.
"Recycled" devices often end up being unsafely dismantled in countries like China or India where they can pose a risk to people and the environment. Regarding its recycling program, Apple states on its website that "Equipment that does not qualify for reuse will be recycled by an Apple-contracted recycling supplier in an environmentally responsible manner."
Here's how Apple has traded over the past week.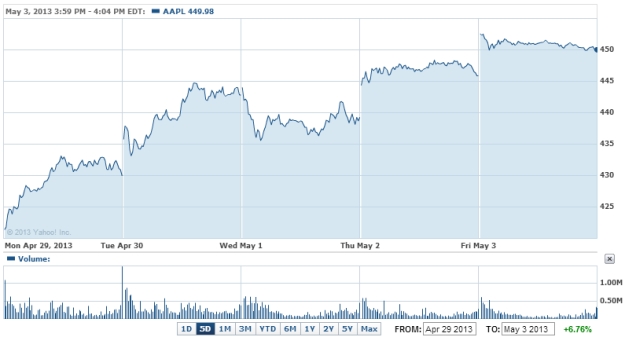 Don't Miss: Another Carrier Jumps on the Apple Bandwagon.