Will Apple Do What Google Wouldn't in China?
China has become an increasingly important market for Apple's (NASDAQ:AAPL) worldwide growth ambitions but has also been a source of some of the Cupertino-based company's biggest obstacles. According to the Wall Street Journal, 13 percent of Apple's total sales come from the Greater China market, which includes Taiwan and Hong Kong. Apple's total sales in the region reached $6.83 billion for the quarter ending December 29 and CEO Tim Cook anticipates that China will eventually become Apple's largest market. However, before Apple can fulfill its Chinese ambitions, it must learn to navigate around the latest obstacle from the Chinese government, as well as avoid future difficulties in this unique consumer market.
This week, a report in the Wednesday edition of the People's Daily newspaper named Apple as the target of a government investigation into websites and app stores that provide access to pornographic content reports the Wall Street Journal. This latest accusation comes on the heels of a recent controversy over Apple's iPhone warranty policies in China, which eventually led to an apology and warranty policy adjustment from Apple. According to the Wall Street Journal, there is also a proposed law that might require companies like Apple to help the Chinese government track its users.
Google (NASDAQ:GOOG) surrendered the Chinese search engine market after refusing to cave-in to similar demands from the Chinese government regarding censorship. However, Google's Android mobile platform is still the market leader for smartphones in China. Although Apple is known for keeping a tight rein on its ecosystem, it may soon have to choose between surrendering some of that control or losing a potential market for growth as Google did…
On the other hand, the Chinese government would like to avoid creating dissent with its citizens and Apple's devices are already quite popular with Chinese consumers. Apple currently holds 10 percent of the smartphone market in China, while rival Samsung (SSNLF.PK) holds 16 percent according to The Wall Street Journal. Apple's success in China may depend on its ability to walk a fine line between continuing to appeal its growing Chinese consumer base, while simultaneously not displeasing the Chinese authorities.
Apple shares rose 0.46 percent to $393.86 in early Friday trading.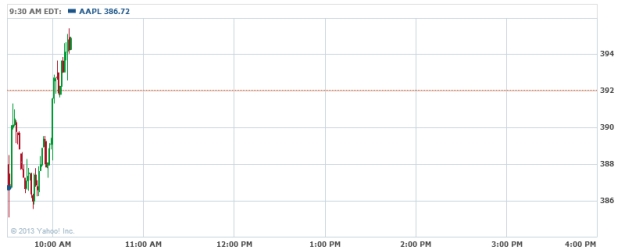 Don't Miss: Is Apple's Full-Size iPad Shrinking?